GREETINGS TO OUR MAJORS
FROM THE DEPARTMENT CHAIR
In the rapidly changing, global, digital society in which we live, it is difficult to imagine anything more important than Communication. As citizens, leaders, consumers, family members, employees and employers, we are constantly called upon to be competent communicators as we attempt to foster collaborative and civil discourse, cope with conflict, manage our health-related communication, solicit and disseminate information relevant for decision-making, critically and openly listen to others' opinions, and make clear and persuasive presentations of our own views. Our progress as a society and our success as individuals depends deeply on the quality of our communication with others. A communication major helps equip you with the knowledge and tools so necessary for that progress and success in today's world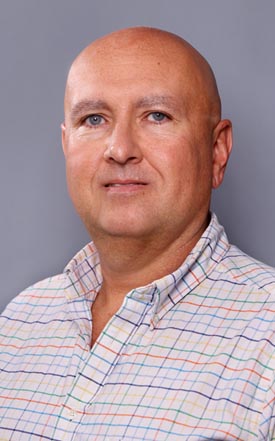 Recently the Princeton Review ranked Communication as the second best college major based on research covering job prospects, alumni salaries, and popularity. But this major not only prepares you for a range of jobs where communication is fundamental, it also provides you with a foundation that will be essential for a changing world where many of tomorrow's jobs may not yet exist. Through our major requirements and our four specialization options, you have the opportunity to address 21st century communication challenges in areas such as strategic communication, public relations, health communication, leadership, and relational and family communication. Our commitment as a faculty is to provide you with that preparation in a secure environment where you are free to explore your interests and gain a sense of confidence and competence in your chosen area of study.
We also want our majors to be actively engaged inside and outside the classroom. Within the Department, there are several student-operated organizations providing hands-on experience in a wide array of related activities. Among these are the student-run chapters of the Public Relations Society of America, the Association for Women in Communications, Lambda Pi Eta (the Communication Honor Society of the National Communication Association), and clubs related to public speaking and debate. Our internship program also provides incredible opportunities as a result of our ever-growing base of successful alumni and the positive reputation that our program enjoys with major corporations and non-profit organizations in the region.
We also pride ourselves on the accessibility of faculty. Although our major is large, most of our 300- and 400-level courses are small in size. Most of your teachers will know you by name. In our department, students are also given opportunities to interact directly with professors. Whether it is an hour of tutoring during office hours or a more structured research study, students and faculty are encouraged to learn and share outside the setting of the classroom.
Whether you are already a major or still exploring the possibility, I think you will find the Department of Communication a wonderful home during your time here at Rutgers. Welcome and have a great year!
Sincerely
Craig R. Scott Professor and Chair