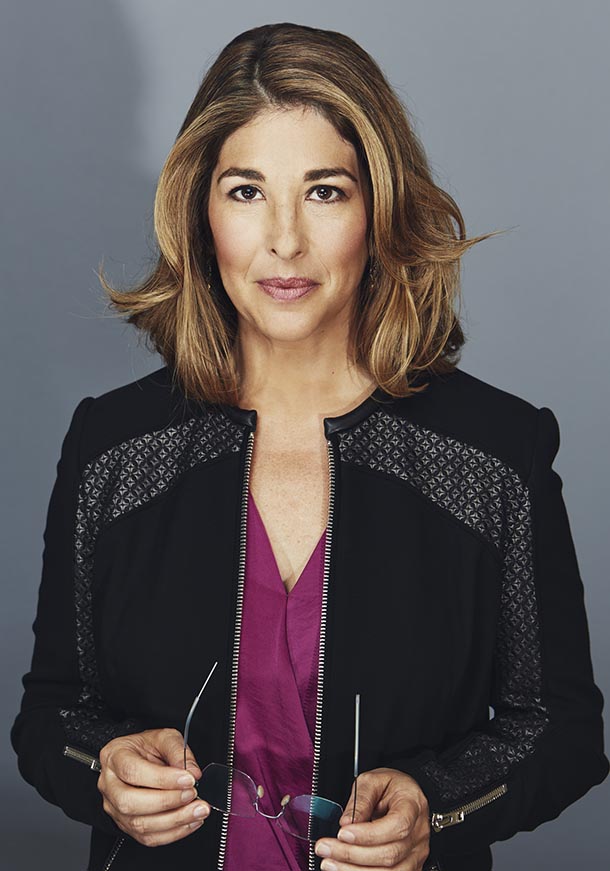 Naomi

Klein
Gloria Steinem Endowed Chair in Media, Culture and Feminist Studies
Office:

DeWitt 105
EMAIL:

WEB LINKS:
Naomi Klein is an award-winning journalist, syndicated columnist and author of the New York Times and international bestsellers, No is Not Enough: Resisting Trump's Shock Politics and Winning the World We Need (2017), This Changes Everything: Capitalism vs The Climate (2014), The Shock Doctrine: The Rise of Disaster Capitalism (2007) and No Logo (2000).
No Is Not Enough was an instant New York Times bestseller, debuting at #2 on the Nonfiction list, and is being translated into over 15 languages. It was longlisted for the 2017 National Book Award for NonFiction in the US.  This Changes Everything won the 2014 Hilary Weston Writers' Trust Prize for Nonfiction, was an Observer 'Book of the Year,' and a New York Times Book Review '100 Notable Books of the Year.' The New York Times called it: "A book of such ambition and consequence that it is almost unreviewable … the most momentous and contentious environmental book since 'Silent Spring.'" The Shock Doctrine was published worldwide in 2007 and translated into over 25 languages. It won the inaugural Warwick Prize for Writing and was a New York Times Critics' Pick of the Year. Rachel Maddow called The Shock Doctrine, "The only book of the last few years in American publishing that I would describe as a mandatory must-read."  Naomi Klein's first book No Logo was translated into over 30 languages with more than a million copies in print. The New York Times called it "a movement bible." In 2016, The Guardian picked No Logo as one of the Top 100 Non Fiction books of all time. Time Magazine named it one of the Top 100 Non-Fiction books published since 1923.
Since This Changes Everything was published, Klein's primary focus has been on putting its ideas into action. She is one of the organizers and authors of Canada's Leap Manifesto, a blueprint for a rapid and justice-based transition off fossil fuels. The Leap has been endorsed by over 200 organizations, tens of thousands of individuals, and has inspired similar climate justice initiatives around the world. Klein is a member of the board of directors for climate-action group 350.org. In 2015, she was invited to speak at the Vatican to help launch Pope Francis's historic encyclical on ecology, Laudato si'.
In 2017, Klein became Senior Correspondent for The Intercept.  She is also a Puffin Foundation Writing Fellow of The Nation Institute and contributor to the Nation Magazine.  Recent articles have also appeared in The New York Times, The New Yorker, The Boston Globe, The Guardian, the London Review of Books and Le Monde.
In 2016 she was awarded Australia's prestigious Sydney Peace Prize, for, according to the prize jury, "exposing the structural causes and responsibility for the climate crisis, for inspiring us to stand up locally, nationally and internationally to demand a new agenda for sharing the planet that respects human rights and equality, and for reminding us of the power of authentic democracy to achieve transformative change and justice."
Her most recent book, The Battle for Paradise: Puerto Rico Takes On the Disaster Capitalists (2018) was reprinted from her feature article for The Intercept with all royalties donated to JunteGente, a gathering of Puerto Rican organizations resisting disaster capitalism and advancing a fair and healthy recovery for their island. http://juntegente.org
Klein has been an invited speaker at Harvard University, the Sorbonne, Berkeley, University of California-Santa Barbara, University of California-Los Angeles, New York University, Columbia University, Wharton Business School of the University of Pennsylvania, Carnegie-Mellon University, and many more institutions of higher education worldwide.  She has been an invited keynote speaker at conferences such as the American Sociological Association and the American Library Association.  Her honorary doctorates include Honorary Doctor of Civil Laws from the University of King's College, Nova Scotia, Honorary Doctor of Letters from St. Thomas University, New Brunswick, and Honorary Degree at College of the Atlantic.  Her books are required reading in hundreds of political science, cultural theory, journalism, marketing, and literature courses worldwide.  Klein has been a visiting professor at institutions such as the University of Texas – Austin, London School of Economics, and the University of Hawai'i at Manoa.
Photo credit: Kourosh Keshiri.
---
Research
Klein's publications can be found at: 
---
Awards & Recognitions
2016 Sydney Peace Prize for "

exposing the structural causes and responsibility for the climate crisis, for inspiring us to stand up locally, nationally and internationally to demand a new agenda for sharing the planet that respects human rights and equality, and for reminding us of the power of authentic democracy to achieve transformative change and justice."  A $50,000AUD prize awarded by the University of Sydney and the City of Sydney.

2015 Izzy (I.F. Stone) Award for Outstanding Independent Media and Journalism. Citation: "Few journalists today take on the big issues as comprehensively and fearlessly as Naomi Klein. She combines rigorous reporting, analysis, history and global scope into a package that not only identifies problems, but also illuminates successful activism and solutions. That goes for her groundbreaking book on climate change and for columns that brilliantly connect the dots – such as the intersection of climate justice and racial justice."
2014 Hilary Weston Writers' Trust Prize for Nonfiction for This Changes Everything, a $60,000 juried prize

2014 International Studies Association's IPE Outstanding Activist-Scholar award. "Honoured for her activism in alter-globalizations social movements and protests. Author of numerous books and articles, Naomi is one of the most important voices in the alter-globalizations movement."

World Rainforest Challenge Business as Usual Award from the Rainforest Action Network (2011)

Inaugural Warwick Prize for Writing (2009) for The Shock Doctrine.

 Citation:

"A brilliant, provocative, outstandingly written investigation into some of the great outrages of our time. It has started many debates, and will start many more." A £40,000 prize awarded by Warwick University, UK

Canadian Booksellers Association Libris Award for Non-Fiction Book of the Year (2008) for The Shock Doctrine

James Aronson Award for Social Justice Journalism (2004)

Canadian National Business Book Award (2001) for No Logo

Le Prix Médiations, France (2001)

National Magazine Awards (Canada), Gold (1999)
Selected Nominations: 
National Book Award for Non-Fiction (2017)

PEN

/John Kenneth Galbraith Award for Non-Fiction (2015)

RBC Charles Taylor Prize for Literary Non-Fiction (2015)

Shaughnessy Cohen Prize for Political Writing (2015)

National Magazine Award (US) for Columns and Commentary (2009)

Canadian Booksellers Association Libris Award for Author of the year (2008)

Ontario Library Association Evergreen Award (2008)

LA Times

Book Award (2007)

The New York Public Library Bernstein Award for Journalism (2007)

National Business Book Award (Canada) (multiple)

The Guardian

Newspaper First Book Award (2000)