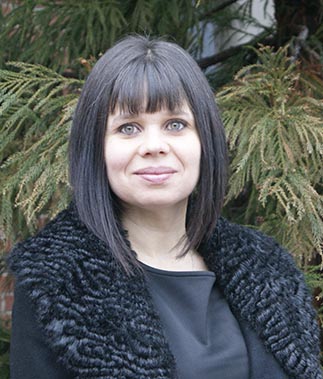 Rachel

Kremen
Teaching Instructor of Journalism and Media Studies
OFFICE:

SDW 303

FAX:
EMAIL:
Canadian journalist Rachel Kremen began her career in the 1990s, just as editors started fearing the Web. She built sites for several traditional magazines before taking a job at MSNBC. As an interactive producer for the 24-hour news channel, Kremen coordinated teams of reporters, photographers and Web designers. Together they developed new ways to create compelling online journalism by integrating video, text and animation.
Kremen later worked as a technology reporter and columnist for the Toronto Star, Canada's largest circulation daily newspaper. Her stories for the Star covered many topics, including biotechnology, computers and environmental issues.
Kremen also taught journalism at her alma mater, Ryerson University. Her course focused on news gathering and reporting skills for the Web, as well the use of audio and video in online storytelling.
In 2005, Kremen was awarded the MIT Knight Science Journalism Fellowship. There she met with top researchers for informal lectures and took classes in a range of subjects including pharmacokinetics, weapons of mass destruction and epidemiology.
After the fellowship, Kremen became the online managing editor for MIT Technology Review. Kremen spent much of her time managing staff and freelance writers, assigning stories on emerging technologies, offering suggestions for sources and perfecting copy.
Kremen now lives in New Jersey, where she works as a freelance writer and editor. In her spare time, Kremen builds robots and keeps her son off the chandelier.
---
Education
Purdue University, 2019
Master of Science, Education, Learning Design and Technology
Massachusetts Institute of Technology, 2006
Knight Science Journalism Fellowship
Ryerson University, 1997
Bachelor of Applied Arts, Journalism
---
Other
Barbara Reed Service Award
May 2019, Rutgers University, Journalism and Media Studies Department
For distinguished achievement in service, as voted on by fellow faculty.
21st Century Learner Award
Mar 2019, Rutgers University, School of Arts and Sciences
A Humanities Plus Pedagogical Innovation Grant awarded granted for thinking creatively and imaginatively about 21st century Humanities pedagogy.
Teaching Award
May 2018, Rutgers University, Journalism and Media Studies Department
Awarded for excellence in teaching to students in the Journalism and Media Studies Department, as voted by fellow faculty.