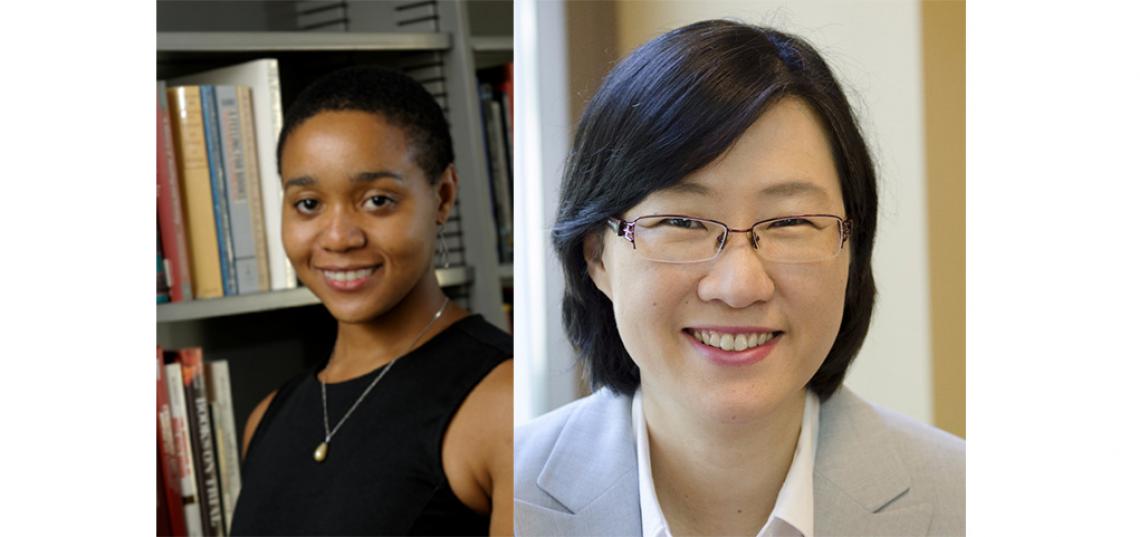 Two SC&I Alumnae Elected to ASI&T Board of Directors
SC&I alumnae Emily Knox and Soo Young Rieh have been elected to the Association for Information Science and Technology (ASIS&T) Board of Directors. Their terms will begin on November 1, 2017.
Knox, who is an Assistant Professor in the School of Information Sciences at the University of Illinois at Urbana-Champaign, graduated with a Ph.D. from SC&I in 2012.
Regarding her election, Knox said, "I'm excited to serve on the board of ASIS&T. During my time at SC&I, I gained valuable leadership skills as Treasurer of both the SC&I Doctoral Students Association and the Rutgers Graduate Students Association that will serve me well during my term as director."
Knox's dissertation was titled "The Discourse of Censorship: Understanding the Worldviews of Challengers." Associate Professor Marija Dalbello was her dissertation advisor.
Knox's ". . . research interests include information access, intellectual freedom and censorship, information ethics, information policy, and the intersection of print culture and reading practices," according to her biography at the School of Information Sciences at the University of Illinois-Champaign. "She recently edited Trigger Warnings: History, Theory, Context, published by Rowman & Littlefield in June 2017. Her book, Book Banning in 21st Century America, was published by Rowman & Littlefield in 2015. It is the first monograph in the Beta Phi Mu Scholars' Series."
Rieh, who is an Associate Professor in the School of Information at the University of Michigan, graduated with a Ph.D. in Communication, Information, and Library Studies from SC&I in 2000. Her dissertation title was "Information Quality and Cognitive Authority in the World Wide Web," and her advisor was Professor Nicholas J. Belkin.
"I am truly honored to be elected to the ASIS&T Board of Directors," Rieh said. "Throughout my career, ASIS&T has been my professional home in which I get to work with such a great group of information science researchers, librarians, and information professionals. I am very excited to have the opportunities to contribute as a Director-at-large because I feel that my professional life has been enhanced and enriched since I joined this professional organization as a student member."
Explaining her goals as a member of the board, Rieh said, "I am strongly committed to improve the visibility of information science research in order to make stronger impact on the public, practitioners, and researchers both within and outside our field.
According to the University of Michigan's School of Information website, Rieh's ". . . research areas include human information behavior and web searching behavior focusing on human judgments of information credibility and cognitive authority. For the past 15 years, she has examined how to help people find credible information across a variety of information resources, and the relationship of credibility assessment to information seeking strategies. Recently, she has expanded her research interests to credibility assessment heuristics in learning environments and everyday life information activities. She was a Principle Investigator of the Credibility Assessment in the Participatory Web Environment Project funded by the MacArthur Foundation. She was also a Co-PI for the BiblioBouts Project funded by the Institute of Museum and Library Services (IMLS) which has developed the web-based information literacy game for undergraduate students. She is a past chair of the ASIS&T Special Interest Group in Information Needs Seeking and Use (SIGUSE) in 2009-2010."
"One of the important lessons I learned from the SC&I doctoral program is that information science is an exciting field because it bridges information science theories and information professionals' practices," Rieh explained. "As a member of the ASI&T Board of Directors, I will strive to support networking and collaboration opportunities between academics and professionals. My top priority will be to foster events and programs so that academics suggest ways in which their findings may be best translated into the practices of information professionals and practitioners are also encouraged to utilize and adapt scientific research for their evidence-based practices."