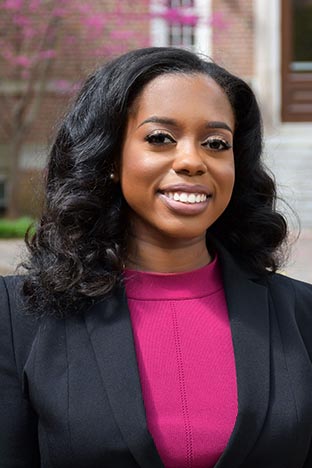 Megan

Threats
Assistant Professor of Library and Information Science
Office:

Huntington House 204

PHONE:
EMAIL:

WEB LINKS:
Megan Threats is interested in eliminating health disparities affecting sexual and gender minority communities of color. Her program of research centers on leveraging informatics and social computing technologies to support health promotion and disease prevention. She also investigates how socio-ecological factors influence the health information practices of young adults. Threats is Visiting Research Faculty at the Yale School of Public Health in the Center for Interdisciplinary Research on AIDS. She is also a faculty affiliate at the Center for Critical Race and Digital Studies at New York University.
---
Education
University of North Carolina at Chapel Hill
Ph.D., Information and Library Science
Syracuse University
M.S., Library and Information Science
Michigan State University
B.A. (dual) , Political Theory and Constitutional Democracy & Comparative Cultures and Politics
---
Research
Threats aims to use a critical theoretical and community-engaged approach, integrating information science and public health, to develop user-centered, culturally appropriate HIV/STI behavioral interventions. She investigates the influence of socio-ecological factors on health information practices and sexual and reproductive healthcare utilization. The goal of her research is to leverage information and technologies to improve the health outcomes of sexual and gender minority communities of color and reduce the subsequent health disparities affecting these populations. Threats has been a Bill and Melinda Gates Millennium Scholar, McNair Scholar, and is currently a Forward Fellow in the Social Intervention Group at Columbia University.
---
Centers, Labs, Working Groups, and Clusters
---
Selected Publications
Threats, M. & Bond, K. (2021). HIV information acquisition and use among young black men who have sex with men who use the internet: a mixed methods study. Journal of Medical Internet Research, 23(5), e22986.
Threats, M., Brawner, B., Montgomery, T., Abrams, J. Jemmott, L., Crouch, P., Freeborn, K, Kamitani, E., & Enah, C. (2021). A review of recent HIV prevention interventions and future considerations for nursing science. Journal of the Association of Nursing in AIDS Care, 32(3), 373-391.
Threats, M., Boyd, D., Diaz, J., & Adebayo, O.W. (2021). Deterrents and motivators of HIV testing among young black men who have sex with men in North Carolina. AIDS Care, 33(7), 943-951.
Blackburn, N., Dong, W., Threats, M., Barry, M., LeGrand, S., Hightow-Weidman, L., Soni, K., Pulley, D., Bauermeister, J., & Muessig, K. (2021). Building community in the HIV online intervention space: lessons from the HealthMPowerment Intervention. Health Education & Behavior.
Gibson, A. N., Hughes-Hassell, S., & Threats, M. (2018). Critical race theory in the LIS curriculum. In J. Percell, L. Sarin, P. Jaeger, & J. Bertot (Eds.), Advances in Librarianship Volume 42, Re-Envisioning the MLIS: Perspectives on the future of library and information science education. Emerald. pp. 49-70.
---
Awards & Recognitions
National Institutes of Health (NIH) Loan Repayment (LRP) Award, National Institute on Minority Health and Health Disparities, 2021-2023
LGBTQ & Racial Justice Small Grant, Williams Institute, UCLA School of Law, 2021
University of North Carolina at Chapel Hill Dissertation Horizon Award, 2020
Eugene Garfield Doctoral Dissertation Fellowship, 2019
Clarivate Analytics/Medical Library Association Doctoral Fellowship, 2018
---
Research Keywords