The 3rd Annual SC&I Mingle was a Success!
Over 130 students, alumni, faculty and staff attended this year's Mingle.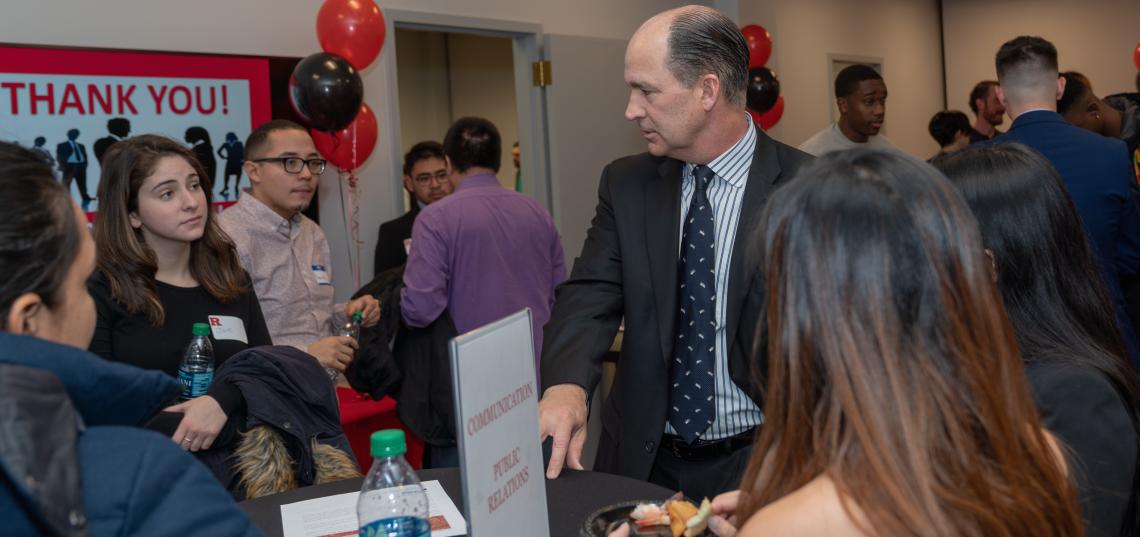 A nice crowd gathered for the annual SC&I Mingle on December 5, 2018 at the School of Communication and Information. Over 130 students attended, including 25 alumni and multiple faculty, staff, and deans. Attendees networked during field-related discussion stations, took free LinkedIn headshots, ate delicious food, and had the opportunity to win prizes.
The night started with a welcome by Kevin Ewell, Assistant Dean of Student Services and Stephanie Mikitish, Ph.D. '17 from the SC&I Alumni Association. After, there was a presentation from Ildi Koczan, MA, NCC, SC&I Assistant Director of Student Services for Careers. The presentation highlighted the importance of using Rutgers Handshake, a university-wide career platform that allows students and alumni to stay connected and perform multitude of career related services including searching and applying for jobs, internships, part-time positions, and scheduling appointments with various career advisors across campus. Koczan also highlighted the importance of networking and creating platforms for alumni and students to engage in mentoring relationships as it has a vast amount of benefits to both parties including academic success, higher self-esteem and clearer career goals.
Through social media, SC&I advocated for the platform for students and alumni to stay connected. A competition was held to see which student organizations could recruit the most new students to sign up for Handshake. The winners were revealed at the Mingle. In the graduate program, the Master of Information (MI) students recruited 49% of newly signed up users in just one month. In the undergraduate program, the Public Relations Student Society of America (PRSSA) won. Altogether, 279 new students joined Handshake.
During the career field-related networking and discussions, students veered off into four groups to connect with other students, faculty and alumni. The groups were divided into public relations/communication, journalism and media, information technology and informatics, and library studies. Everyone took advantage of the networking opportunities.
SC&I has many career-related events coming up for Spring 2019. Events such as resume clinics and workshops, career fair workshops, portfolio reviews, and more will be happening throughout the semester. The biggest event will be the SC&I Career Expo on Monday, April 1, 2019.
Connect with us on the new LinkedIn group, SC&I's Career Corner, Rutgers University. Rutgers School of Communication and Information sponsors this group page for our students and SC&I alumni to share ideas, advice, information and other items related to careers within the communication and information industries.
Click here for more info: https://www.linkedin.com/groups/8723009/
For more information about career resources at SC&I, click here.