Library and Information Science Department

About the LIS Department: the iSchool at Rutgers
The Department of Library and Information Science has a distinguished record of research, education and community outreach that spans many decades. It is a founding member of the iSchools consortium and our programs are recognized by Rutgers University through its national rankings as some of its best.
The department is characterized by a research and learning culture that is inclusive, diverse and cohesive, international in scope and local in impact.
Vision
Enhancing human experience and quality of life in a dynamic information world, our goal is to pursue pre-eminence and leadership through boundary-breaking research and innovative professional and academic programs.
Mission
As scholars and educators in the Department of Library and Information Science, we believe that information makes a profound difference in the lives of people, communities and organizations.
We undertake boundary-breaking research that seeks to understand and enhance people's lives by enabling and supporting their interactions with information in whatever contexts and forms that may happen.
We educate future-ready professionals in diverse information service and technology contexts. They are prepared to design, manage and evaluate systems and services that support people and communities' interactions with information, and they play a leading role in enabling people to create, use, and preserve knowledge. They are people-centered in their work, critical and reflective thinkers, creative problem solvers, and effective communicators.
LIBRARY AND INFORMATION SCIENCE PROGRAMS:
Information Technology and Informatics major
Master of Information (MI), with concentrations in Library and Information Science; School Librarianship; Data Science: Informatics and Design Technology, Information and Management; and Archives and Preservation.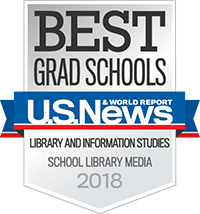 Our MI program is ranked in the Top 10 in the nation by U.S. News & World Report:
# 1 in the nation, School Library Media 
# 7 in the nation, Library and Information Studies
# 6 in the nation, Digital Librarianship
# 6 in the nation, Services for Children and Youth
# 8 in the nation, Information Systems
Library and Information Science area, Ph.D. Program
A Distinguished Faculty
To learn more about the faculty in the LIS department, visit the LIS Directory page.
Our faculty are scholars and educators with prominent national and international standing, recipients of distinguished scholarly and professional awards, and recipients of research funding from National Science Foundation, DARPA, ARDA, the Department of Homeland Security, and the Institute of Museum and Library Services, as well as numerous foundations, corporations and library and information science organizations, Google, and OCLC.
Our faculty publish in top-tier journals and proceedings as well as serve on their editorial boards, such as Information Processing and Management, Information Retrieval, Interaction with Computers, Journal of the Association for Information Science and Technology, Journal of Documentation, Journal of Education for Library and Information Science, Library Quarterly, and Journal of Learning, Media & Technology.
LIS Research
The research and scholarship of our international faculty draw on rich and diverse theoretical foundations and methodological traditions, and contributes to new understandings, contemporary theory development, new methodological approaches, and innovative professional applications.
We actively pursue these studies in the context of diversity and social justice. We value the role of libraries and information organizations in promoting lifelong learning, participatory citizenship and the public good.Connecting these research foci are common threads that define our scholarly contribution and distinguish our department as an iSchool: