Full-Time Faculty Positions
Department of Communication, Open Rank Faculty Positions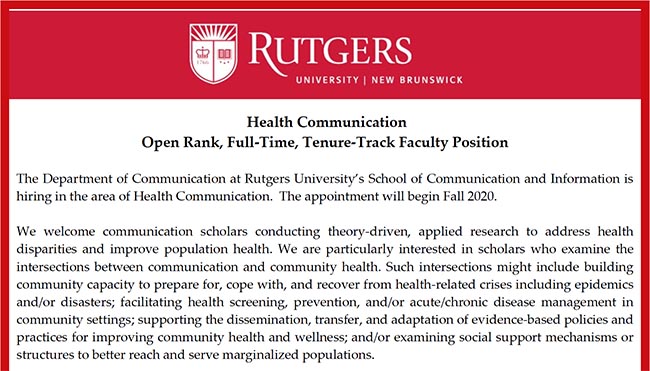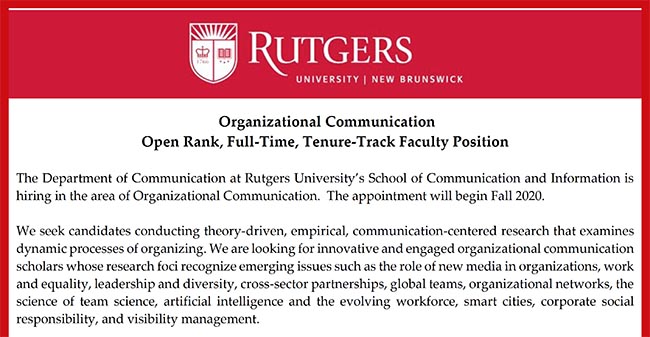 Department of Library and Information Science, Open Rank Faculty Positions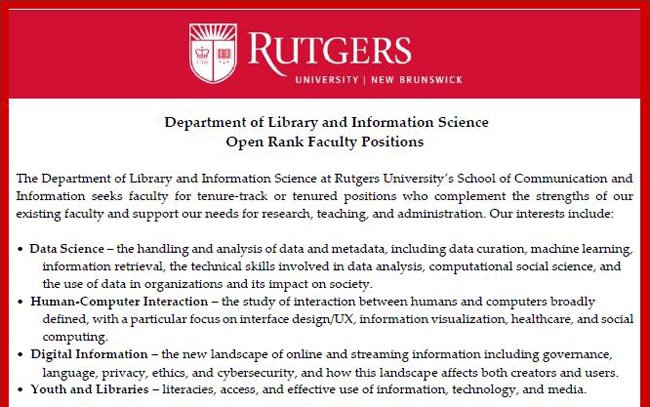 Part-Time Teaching Opportunities
The school seeks qualified part-time instructors in our bachelor's and master's programs. If you are interested in discussing the prospect of becoming a part-time faculty member, contact the department chair or program director of the program in your area of expertise by emailing them with your resume/CV and a cover letter that outlines your teaching experience, your subject matter expertise, and lists the courses we offer that you feel qualified to teach. To see a list of courses in each program, go to the program page by using the blue navigation bar above; the "Undergraduate" and "Graduate" options will allow you to select a program and see its course listing.  Or you can submit your materials online through the Rutgers jobs portal; links are given for each program.
Programs in which we hire part-time faculty:
Staff Positions
All full-time, permanent part-time, and some temporary staff positions at SC&I are listed through the University Human Resources portal.
It is university policy to provide equal employment opportunity to all its employees and applicants for employment regardless of their race, creed, color, national origin, age, ancestry, nationality, marital or domestic partnership or civil union status, sex, pregnancy, gender identity or expression, disability status, liability for military service, protected veteran status, affectional or sexual orientation, atypical cellular or blood trait, genetic information (including the refusal to submit to genetic testing), or any other category protected by law. As an institution, we value diversity of background and opinion, and prohibit discrimination or harassment on the basis of any legally protected class in the areas of hiring, recruitment, promotion, transfer, demotion, training, compensation, pay, fringe benefits, layoff, termination or any other terms and conditions of employment. For additional information please see the Non-Discrimination Statement.
In compliance with the Americans with Disabilities Act (ADA) and the New Jersey Law Against Discrimination (NJLAD), if you have a disability and would like to request an accommodation with regard to your access to and/or your participation in the application and selection processes (for example, the online application process or interviews), please call 848-932-4444 or e-mail Karen Novick at knovick@Rutgers.edu