Fall Edition of Kairos, "Transformations"
Journalism and Media Studies Students Produce Stories of Change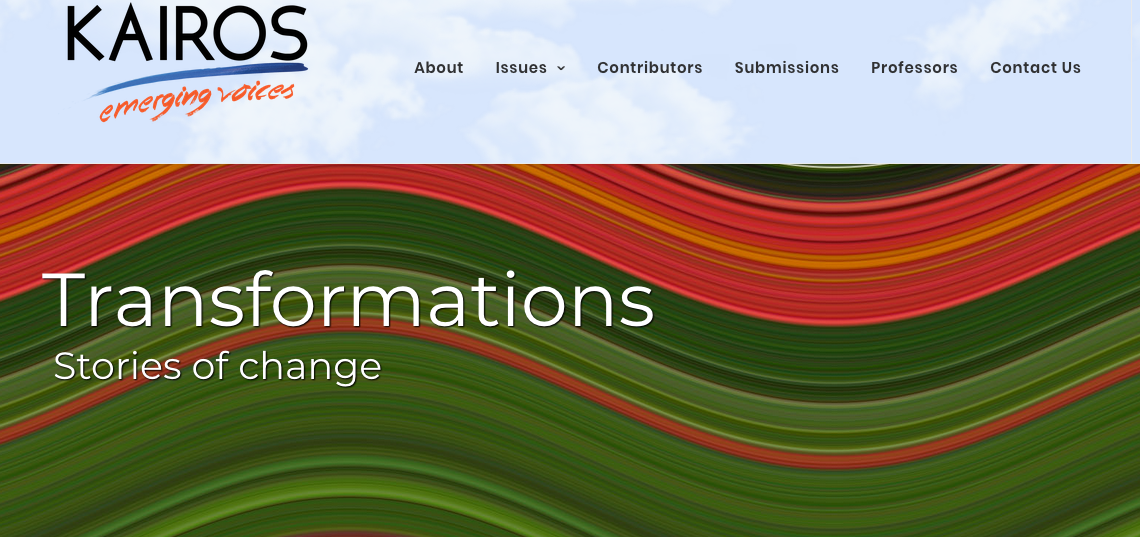 Check out the fall edition of Kairos, the twice-yearly online magazine of top Journalism and Media Studies undergraduate student work! 
This issue focuses on the theme of "Transformations," and features stories about change. The magazine examines why millennials aren't unionizing, and looks at the sudden ouster of homeless people from the main room of Newark Penn Station. It also tells the story of a Syrian refugee family who found a new home in Italy, and of a student whose makeover plan went slightly awry. 
Kairos is also featuring written and audiovisual essays about fashion and identity, and reporting from projects abroad, in Guatemala and Italy.
Kudos to JMS majors and others whose work is featured here: to Keith Haas, Katelynn Simmons, Roman Gerus, Alex Nazzaro, Rachel Appleton, Mallory Nathan, Valerie Pinnola, Corinne Tynan, Susmita Paruchuri, Nour Hoda Seleem, Monica Sainz, Mary Ellen Cagnassola, Sade Ford, Emily Liu, Samantha Jeannot, Leona Juan, Angelica Morales, Dalila Radoncic, Christopher Bohorquez, Yinxin Liang, and Morgan Constuble.
Kairos welcomes submissions for the spring 2018 edition. The theme is "The Cosmopolitans: How New Jersey's new Americans are reshaping the culture of the state," which will focus on ethnicity, diversity and cultural change. But strong stories and essays of all kinds, and in all formats, are welcome. See detailed submissions guidelines.