ITI Program Showcases Student Projects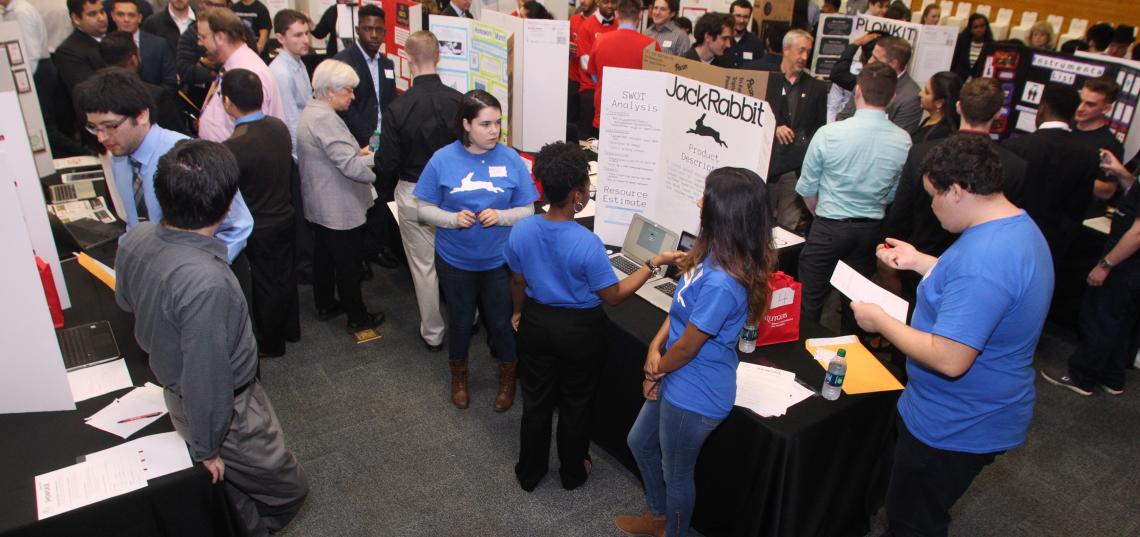 The afternoon of April 26 at the College Avenue Student Center Lounge was a buzz of activity when over 250 people gathered for ITI Showcase Spring 2017 to see 33 student teams from the Management of Technological Organizations class compete in the Pitch, Poster, and Prototype competition and to attend the launch of the Spring 2017 Capstone project, AUXO Garden.  
One of the features of ITI Showcase is the Pitch, Poster, and Prototype competition.  This competition is unique in that it blends both peer and professional review into the same contest.  Set up like a trade show exhibition, student teams pitched their projects to each other and to a panel of 18 judges from the information technology field.  Projects were evaluated for innovation, creativity, clarity and quality of the team's presentation. Both students and judges choose their top three favorites, and the following projects were selected at the event:
Judges Choice Winners / Instructor
RU Organized - Part-Time Lecturer Deborah Close
Safe and Sound - Part-Time Lecturer Connie Pascal
Smart Parking - Part-Time Lecturer Mike Doyle
Student Choice Winners / Instructor
Instrumentalist - Assistant Professor Charles Senteio
Safe and Sound - Part-Time Lecturer Connie Pascal
What to Wear - Part-Time Lecturer Ben Bakelaar
The overall winner of the Pitch, Poster, and Prototype Competition at the ITI Showcase was Safe and Sound.  This proposed mobile app for the Rutgers Department of Public Safety would provide real-time crime, weather, and traffic alerts plus access to the SafeHalo buddy-on-demand system for Rutgers students.  ITI majors Hussain Ahmed, Lawrence Bugaoan, Gustavo Campana, Mike Lavarone, Jennifer Lynk, and Rifath Maria created and prototyped Safe and Sound.
To read more about the other teams that competed, click here.
Later in the evening, the Spring 2017 Capstone class débuted their technology based product AUXO Garden to the panel of judges and an audience of their peers.  AUXO Garden is a technology based product that includes a moisture sensor and a companion mobile app designed to support the gardening process.  The judges provided the Capstone students with advice and feedback on their product strategy, product design, marketing, and finance.   
Director of the ITI Program and Assistant Teaching Professor Sharon Stoerger said, "The time, energy, and innovative thinking contributed by the students and their instructors make the ITI Showcase an inspiring event. Our prestigious panel of judges are very generous in donating their time and expertise to the students, and they also contribute to the success of the ITI Showcase.
SC&I Assistant Professor Kaitlin Costello, commented on the Showcase saying, "I particularly appreciated seeing former students from my social informatics courses drawing upon concepts we discussed in class for these projects. The students should be really proud of their hard work—I saw a lot of impressive, interesting, and thoughtful projects at the Showcase."
Stoerger continued, "Our Fall 2017 ITI Showcase will be on Tuesday, December 12, and we are already excited to see the ways students will bring their information technology ideas to life."
SafeHalo is an application that was developed by a recent Rutgers graduate. Read more here.