Scarlet Pride Far and Wide: Rutgers Giving Day Is March 21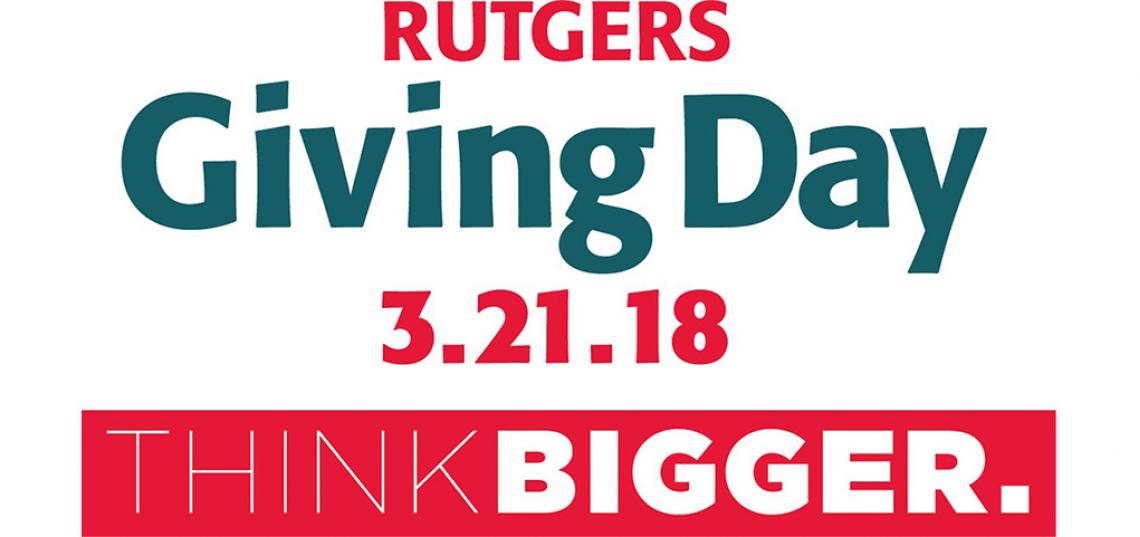 On March 21, 2018, something big is happening at Rutgers. Think big, think really big—think thousands of alumni and friends supporting every Rutgers school – here's a great opportunity to give to the School of Communication and Information (SC&I) - and every other program imaginable.
Rutgers Giving Day empowers Rutgers students, faculty, staff, alumni, and friends to take part in a daylong giving event dedicated to all things scarlet.
Now, think bigger—the entire Rutgers community making an impact that will transform the future for generations to come. One day, a world of impact. How will you think bigger?
The Power of Big
On Rutgers Giving Day, join a community of hundreds of thousands of alumni, donors, friends, patients, students, faculty, and staff to make a powerful impact on a single day.
Big Impact
The university's future is shaped gift by gift, no matter the amount. This year on Rutgers Giving Day, amplify your gift by adding it to thousands of others and make a huge and lasting impact on the university.
Big Causes
On Rutgers Giving Day, you can support just about any cause that is meaningful to you, including life-changing scholarships, pioneering research, and innovative student programs.
Think Bigger, Think Better
An investment in Rutgers has unlimited potential. Imagine what you can help make possible on Rutgers Giving Day.
Giving Today, Scarlet Forever
On Rutgers Giving Day, the university community will come together to make an impact. Share your scarlet pride by taking part in on-campus events and social media challenges throughout the day.
Big Challenges
An array of social media challenges on Rutgers Giving Day will help your school, unit, or program earn additional support. Take a trip down memory lane, take a selfie, and take part to have an even bigger impact on the Rutgers cause that means the most to you. You might even win a prize!
Use Your Scarlet Voice!
Share what it means to be #ScarletForever with your friends! Sign up to be a Scarlet Voice with your Facebook, Twitter, or LinkedIn account and show why you love being a part of the Rutgers community. You will be invited to share news and stories from Rutgers throughout the year and will earn points and prizes in the process. Through Scarlet Voice, you will receive special Rutgers Giving Day messages to share and will be able to participate in additional Rutgers Giving Day contests, which will include the opportunity to win award money for your favorite area at Rutgers.
If you would like to help support Rutgers by posting about Giving Day on social media, use these hashtags to add your messages: #ThinkBigger #RUGivingDay #ScarletForever #Rutgers.
To make a gift on Giving Day, March 21, 2018, visit GivingDay.Rutgers.edu and click the "Give Now" button on the home page. Then follow the directions provided.
To learn more about the various ways your gift can support SC&I, please contact Assistant Dean for Development Rob Eccles, or Development Specialist Jodi Marcou.
For more information about where and how to give, click on the Rutgers Giving Day website page, or email givingday@ruf.rutgers.edu, or call 732-839-GIVE (4483).