Scholarship Reception Held to Honor Donors and Recipients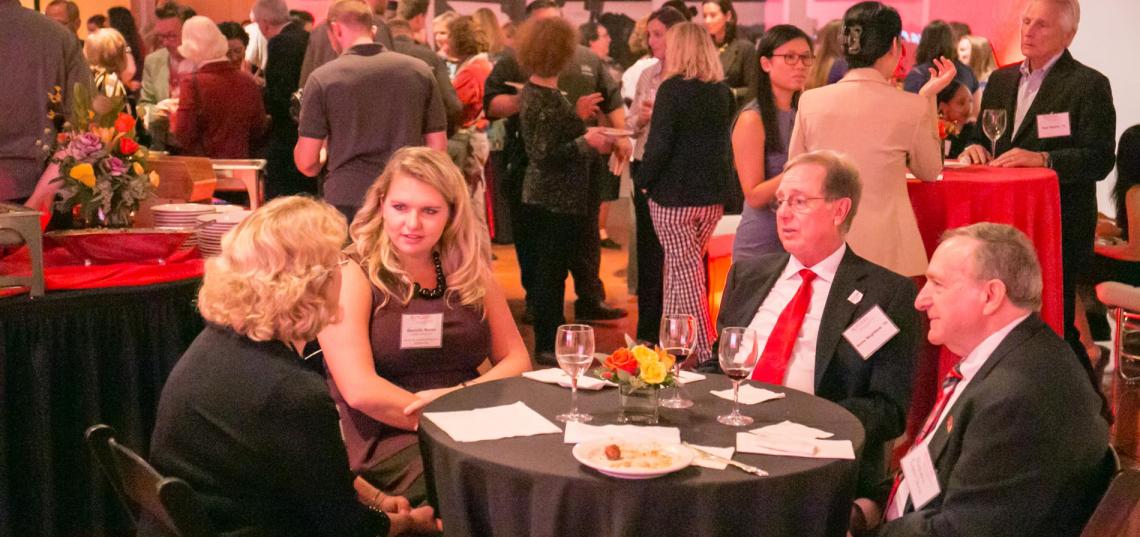 Last fall, The School of Communication and Information (SC&I) hosted a Scholarship Reception at the Zimmerli Art Museum at Rutgers. The event was held to honor scholarship award recipients and thank many of the donors for their generous support of SC&I. At the reception, donors were introduced to students who benefited significantly from their generosity, and alternatively, students had the opportunity to thank their donors in person.
Scholarship award winners included undergraduate students in SC&I's Journalism and Media Studies, Communication, and ITI programs as well as graduate students from the Master of Information (MI), Master of Communication and Information Studies (MCIS), and Library and Information Science (LIS) programs. Everyone enjoyed the delicious dinner, drinks, and conversation with donors, students and colleagues.
Guest speakers at the reception included alumnus and donor Steve Magidson '70, and his wife Cynde '72 (also a Rutgers alumna), who have generously funded student scholarships for many years. Magidson spoke to the attendees, explaining that donating to SC&I is similar to planting a tree. Donors may not be able to plant a fully-grown tree, but they can each do their part by planting and watering seeds to help the trees grow. In addition, Magidson said, although individual donors might not be able to pay a student's entire tuition, they can still make a difference by giving back within their means. He also explained that scholarships are a necessity for many students in order to attend SC&I, and therefore, the more students who graduate with Rutgers University degrees, the fuller our forest will be.
Journalism and Media Studies senior, Kayla Brantley, who received the Kenneth Q. and Viola W. Jennings Memorial Scholarship, said the scholarship helped her pay for her housing this school year. "The reception was great," she said. "I was able to meet my donors and mingle with alumni, faculty, and fellow students." Brantley hopes to go into the Broadcast Journalism and Documentary fields after graduation.
Dean Jonathan Potter also spoke at the Scholarship Reception. Potter sincerely thanked all of the donors and the faculty for their dedication to SC&I. He also thanked Director of Development Linda Christian for her work on behalf of SC&I.
Christian said, "It was so great to see so many of our amazing donors and scholarship award recipients together in one room enjoying this wonderful event! We had a fantastic turnout. The evening was filled with wonderful conversations, delicious food, a motivating speaker, and it was enjoyed by all."