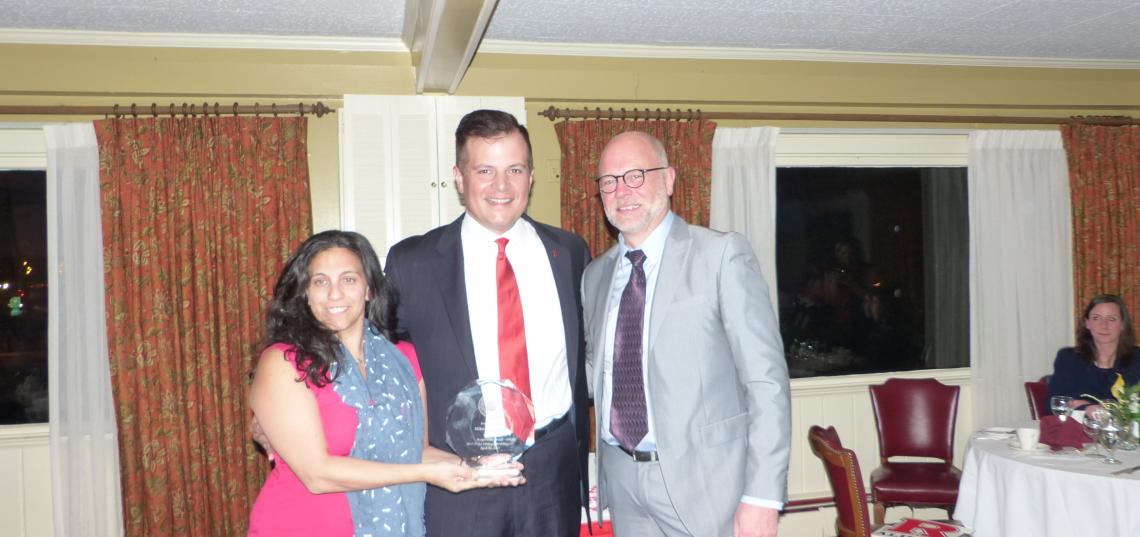 SC&I Alumni Association holds Annual Distinguished Alumni Awards Dinner
#JMS alumni Mike Emanuel, '90 honored at the SC&I alumni association dinner.
The Rutgers University School of Communication & Information (SC&I)  Alumni Association Annual Distinguished Alumni Award Dinner was held on Wednesday, April 19. This year's recipient was #JMS alumni Mike Emanuel, '90. Evangelia Papamarkou, President SC&I Alumni Association, gave the welcome of the evening and presented the award along with Associate Dean of Research, Mark Aakhus. 
"Annually, our Distinguished Alumni Dinner recognizes alumni from across SC&I who have excelled in their careers. This year's honoree, Mike Emanuel, is no exception and we are grateful to be able to celebrate Mike and all his accomplishments with current students, alumni and staff. We are proud of all of SC&I Alumni across the world and look forward to honoring many more for the amazing contributions they are making in the ever changing world of communication and information," added Papamarkou.
Emanuel currently serves as chief congressional correspondent and senior political correspondent for FOX News Channel (FNC). He joined FNC in 1997 as a Los Angeles-based correspondent. During his tenure at FNC, Emanuel has provided live coverage of many national and international stories, including the 2012 presidential elections, the 2005 Iraqi elections from Baghdad and the execution of former dictator Saddam Hussein. Most recently, Emanuel has covered Secretary Hillary Clinton's 2016 presidential campaign. He has reported on some of the key 2014 Congressional races, the IRS scandal, the hearings surrounding the 2012 attacks in Benghazi, Libya attacks and President Barack Obama's 2015 State of the Union address from Capitol Hill. Before joining FNC, Emanuel worked for KCAL-TV (CBS 9), a local independent station in Los Angeles, CA, where he covered breaking news. Prior to that, he covered local and state politics for KMID-TV (ABC 2) in Midland, Texas, KCEN-TV (NBC 6) in Waco, Texas and KTBC-TV (FOX 7) in Austin, Texas. Emanuel received a B.A. in communications from Rutgers University where he worked as a play-by-play radio announcer for Rutgers athletics on WRSU-FM (88.7 FM).
The SC&I Alumni Association thanks the Rutgers University School of Communication & Information and the Rutgers University Alumni Association for their continuous support of our Annual Distinguished Alumni Dinner!
Follow Rutgers SC&I Alumni Association to keep updated on events and activities!
Twitter-@RUSCIAA
Instagram-@RUSCIAA
Facebook-Rutgers SC&I Alumni Association
Email-RUSCIAA@gmail.com
Website-alumni.comminfo.rutgers.edu