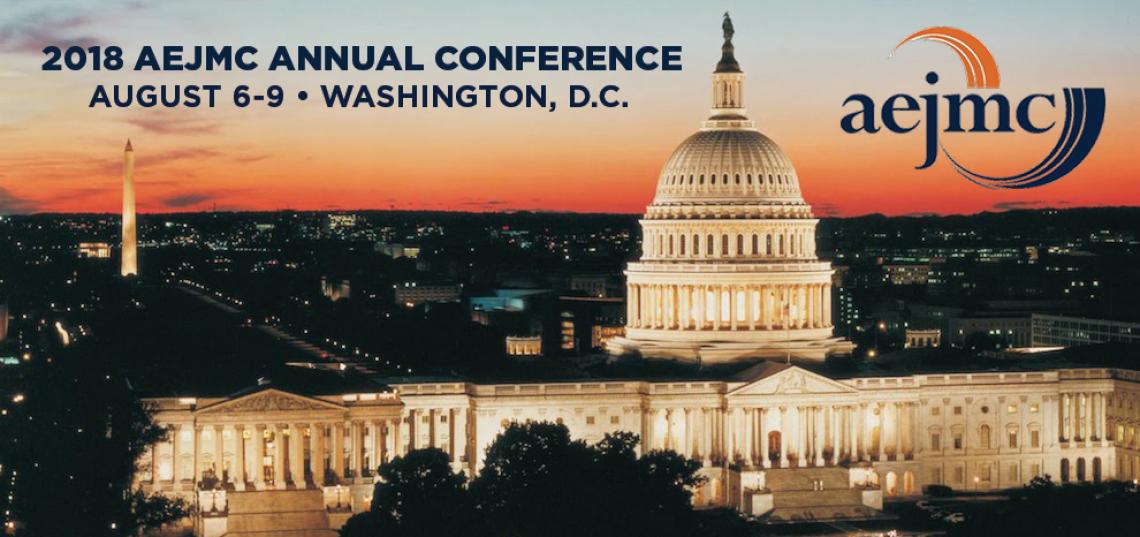 SC&I Faculty to attend the 2018 Association for Education in Journalism and Mass Communication Conference
JMS and COM Departments to Participate in Major Media Conference
SC&I's Journalism and Media Studies (JMS) and Communication Departments head to Washington, D.C., for the upcoming 2018 Association for Education in Journalism and Mass Communication Conference to weigh in on several timely issues hitting news media today – from the detrimental downsizing of local news to the takeover of digital reporting. The conference is being held from August 6-9 at the Renaissance Hotel Downtown.
Various faculty members will be representing SC&I, including Associate Professor of Journalism and Media Studies Lauren Feldman, who will participate on the panel From Reality to Drama: The Role of Entertainment TV Storytelling in Empowering U.S. Hispanic Parents, on Monday, August 6. Also presenting on this day are doctoral student Nicole Gesualdo on Journalists, Policy, and the Role of Evidence in the News; and doctoral students Christoph Mergerson and Qun Wang as panelists on Ph.D. Bootcamp: Preparing Future Faculty to Lead Innovative Curriculum. Wang is the recipient of two of AEJMC's most prestigious awards, the 2018 Lee Barrow Minority Doctoral Scholarship and first place in the graduate student division of the Promising Professors Award, which is managed by the Mass Communication and Society Division of the AEJMC.
On Tuesday, August 7, Department Chair and Associate Professor of Journalism and Media Studies Susan Keith will co-moderate Contextualizing Media Credibility in 2018, a panel discussion where scholars will share best practices for contextualizing the notion of credibility historically as it pertains to newspapers and online news production.
On Wednesday, August 8, Ph.D. graduate Sean Leavey will be in a scholar-to-scholar refereed paper poster session on Trash and Treasure TV; and Weber and Wang will discuss Assessing Local Journalism: News Deserts, Journalism Divides, and the Determinants of the Robustness of Local News. 
Associate Professor of Communication Vikki Katz will be on the panel for the session on Displaced and Marginalized: The Implications of Digital Literacy, Digital Technology and Social Media Use by Immigrants and Refugees, on August 9.
The Department of Journalism and Media Studies will sponsor a reception from 7 to 9 p.m. on Tuesday, Aug. 7, at City Tap House Penn Quarter, 901 Ninth St. NW, next door the Renaissance Hotel Downtown.
According to its website, the mission of the Association for Education in Journalism and Mass Communication (AEJMC) is "to promote the highest possible standards for journalism and mass communication education, to cultivate the widest possible range of communication research, to encourage the implementation of a multi-cultural society in the classroom and curriculum, and to defend and maintain freedom of communication in an effort to achieve better professional practice and a better-informed public."
Keith said that AEJMC is an important conference that attracts about 2,500 scholars and graduate students. "Last year, 720 papers were accepted on topics as different as journalism, strategic communication, media history, media law and ethics, media theory, critical-cultural studies, health communication, strategic communication, sports media, and treatment of gender, race and sexuality in media. Over the years, faculty members in the Department of Journalism and Media Studies have played important roles in AEJMC, serving as heads of divisions and board members. AEJMC has also given some of our Ph.D. students their first experiences sharing their research at a national conference."
To learn more about our Journalism and Media Studies program, click here
To learn more about our Communication program, click here