The winter 2020 edition of KAIROS is published online
The Journalism and Media Studies online magazine of top undergraduate work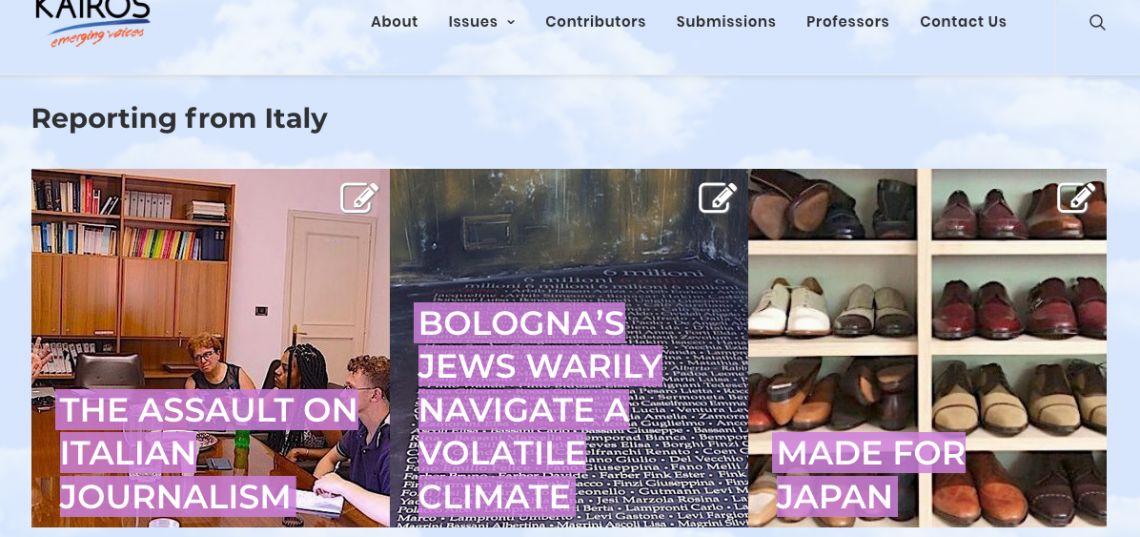 SC&I is thrilled to announce the winter 2020 edition of KAIROS, the Journalism and Media Studies online magazine of top undergraduate work.
Its special theme is "Women's Struggles," with a lead story by Gina Sbrilli about fears that the days of backroom abortions and unwanted childbirth could return; a video story by Ameer Al-Khatahtbeh about women's attitudes toward wearing hijab in Trump's America; and a photo essay by Faith Franzonia about finding beauty in one's natural curves. 
Other stories include:
INVESTIGATIONS
by Kristen Ofeldt, Danielle Ciampaglia and Elaina Francis (Juan González)
 
CULTURE & SOCIETY
Booktubing craze attracts GenZ'ers eager for personality-driven connection by Hemmanuel Cruz (Mary D'Ambrosio)
REPORTING FROM GUATEMALA
A journalist's investigation attracts death threats, and she's forced to shut her magazine and flee. By Nidia Tejada (Regina Marchi)
By Madhu Murali (Regina Marchi)
By Rebecca Koblin (Regina Marchi)
REPORTING FROM ITALY
By Nala Peña and Tyler Zucker (Mary D'Ambrosio)
By Mia Boccher and Meghan McCarty (Mary D'Ambrosio)
Made for Japan 
By Jessica Vadillo, Melody Rivera and Natalie Shute (Mary D'Ambrosio)
WANT TO HAVE YOUR WORK CONSIDERED FOR THE NEXT EDITION OF KAIROS? 
Please see the submission guidelines.