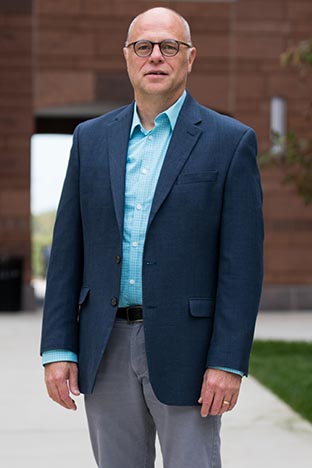 Mark

Aakhus
Associate Dean for Research and Professor of Communication
Office:

Dean's Office

PHONE:

FAX:
EMAIL:

OFFICE HOURS:

WEB LINKS:
Mark Aakhus investigates the relationship between communication and design, especially the uses of technological and organizational design, to augment human interaction and reasoning for decision-making and conflict-management. He uses multiple methods from discourse analysis and computational social science to examine language, argumentation, and social interaction in professional practice, organizational processes, and information infrastructures.
---
Education
University of Arizona
Ph.D., Communication and Management Information Systems
Washington State University
M.A., Communication (Language and Social Interaction)
University of North Dakota
B.A., Political Science and Journalism
---
Research
Mark Aakhus's current research, teaching, and doctoral projects emphasize the following themes:
Argument Mining: Laboratory for the Study of Applied Language Technology and Society
Designing common(s) ground for open innovation: Social media and information systems for deliberation and collective intelligence in health decision making
Sustainability communication: Controversy and rationality in polylogues about the environment and wellness in the new media ecology
Information Infrastructures and Digital Social Ontology: Accountability and communication in digital society
The aim in these streams of research is to improve understanding of the intentional, and emergent, design of institutions for communication and the consequences for the co-creation of health, wellness, and democracy.
---
Centers, Labs, Working Groups, and Clusters
---
Funded Projects
Mark Aakhus has received funding for his research from the Kellogg Foundation, William and Flora Hewlett Foundation, Sun Micro-Systems, Rutgers Academic Excellence Fund, Rutgers Office of the Vice President for Research, and the National Science Foundation. 
---
Selected Publications
---
Awards & Recognitions
Recipient of the National Communication Association's Applied Communication Division's 2015 Distinguished Publication Award for Journal of Applied Communication Research, Special Issue: Communication and Design
Guest Professor of Information Systems Uppsala University's Department of Informatics and Media
Most Valuable Rutgers MCIS Professor (2009, 2012)
Distinguished Achievements in Teaching (2012) and Service (2009), Rutgers Department of Communication
---
Research Keywords