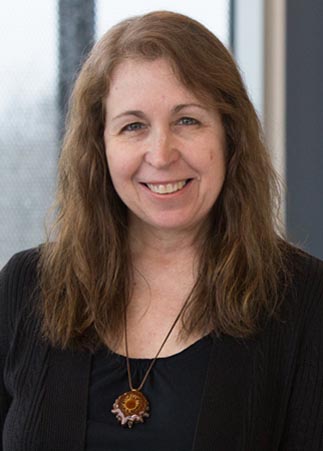 Mary

Chayko
Distinguished Teaching Professor of Communication and Information and Director of Undergraduate Interdisciplinary Studies, Faculty Fellow in Residence for the Honors College at Rutgers University
Office:

DeWitt 301

FAX:
EMAIL:

OFFICE HOURS:

WEB LINKS:
Mary Chayko is a sociologist of communication technology. She directs the Digital Communication, Information, and Media (DCIM) and Gender and Media minors at SC&I. She is a Faculty Fellow in Residence at the Rutgers-New Brunswick Honors College, a member of the Social Media and Society Cluster at SC&I, and is the author of several books on the impact of digital technology on society, community, and self. Chayko is also affiliate faculty for the SC&I Ph.D. program, the Rutgers Sociology Department, and the Rutgers Women's Gender, and Sexuality Studies Department.
---
Education
Rutgers University
Ph.D., Sociology
Rutgers University
M.A., Sociology
Rutgers University, Graduate School of Education
Ed.M., Counseling Psychology
Seton Hall University
B.A., Communication and Psychology
---
Research
Mary Chayko is interested in the impact of media and technology on society and humanity. Her current projects seek to understand and explain how social bonds and communities are formed, experienced, and given meaning in the absence of face-to-face contact generally, and through online and mobile technology use in particular. She also studies the consequences of connecting in these ways for individuals, their relationships, and their societies. 
In earlier work, Chayko researched patterns of television use and how they vary by age, the formation of primary groups and primary group ties in mass media use, the ways that virtual reality has influenced our ability to determine what is "really" real, and the intersection of science and culture. Her current and future work remains the exploration and explanation of social connectedness in the modern technological age.
---
Centers, Labs, Working Groups, and Clusters
---
Selected Publications
---
Awards & Recognitions
Rutgers University Presidential Award for Excellence in Teaching, 2019
Rutgers University Faculty of Arts and Sciences Award for Distinguished Contributors to Undergraduate Education, 1994
Book of the Year runner-up, Association for Humanist Sociology, "Portable Communities: The Social Dynamics of Online and Mobile Connectedness," 2009
Best Paper, ASIS&T (Association for Information Science and Technology – Social Informatics), "Techno-Social Life: The Internet, Digital Technology and Social Connectedness," Sociology Compass, 2015
Best Paper, New Jersey Communication Association 2016 Conference (Graduate – Team, with M. Boyraz, M. Dwyer, C. Goldthwaite, K. Kang, and S. Sahay), "How do changes in the contemporary workplace environment impact college education? Case study of hybrid teaching/learning in Digital Communication, Information, and Media Minor,"2016
---
Additional Resources
---
Research Keywords