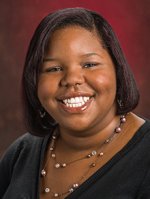 Bernadette

Gailliard
Senior Program Administrator for Rutgers University's Faculty Excellence Program and Associate Faculty Member of the Department of Communication
PHONE:
EMAIL:

OFFICE HOURS:

WEB LINKS:
Bernadette Gailliard's mission in life is to help advance and promote the voices and experiences of the marginalized and underrepresented groups in organizations throughout the world. Within the MCIS program, she teaches Organizational Communication and advises on capstone projects. She also teaches Intercultural Communication at the undergraduate level.
---
Education
University of California Santa Barbara
Ph.D., Communication
University of California Santa Barbara
M.A., Communication
American University
B.S., Business Administration
---
Research
Bernadette Gailliard's research emphasizes the intersections of race, gender, and power as they relate to identity and associated constructs within organizational contexts. In general, she is interested in how members negotiate their varying identities and group memberships. More specifically, she uses both qualitative and quantitative methods to understand how people in underrepresented groups (such as women and ethnic minorities) perceive their identities in different organizational contexts, and how that influences membership assimilation and organizational identification processes.
---
Selected Publications
Gailliard, Bernadette. "Communication and Identity Negotiation Processes by Professionals in Health Care Organizations: Examining Race, Gender, and Class Intersections." Dissertation.
Myers, K. K., Jahn, J. L. S., Gailliard, B. M., & Stoltzfus, K. (2011). Vocational anticipatory socialization (VAS): A communicative model of adolescents' interests in STEM. Management Communication Quarterly, 25(1), 87-120. doi:10.1177/0893318910377068
Myers, K. K., Gailliard, B. M., & Putnam, L. L. (2013). Reconsidering the concept of workplace flexibility: Is adaptability a better solution? In C.T. Salmon (Ed.), Communication Yearbook 36 (pp. 195-230). Mahwah, NJ: Routledge.
Putnam, L. L., Myers, K. K., & Gailliard, B. M. (2014). Examining the tensions in workplace flexibility and exploring options for new directions. Human Relations, 67(4), 413-440. doi: 10.1177/0018726713495704
Myers, K. K., & Gailliard, B. M. (2016). Organizational entry, socialization, and assimilation in health care organizations. In T. R. Harrison & E. A. Williams (Eds.). Organizations, health, and organizations (pp. 31- 48). Mahwah, NJ: Routledge.
---
Research Keywords