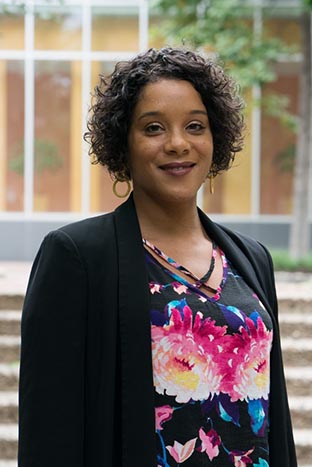 Shawnika

Hull
Associate Professor of Communication
Office:

CI 302

PHONE:
EMAIL:

WEB LINKS:
Shawnika Hull's research focuses on reducing racial inequities in HIV incidence through community-engaged, applied communication science. She develops, implements, and evaluates theoretically grounded communication interventions focused on impacting individual and social-structural barriers to HIV prevention. This research is informed by and developed in close collaboration with community partners. Her expertise includes qualitative (i.e. focus groups) and quantitative (i.e. surveys, experiments) data collection and analytical methods. Her research has been funded through various institutional, non-profit (i.e., MAC AIDS Fund) and governmental mechanisms (i.e., NIH, CDC) and published in communication and public health journals. Her rigorous, theoretically grounded, collaborative approach to research informs health communication theorizing and practice. Hull is currently a Visiting Professor in the Center for AIDS Prevention Studies at the University of California, San Francisco. Hull earned her Ph.D. in Communication at the University of Pennsylvania
---
Education
Annenberg School for Communication
Ph.D.
---
Centers, Labs, Working Groups, and Clusters
---
Selected Publications
Hull, S. J., *Davis, C., Hollander, G., Gasiorowicz, M., Jeffries, IV, W. L., Gray, S., Bertolli, J., & Mohr, A., (2017). Evaluation of the Acceptance Journeys Social Marketing Campaign to Reduce Homophobia in Wisconsin. American Journal of Public Health. 107(1), 173-179. doi: 10.2105/AJPH.2016.303528
Hull, S. J. (2012). Perceived Risk as a Moderator of the Effectiveness of Framed HIV Test Promotion Messages Among Women: A Randomized Controlled Trial. Health Psychology, 31(1), 114-121. doi:10.1037/a0024702
Hull, S. J., Gasiorowicz, M., Hollander, G. & Short, K. (2013). Using theory to inform practice: The role of formative research in the construction and implementation of the Acceptance Journeys social marketing campaign to reduce homophobia. Social Marketing Quarterly, 19(3),135-155. doi: 10.1177/1524500413496717
Hull, S., Stevens, R. & Cobb, J. (2020). Masks are the new condoms: Health communication, intersectionality and racial equity in COVID-times. Health Communication, 35,(14), 1740-1742. doi: 10.1080/10410236.2020.1838095
Hull, S. J., *Tessema, H., *Thuku, J., Scott, R. K. (forthcoming). Providers PrEP: Identifying Primary Healthcare Providers' Biases as Barriers to Provision of Equitable PrEP Services. JAIDS.
---
Awards & Recognitions
2019 – 2020 Co-investigator (Co-I), "Citywide Expansion of Rapid ART Initiation in the District of Columbia" NIH, DC CFAR Administrative Supplement, PI: Rupali Doshi (5%)
2019 – 2020 Co-I, "A City-Wide Approach to HIV Pre-Exposure Prophylaxis (PrEP) Scale Up in MultipleHigh-Risk Communities in Washington DC, NIH DC CFAR Administrative Supplement, PI: Sarah Henn – Award: $161,557 (5%)
2019 – 2021 Developing and Validating New Measures of Multilevel Intersectional Stigma to Improve the HIV Prevention Continuum for Young Black Gay Bisexual and Other Men who Have, Sex with Men in the South, NIH, NIMH 1R21MH121313-01, PI: Lisa Bowleg – Award: $449,439 (5%)
2018 – 2021 Co-I "The Intersectionality Checklist: An Essential Tool for Equitable Health and Financial Security Policies and Programs for US Women and Children,"W. K. Kellogg Foundation, P0130400 PI: Lisa Bowleg – Award: $739,767 (20%)
2020 – 2024, PI, "Sisters Informing Sisters about Topics on AIDS and PrEP (SISTA-P): Adapting an Evidence-Based HIV Prevention Intervention to Reduce HIV Incidence among Black Women, including those Who Use Drugs," NIH NIDA, K01, $728,872 (75%).
---
Research Keywords