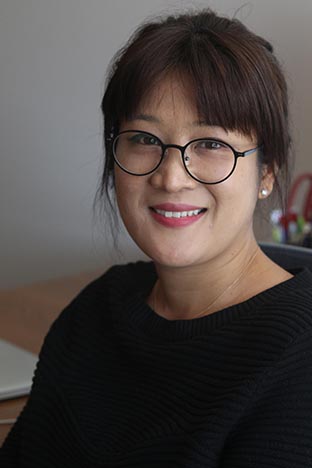 Sunyoung

Kim
Associate Professor of Library and Information Science
Office:

CI 329

PHONE:

FAX:
EMAIL:

OFFICE HOURS:

WEB LINKS:
Sunyoung Kim is interested in improving the quality of everyday life through the use of technology. Leveraging mobile and ubiquitous computing technologies, she explores novel technical solutions that empower people to better understand the world around them and make informed choices for quality of life.  She is also an affiliate faculty member in the Department of Computer Science.
---
Education
Carnegie Mellon University, Human Computer Interaction Institute
Ph.D., Human-computer interaction
Georgia Tech, School of Interactive Computing
M.S., Human-computer interaction
Yonsei University
B.S., Housing & Interior design, Architecture
---
Research
Sunyoung Kim, an HCI researcher, designs, builds, and evaluates ubiquitous computing technologies that can promote positive changes towards everyday health, wellbeing, and environmental sustainability. Before joining the Rutgers SC&I faculty, she was a postdoctoral fellow at Harvard University's Center for Research on Computation and Society (CRCS). She was a member of Aware Home Research Initiative and the Ubiquitous Computing Research Group at Georgia Institute of Technology. Previously, she worked as a user interaction designer and project manager in the field of internet media, user interface for mobile device and Ubiquitous Appliance for Apartment Complex.
---
Centers, Labs, Working Groups, and Clusters
---
Selected Publications
---
Awards & Recognitions
Invited participant at the Rising Stars in EECS, University of California, Berkeley, 2014
Selected participant at the Human Computer Interaction Symposium, 2013
Recipient of IMB Graduate Ph.D. Fellowship, 2011
University of California, Irvine, Dean's Fellowship (declined), 2008
Rotary scholarship, Korea, 1998
---
Research Keywords