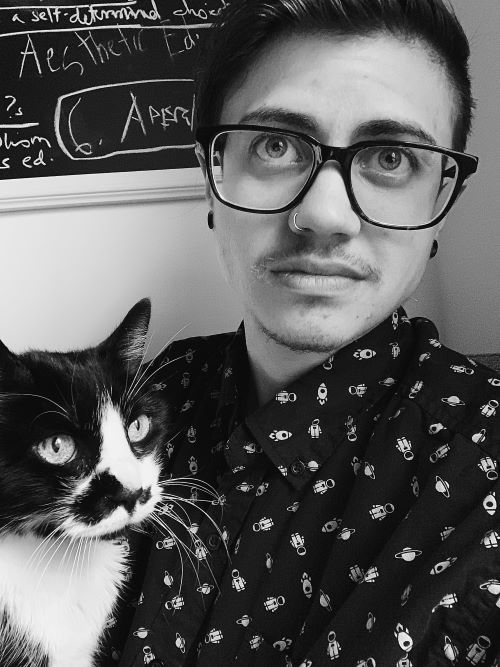 E.E.

Lawrence
Assistant Professor of Library and Information Science
Office:

Alexander Library 405A

PHONE:
EMAIL:

OFFICE HOURS:

WEB LINKS:
E.E. Lawrence (he/him) conducts normative research on issues arising at the intersection of library & information ethics, readers/reading, and aesthetics. His work seeks to intervene in interpretive disputes about the core values underpinning librarianship and what these entail, particularly with respect to leisure-time recommendation practices.
---
Education
University of Illinois at Urbana-Champaign
Ph.D., Library & Information Science
University of Maryland, College Park
M.L.S., Library Science
University of Michigan
B.A., Comparative Literature
---
Research
E.E. Lawrence's work utilizes informal analytical methods to address questions about what we ought to do, believe, and value within the context of information cultures and institutions. He is especially interested in those questions that concern—or otherwise have implications for—the advancement of the library's political aims via its recreational function. For instance, he asks in his research:
What ideal readers (and reader ideals) animate contemporary Readers' Advisory? What sorts of skills, habits, or dispositions should we valorize in theory and in practice?
Under what conditions—if any—might we be called on to attempt to alter another person's reading tastes?
When is an aesthetic recommendation un/successful? (And also: What constitutes success?)
What are librarians' moral and pedagogical responsibilities vis-à-vis the use of automated recommender systems?
Some of Lawrence's current projects include an analysis of misgendering as a form of misinformation and an application of a conceptual engineering approach to library neutrality. Future work will continue to explore various dimensions of leisure-time recommendation as an information practice with the capacity to undermine conditions of epistemic injustice (especially hermeneutical marginalization).
---
Centers, Labs, Working Groups, and Clusters
---
Selected Publications
Lawrence, E. (2021). "The Trouble with Diverse Books, Part II: An informational pragmatic analysis." Journal of Documentation.
Lawrence, E. (2020). "The Trouble with Diverse Books, Part I: On the limits of conceptual analysis for political negotiation in Library & Information Science." Journal of Documentation.
Lawrence, E. (2020). "Category Romances, Cozy Mysteries, and Civic Virtues: Justifying the promotion of popular fiction in the public library." Library Quarterly.
Lawrence, E. (2020). "On the Problem of Oppressive Tastes in the Public Library." Journal of Documentation 76(5), 1091-1107.
Lawrence, E. (2020). "Is Sensitivity Reading a Form of Censorship?" Journal of Information Ethics 29(1), 30-44
---
Awards & Recognitions
Berner-Nash Memorial Award, 2019
Eugene Garfield Doctoral Dissertation Fellowship, 2017
Miriam Braverman Memorial Prize, 2013
---
Research Keywords