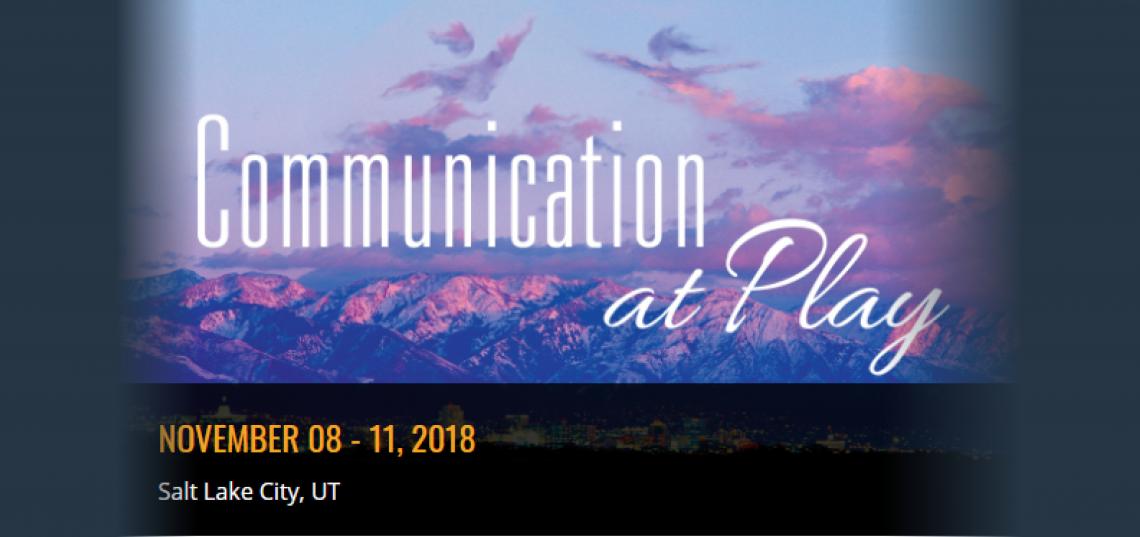 2018 NCA Convention to be attended by SC&I faculty, students and alumni
Annual Communication Convention Being Held in Salt Lake City, Utah
SC&I faculty, students and alumni are headed to Salt Lake City, Utah next week to present at this year's National Communication Association (NCA) convention, being held at the Hilton Salt Lake City Center from Thursday, November 8 through Sunday, November 11, 2018. Pre-conferences will take place on Wednesday, November 7, 2018. The school will also participate in the Graduate Fair on Thursday, November 8, which is for students interested in pursuing a master's or Ph.D.
This year, 32 people representing SC&I will participate in over 60 presentations, panels, division meetings and/or the association's legislative assembly.
This year's convention theme is "Communication at Play." According to the NCA website, the annual conference "is the single largest gathering of Communication teachers, researchers, administrators, students, and professionals."
On Friday, November 9, SC&I's Department of Communication will host a reception from 6:00 p.m. – 7:30 p.m. at the Twist Bar and Bistro, located at 36 Exchange Place. Faculty members, students and alumni should plan to arrive starting at 5:30 p.m. The reception offers a prime opportunity to network with other faculty, potential job applicants, students interested in our programs, and members of NCA leadership.
Department of Communication Professor and Chair Craig Scott noted, "NCA is perhaps the biggest conference of the year for faculty and students in our department. It is an important event for us to share the research we are doing at Rutgers and to promote our department and school to other colleagues from across the country. It is also a great opportunity to network with other researchers and reconnect with graduate program alums."
On November 8, presenters include Professor of Communication Kathryn Greene, Director of the Ph.D. Program and Professor of Communication Jennifer A. Theiss, Assistant Professor of Communication Katherine Ognyanova, Public Speaking Course Coordinator and Assistant Teaching Professor of Communication Nikolaos Linardopoulos, and doctoral students Allyson Botempo, Song Hee Park, Wei Shi, Jing Wang, Wei Wan, and Deborah Yoon.
On November 9, Dean of the School of Communication and Information and Distinguished Professor of Communication Jonathan Potter, Craig Scott, Associate Professor of Communication Galina Bolden, Part-time Faculty Member Maria Dwyer, Director of Leadership Development and Research at Rutgers' Center for Organizational Leadership Ralph Gigliotti, , Research Professor of Communication Alexa Hepburn, Assistant Professor of Library and Information Science Sunyoung Kim, Director of Undergraduate Studies in Communication and Assistant Teaching Professor in Communication Brian Householder, Professor of Communication Jenny S. Mandelbaum, Assistant Professor of Communication Lisa Mikesell, Jennifer A. Theiss, and doctoral students Sarah Fadem, Seol Ki, Song Hee Park, Wei Wan, and Kaicheng Zhan, will be presenting.
On November 10, presenters will be Craig Scott, Galina Bolden, Alexa Hepburn, Jennifer A. Theiss, Professor of Communication Marya L. Doerfel, Dean Emeritus and Professor II Emeritus Gustav W. Friedrich, Master of Communication and Media student Yena Kang, and doctoral students John Leustek (in memoriam), Fanny Ramirez,  Deborah Yoon, and Hyunsook Yoon,
On November 11, presenters include Craig Scott, Kathryn Greene, Associate Professor of Journalism and Media Studies Regina Marchi, and doctoral students Katie Kyungwon Kang, and Weixu Lu.
For a list of SC&I-affiliated presenters and presentations, click here.
For more information on SC&I's Communication major, click here.