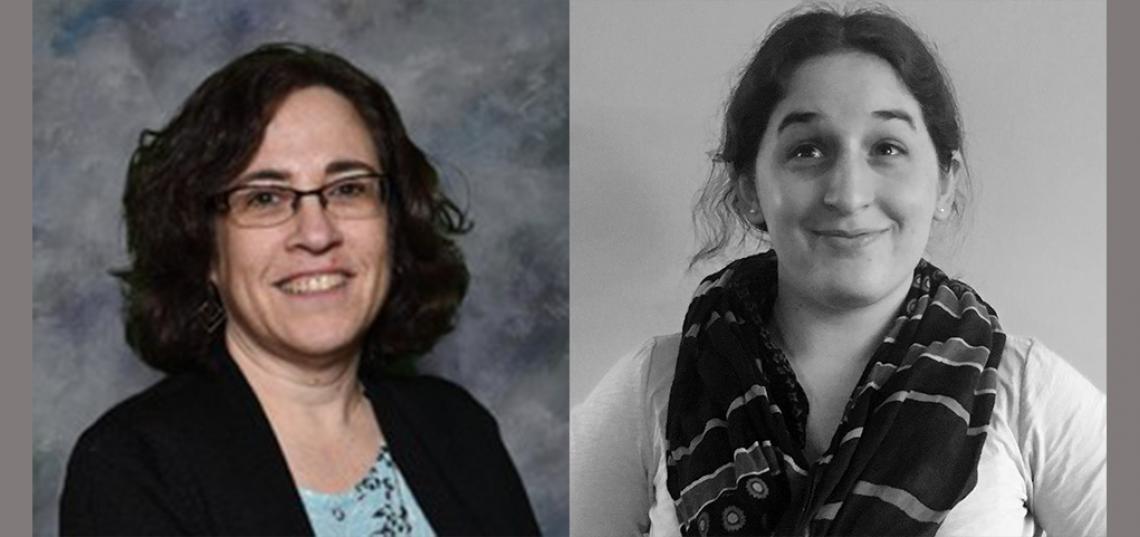 ALA Names SC&I's Beth Raff and Stacey Shapiro '17 2019 ALA Emerging Leaders
The American Library Association (ALA) has announced its 2019 Class of Emerging Leaders, and a SC&I student and alumna are among them.
Of the 50 applicants the American Library Association (ALA) chose for its prestigious 2019 Class of ALA Emerging Leaders, two, Beth Raff and Stacey Shapiro '17, are affiliated with the Rutgers School of Communication and Information (SC&I). Raff is a student in the Master of Information (MI) Program, and Shapiro graduated with an Master of Library and Information Science (MLIS) in 2017.
The ALA Emerging Leaders Program is, according to the ALA website, "designed to enable library staff and information workers to participate in project planning work groups, network with peers, gain an inside look into ALA structure, and have an opportunity to serve the profession in a leadership capacity early in their careers."
Raff, from Basking Ridge, N.J., will graduate from SC&I in January 2019 with a Master of Information with a specialization in Library and Information Science and School Media. Raff's Emerging Leaders application was sponsored by the New Jersey Association of School Librarians (NJASL), led by President Christina Cucci.
A school librarian at Mt. Tabor Elementary School in the Parsippany-Troy Hills School District, Raff said, "I am thrilled to be named an ALA Emerging Leader! I am so excited to meet with other librarians from across the country. Also, I am looking forward to our project for AASL and collaborating with my new colleagues. I am incredibly grateful to the New Jersey Association of School Librarians, my sponsor.  They are an incredible group of people working to support the school librarians in our state. Participating in Emerging Leaders will help me make professional connections and stay on top of all the new developments in our field."
Shapiro, from Fair Lawn, N.J., graduated from SC&I in 2017 with a Master of Library and Information Science (now known as the Master of Information degree) with a specialization in Library and Information Studies. Shapiro is currently the Teen/Emerging Technology Librarian at the Tenafly Public Library. She applied for the ALA Emerging Leaders Program through the ALA website without a sponsor. The year-long project Shapiro was assigned is related to the International Relations Round Table with ALA. She be working on "International Peer-Mentoring: A Pilot Project."
"I am utterly honored to be chosen for the program and really want to represent my library well at both conferences, Shapiro said. "I love working with teens and always look forward to helping a teen in the library. I think having gone to library school in Jersey and working in Jersey, it'll be really helpful getting perspectives from librarians all over the country. I'd never have gotten here if it hadn't been for Rutgers."
Asked what advice she would give others applying in the future, Shapiro said, "For others applying next year, don't worry if you don't get it the first year. I've applied for Emerging Leaders three or four times."
In addition to being chosen as a 2019 ALA Emerging Leader, Shapiro has also recently been named to the  Printz Committee for 2019. "I filled out a YALSA committee volunteer form for Printz," Shapiro said.  "My role will be to read the Young Adult books that are nominated or published next year and decide which one fits the criteria of the Printz Award and award that and several honor books."
The ALA Emerging Leaders Program will begin with a day-long session at the ALA 2019 Midwinter Meeting in Seattle. The first session will involve orientation and training. This will be followed by six months of online networking and learning. The program will wrap up with a poster session at the ALA 2019 Annual Conference, being held from June 20 -25 in Washington, D.C. At the poster session, the class of emerging leaders will share the results of the work they completed during the year.
The ALA explains that emerging leaders will also "commit to taking part in all aspects of the program and may have an opportunity to serve on an ALA, division, chapter, round table, or affiliate committee or workgroup upon completion."
 "This year, a record ninety (90%) percent of participants have received sponsorships," The ALA wrote on its website. "The sponsors included ALA divisions, roundtables, state chapters, and ALA affiliate organizations. Each sponsor commits to financial support of an Emerging Leader in order to help defray costs of attending the ALA Midwinter Meeting, held in Seattle from January 25-29, 2019 and Annual Conference."
Raff's project, sponsored by the American Association of School Libraries (AASL), is called "Developing Inclusive Learners and Citizens." She said, "I will be part of a team of 6 people working to pull together 'a collection of resources for school librarians that support professional development and instruction around the issues inherent in the 'National School Library Standards Shared Foundation of INCLUDE' (from the Emerging Leaders website).  Our finished product will be made available on the AASL Standards website."
Raff explained how SC&I has helped her. "Being a student at SC&I has opened up many opportunities for me.  First of all, the professors are top-notch. They share the latest knowledge in our field and help us develop our professional network.  I also co-chaired RASL which helped develop leadership skills.  I learned about conferences such as NJASL and ALA which I attended (ALA with some financial support from Rutgers).
"My advisor, Dr. Joyce Valenza, has been a guiding force in my professional growth.  Her passion for school librarianship is contagious!  She has also helped me to connect with my classmates as well as professionals in the field.  When it came time to interview, she provided guidance and support.  I enjoyed Emerging Literacies and Search very much. My favorite individual class was Children's Literature with John Schu.  His excitement and knowledge of books for kids makes him uniquely qualified to teach that class."
To learn more about SC&I's Master of Information (MI) degree, click here.
For more information about SC&I's Master of Library and Information Science Department, click here.
Banner photo: Beth Raff, pictured on the left, and Stacy Shapiro, on the right.