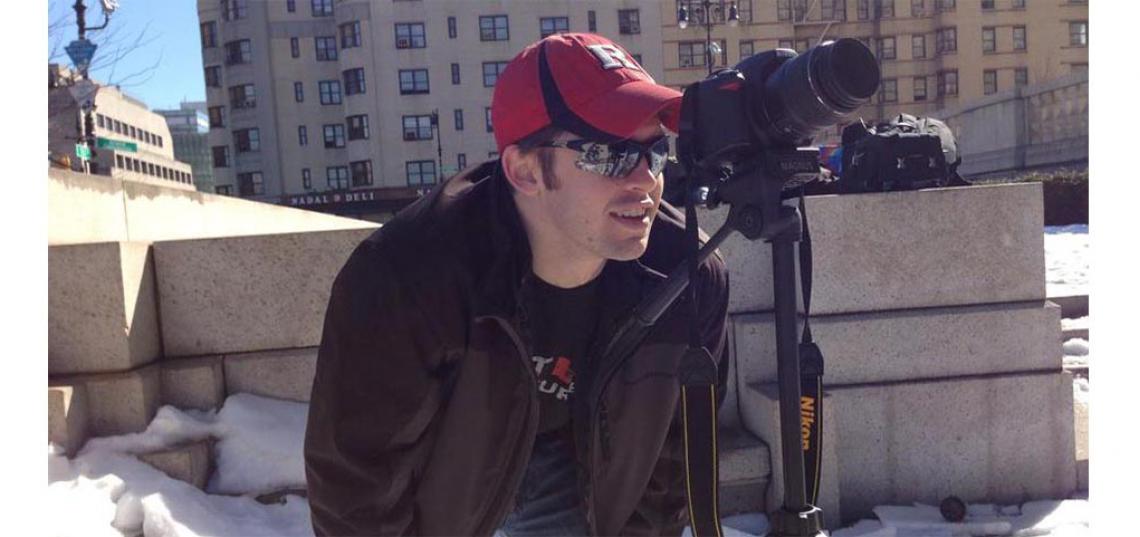 Award-Winning Filmmaker and SC&I Alum Zack Morrison '14 On Making the Most of SC&I and Rutgers: "Do everything all the time. Be everywhere all at once."
Explore all that SC&I and Rutgers offer undergraduates through the eyes of alumnus Zack Morrison '14.
Need some great advice from an extremely successful SC&I alum? We can start with this: "You have opportunities as a student that no one else has simply because you're a student: access to equipment, networking opportunities, internships that require you to be a full time student (a loophole I gamed as a grad student at Columbia). So really take the time to become the master of the Rutgers universe. There's something to be said for being a big fish in a small pond. Because when you leave for a bigger pond, everyone has your back."
In Part Two of our two-part conversation with SC&I alumnus Zack Morrison '14, take a journey with him as he recounts his undergraduate years at Rutgers, and describes the many opportunities and advantages available to him and every SC&I and Rutgers undergraduate.
For Part One of our series, SC&I spoke to Morrison about his award-winning short film in a story titled, "Zack Morrison '14 Wins Best Comedy Series at the 39th College Television Awards for 'Everything's Fine: A Panic Attack in D Major.'" The story chronicled his experience creating the film, from the events that inspired it, how he wrote the script and many of the songs, to shooting the film, including the many Rutgers students and alumni who were part of his project. 
After Morrison graduated from Rutgers, he pursued a master's degree from Columbia University, and in 2018 he graduated with an MFA in Screenwriting and Directing, with a concentration in Television Writing. He submitted his award-winning film, Everything's Fine: A Panic Attack in D Major, as part of the requirements for his master's thesis.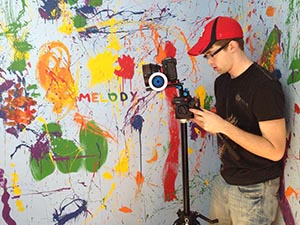 Here, in part two of our conversation, Morrison, who double majored in Journalism and Media Studies at SC&I (as did his mother), and an individualized second major in Digital Filmmaking (before the current film BFA was established) at the Rutgers Mason Gross School of the Arts, takes us on a deep dive of the ways he took advantage of all that SC&I and Rutgers offered him, and offer all undergraduates eager to prepare for a great future in writing, journalism, digital media, and film.
How did your studies at SC&I (also did you double major at Mason Gross?) and the internships you had while at Rutgers (I saw on your website you had some amazing internships while you were a student, such as at SNL) prepare you to write the script/create this film?
Rutgers was a huge foundation for me, and my classes at both SC&I and Mason Gross School of the Arts were incredible opportunities to get hands-on access to equipment early in my college years, and develop my skills through experimenting and playing around.  I was a Journalism & Media Studies major, and was did an individualized second major in Digital Filmmaking (before the current film BFA was established).  I spent my first two years on the banks in the RU-tv Broadcast Communications Living Learning Community in Winkler Hall, which was the coolest thing ever.  I'm not sure if it exists anymore, which is a huge shame, because getting to have 24/7 access to camera equipment as a freshman and being surrounded by other like-minded creative students fostered a highly productive environment.  I loved it, and that's where I began to find my voice, especially in comedy. We would roll out of bed at 2am (because what college student isn't staying up all night?), walk down the hall in pajamas from our suite to the studio, and shoot a sketch show, or a music video. That kind of access just doesn't happen at, let's say, more-traditional film schools. Coupled with courses like Steve Miller's Broadcast News Writing, Bruce Reynold's Media Ethics, in addition to all the hands-on fictional-narrative experience from Mason Gross; I believe I got an extremely well-rounded media education. 
Knowing what I wanted to do from the moment I got to Rutgers certainly helped. I was lucky, because most high school seniors have no idea. Prof. Miller actually had office hours with me before I was even a student here, and that single-handedly convinced me to choose Rutgers over a few other places (in addition to the fact that my mom was a journalism major here and made me drink the Cool Aid from a young age. I grew up calling it SCILS, and every now and then I still say "skills."). That hands-on experience I got early on is the most important part. Because you have to try and fail and make a lot of truly awful projects before you're able to hone your skills. It's like sculpture; you have to go through all the throw-away stuff first.  And because I knew what I wanted to do, I was able to seek out other courses in different programs as well: Dena Seidel's Digital Storytelling and a screenwriting class in the English Department, Al Nigrin's American Film Directors in the American Studies department, every class with Patrick Stettner, Alan Smith, and Ross Kauffman at MGSA--all those things came together and helped me find my voice as a filmmaker.  Naturally, an additional four years of grad school certainly helped as well, but without Rutgers there's no way I would be doing what I am today. 
I actually didn't intern in too many non-RU places while an undergrad, which in hindsight was a mistake.  It wasn't until grad school at Columbia where a friend of mine at NBC, who I went to school with and worked at RU-tv with, offered to pass me along to Late Night with Seth Meyers.  (Note to current students: THERE ARE RUTGERS ALUMNI EVERYWHERE!).  So from there, I spent a semester as the writer's intern at Late Night, during the 2016 election. I then moved to The Tonight Show Starring Jimmy Fallon, and then Saturday Night Live, and then back to Fallon as a writer's assistant. 
While I was a Rutgers student, I interned at Viacom in the MTV On Air Promos department. That was really cool. I also got to be a red carpet correspondent for when the VMA's were in Brooklyn in 2013. Most of my time working as a student was at the Student Life (now Student Affairs) Media Team. I think I even did my six credit JMS internship there as well.  That was the best, and I still tell students interested in media production that it's the best job on campus.  By my senior year I was THE video guy for just about every organizational arm of the university, and the Media Team gave me the freedom to create my own projects in addition to having some creative control over the projects our office was hired out to shoot. Mike Abdullah and Larry McAllister were great teachers and mentors, and put a lot of trust in me. I'm extremely grateful for that experience, because it allowed me to develop the creative and logistical leadership skills that are necessary for any director to have. I also worked a lot at the Documentary Lab at Mason Gross, shooting for many larger doc projects all around the state.
Campus Movie Fest was the final piece of the puzzle, and probably the organization I spent the most time working with.  If students reading this take away nothing else from this article, please do not sleep on CMF when they come to New Brunswick.  They're the largest student film festival in the world, and they provided so much opportunity for me. My team and I won one of the on-campus awards my first year, and we got to go on to the Hollywood round, kind of like American Idol [they now do their national event, CMF Terminus, in Atlanta].  So for all four years, my friends and I always had their festival dates on our calendar, and we got so much experience writing and shooting short films. I look back at them today fondly, but they were certainly nowhere near as refined as Everything's Fine is.  But you need to make all those crazy and ridiculous short films where you're "doing it live" and figuring it out as you go.  We ended up winning on campus all four years (which may have upset some people), but though attending their national event each year as the Rutgers representative, and having the opportunity to screen my work twice at the Cannes Film Festival; I was able to meet and network with young filmmakers all across the country (and the world).  Many of whom I'm still good friends with today.  It's important to be a consumer of indie film, because I would see some of these other filmmakers' work, get blown away by how strong they were, and then challenge myself to make my next thing better, or incorporate a technique I saw in someone else's film.  Christopher Pasi (SCI '13) and I worked together on all these projects, and we would always return to NJ from those trips, take a week off, and then realize we had to get to work already for next year. I highly highly highly encourage ALL students who are interested in filmmaking to sign up for this year. CMF has done more for me and my career than I can ever repay them for. I'll always be a fan and supporter of theirs.
Who were some of your favorite professors at SC&I, and why? 
I don't think there is any Rutgers journalism alum out there in the universe that doesn't feel eternally grateful for all the support, love, and mentorship that Steve Miller gives his students. Every time I'm back in New Brunswick I try to stop by for office hours, because it's incredibly rare, especially at a school this large, for a professor to be so invested in each student's individual success the way he is. I felt very much like a deer in headlights as an underclassman, because navigating the Rutgers ecosystem is a daunting task for an 18 year old. He always has time to chat, never refuses to answer any minutia questions, and is genuinely just a great person.  I could go on and on about how many times I sat in his office questioning my life and career decisions, or trying to figure out what steps to take next. His rolodex is infinite, and always had multiple alumni for me to connect with. To this day, any time a Rutgers student emails me or messages me on Facebook looking for advice and they say Steve Miller sent them, I immediately know everything I need to know about them, and I'm willing to give them as much time as they need.  He fosters such a strong community of RU media alumni.  It's funny--out here in LA, Emerson College has a big presence because their students spend their final semester on a Hollywood satellite campus, and my friends who went there always talk about how strong their network is. This isn't me talking down about Emerson or anything--it's an amazing school and I almost played volleyball there--but I always joke with them that they have nothing on the network Steve Miller created.  A Loyal Son indeed!
Erica Herskowitz, Jack Bratich, and Bruce Reynolds were also some of my favorite SC&I professors. Each of them has incredibly unique and diverse perspectives on the industry.  I took News Writing with Erica, and she was really great at helping me learn the basics.  The skills I learned in her class helped me years later when I was working at The Tonight Show and Late Night as the joke set-up writer for the monologue teams. I had to take news stories and condense them down to a single sentence that not only explains the context of the story, but also allows for a way in on the joke.  It's always funny how those skills you learn early on that you never think you'll need find a way to come back around. Jack's Media Consumer Culture course explained the importance of paying attention to consumer trends, and Bruce Reynolds' Media Ethics course really opened my eyes to so many issues that surround media consumption today. Especially in today's political climate, the need for strong media literacy and a true understanding of media ethics has never been more prevalent. 
 Do you have any advice for freshmen – or students of any age at Rutgers – who will want to follow in your footsteps?
Do everything all the time. Be everywhere all at once.  Rutgers is a huge place, and it's very easy to fall into a routine and limit your exposure to other departments, groups, and organizations. As storytellers, you need to have life experiences outside the classroom and the realm of the stories you're trying to tell.  As such, get out, do things, have hobbies and adventures that have absolutely nothing to do with filmmaking.  I was a member of Cap & Skull, I played on the Mens Volleyball team, I lived for football games on Saturdays, and on Thursday nights you could have found me spending hours at Harvest Moon for live-band karaoke. It's all about making the most of your college years while you can.  There will ALWAYS be time for the craft down the road, and to be honest, you're not going to be making your magnum opus in college. Sorry. So instead of taking yourself way too seriously and making your work all about work, find a group of friends who are both your collaborators and actual friends outside of work, and just make a ton of stuff.  Shoot something every weekend, but also give yourself time off the clock to live life as a college student. Because once you're out in the world, no one cares. You have opportunities as a student that no one else has simply because you're a student: access to equipment, networking opportunities, internships that require you to be a full time student (a loophole I gamed as a grad student at Columbia). So really take the time to become the master of the Rutgers universe. There's something to be said for being a big fish in a small pond. Because when you leave for a bigger pond, everyone has your back.
And lastly, nothing bothers me more than when a young student filmmaker says Citizen Kane and Breathless are their favorite movies. They're not. They're no one's favorite movies. And you sound ridiculous when you say they're your favorite. It's ok to like big budget Marvel blockbusters. Armageddon is in the Criterion Collection.  My favorites are The Blues Brothers, My Cousin Vinny, and A Knight's Tale.  Remember, as filmmakers, at the end of the day, we're here to sell a product to consumers. Yes, there is a place for art, and the best films are ones that can combine broad appeal with nuanced and intellectual discussion. However, people have to want to watch your thing. So if you don't like what you're making, how do you expect audiences to like it?
 In the Media
Rutgers Today interview with Zack Morrison by Cameron Bowman
MyCenralJersey.com: "'Everything's (more than) Fine' for East Brunswick's College Emmy-winning Zack Morrison."
 
For more information about the Journalism and Media Studies Department at the Rutgers University-New Brunswick School of Communication and Information (SC&I), click here.