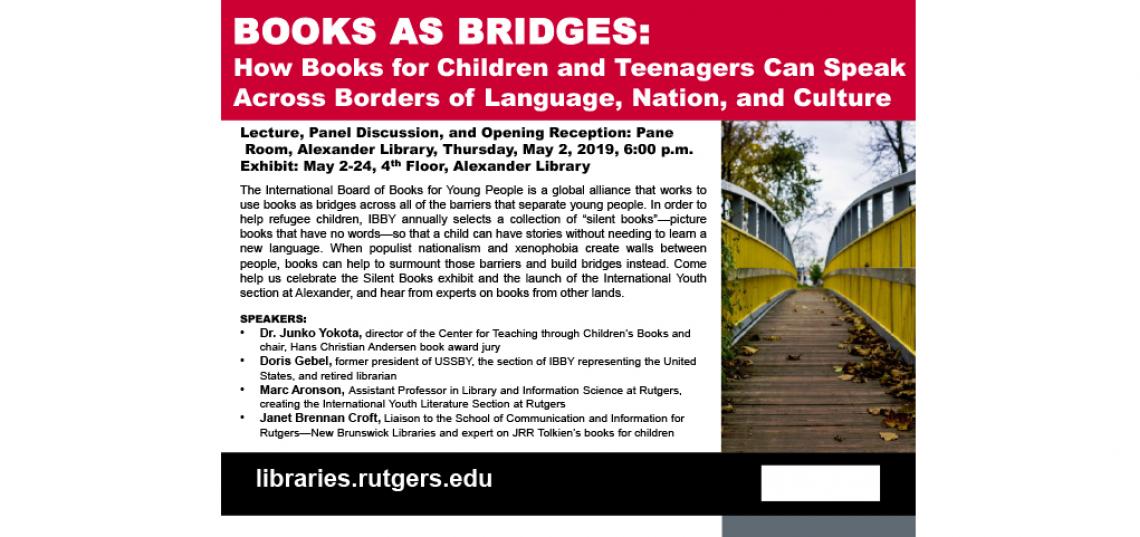 Books as Bridges: How Books for Children and Teenagers Can Speak Across Borders of Language, Nation, and Culture
SC&I's Marc Aronson to speak at the launch of the most recent collection of Silent Books at Rutgers' Alexander Library on May 2.
Lecture and opening reception: Pane Room, Alexander Library, Thursday, May 2, 2019, 6:00 p.m. Exhibit: May 2-24, 4th Floor, Alexander Library
The International Board on Books for Young People (IBBY) is a global alliance that works to use books as bridges across all of the barriers that separate young people. In order to help refugee children, IBBY annually selects a collection of "silent books"—picture books that have no words—so that children can have stories without needing to learn a new language.
During May 2019, the Archibald Alexander (Alex) Library will have the honor of hosting the most recent Silent Books collection, which is currently touring the world. To launch this special month,  Junko Yokota, Ph.D., a widely-recognized authority on international youth literature, will give a talk in the Pane Room on May 2 at 6:00 p.m.
Yokota has studied print and digital books for children and youth throughout the world and has assembled a library of international youth literature at National Louis University where she is an emeritus professor. Yokota will be joined for a panel discussion that includes SC&I's Assistant Teaching Professor of Library and Information Science Marc Aronson, who teaches in the Master of Information (MI) Program.
Aronson said, "Our Master of Information program is one of only two or three programs that I can think of in the entire country that includes a class in International Youth Literature. The class gives students a chance to converse with experts on, in 2019, books for children and teenagers originally published in countries that speak Spanish, Portuguese, Japanese, Chinese, Hindi, as well as Graphic Novels from Europe."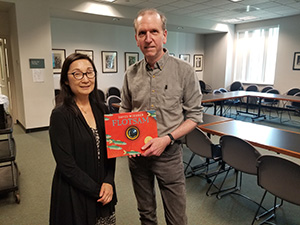 The Silent Books exhibit will move on in June, but this event will also serve to launch a new collection of international youth literature at Alexander, which will include books from other lands in translation and in their original languages. Aronson said, "Through generous donations from Doris Gebel, we have over 300 books to begin with. Current students in the international class, with the guidance of Janet Croft, are creating an annotated catalog of the books. This is a selection of wordless picture books chosen to be used to help refugees children 'read' stories the moment they arrive in Europe."
As the collection grows we expect that it will be of use to professors and students in Education working with communities that use languages other than English, or who wish to share stories from other lands; to librarians who can learn how to expand their collections; to students of languages and cultures interested in how young people experience the world elsewhere, and to scholars in all departments interested in youth, communications, and media. The collection will also be available to the general public for use in the library.
When populist nationalism and xenophobia create walls between people, books can help build bridges instead. Come help us celebrate the opening of the Silent Books exhibit at Alexander Library and the launch of the International Youth collection, and learn from experts on books from other lands.
Speakers:
Junko Yokota, director of the Center for Teaching through Children's Books and President of the jury for the Hans Christian Andersen Awards, the highest international recognition given to authors and illustrators of children's books.
Doris Gebel, former president of USSBY, the section of IBBY representing the United States, and retired librarian.
Marc Aronson, Assistant Teaching Professor at SC&I who is creating an international youth literature section at Alexander.
Janet Brennan Croft, Liaison to the School of Communication and Information for Rutgers—New Brunswick Libraries, editor of the journal Mythlore, and expert on the works of J.R.R. Tolkien for children
For more information about the Silent Book program, visit http://www.ibby.org/awards-activities/activities/silent-books/
To learn more about the Hans Christian Andersen Awards, see http://www.ibby.org/awards-activities/awards/hans-christian-andersen-awards/
To learn more about the Master of Information degree program at the School of Communication and Information (SC&I) at Rutgers University-New Brunswick, click here.
Photo: Dr. Junko Yokotoa, guest speaker who introduced the Silent Books collection at the Books as Bridges event at Alexander, with David Weisner -- three time winner of the Caldecott Medal for excellence in children's illustration. The two are holding Weisner's book Flotsam with with its Caldecott medal. The book is one of the wordless books featured in the collection and is set, in part, along what could be the Jersey shore.