Communications/Journalism Alum Lands His Alma Mater as a Client
RC '96 entrepreneur strikes deal with Rutgers University Athletics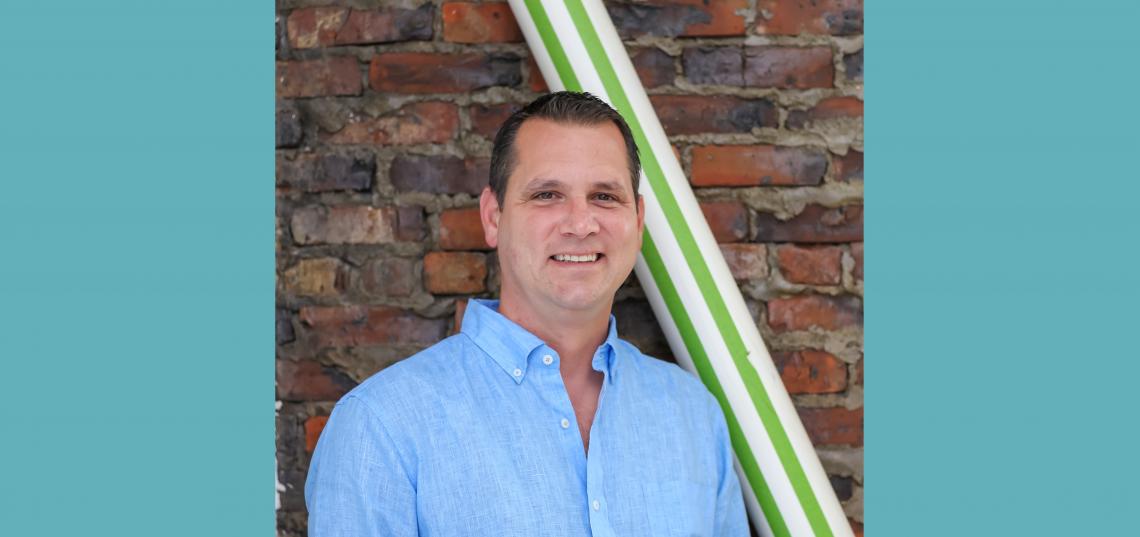 When Anthony Torre '96 RC started his advertising agency, Spitball Advertising, he had two specific clients in mind that he wanted to win over. One of them was Rutgers University Athletics, which he landed last year. From our discussion with Torre about his work over the years, it's easy to see why this former Daily Targum reporter usually hits the target when he aims high.
Why did you decide to start your own advertising agency, Spitball Advertising?
I've always had an entrepreneurial spirit which was passed down to me from my father. He was a police officer but also ran a family deli in town. To his credit, he tried a bunch of harebrained schemes to try and increase business. Some hit and a fair amount missed but I appreciated his desire to make something better for our family.
My first lesson in marketing took place when we put soda on sale for $1.00 at Mr. T's Deli in Jackson. A customer came in and told ten-year old Anthony that $0.99 would make the offer more attractive. I was hooked on the idea of trying to change behaviors based on smart messaging from that point on.
In high school, I took on internships with local publications covering high school sports. That led me to an incredibly successful Rutgers tenure. Following graduation, I worked for a prominent marketing company and led client relationships with Johnson & Johnson, Dentyne, Halls, Trident, Manischewitz, Rolaids, Band Aid and Bubblicious. After realizing that the best ideas weren't making it to the client, I partnered with Steve Bailey, a former colleague, and strove to create a company that we'd want to work for. Spitball was developed based on the philosophy that ideas can come from anywhere and the best ones are those that stick and create lasting meaning. Our team environment fosters original thinking and is a communal creative and strategic melting pot.
We've always believed that there are a ton of mid-to-large companies on this side of the Hudson river that could benefit from small shop services without having to deal with the bureaucracy and lack of catered attention of big city agencies. We bring unbridled passion to each and every client, which is a mantra that starts at the top and is embraced by all. At the end of the day, we are just real people doing what we love and I'm happy to say that we've grown each year since kicking things off in 2007.
What are three specific things you learned from the Communications and Journalism program that equipped you for launching and growing your own company?
You don't need to be the smartest person in the room but at least have a meaningful point of view and make yourself heard.

Don't be afraid to make mistakes. This is not the industry for the timid or passive. The failure to take a chance is the failure to make a difference.

Take advantage of resources available to you. Learn from the veterans of the industry and share ideas with fellow students and colleagues. Keep notes on sage wisdom and build a library of tips and tricks to use in your personal growth.    
What skills did you gain as a staff writer and columnist for The Daily Targum that you still use in your work today?
In my column, "Storre Time." I always looked to put a unique spin on a story and go beyond a simple narrative. There is always a story within a story. If you accept things at face value and just report on what is obvious on the surface, you'll miss out on the deeper truths. Anyone can tell you what happened but what is the why? What is the motivation behind things?
The same deep-dive approach applies at Spitball. We challenge our team to push beyond the expected and discover what is clutter-breaking - that's a Spitball idea. Anything that feels like it'll get caught up in the masses will fail to resonate internally. We are our own worst critics and stop at nothing to deliver something truly unique, meaningful and powerful. We present clients a range of thinking from safe to daring to completely out there. This gives them a chance to hone in on their comfort zone and boundary-pushing limits.
Can you describe a typical day at work as a business owner?
That's a good one! I don't believe I have had a "typical" day yet! We are in such a dynamic space that each day brings about a fresh set of challenges and opportunities. I can enter a day with a structured landscape mapped out and by noon, that plan is all but negated. We can be working on new national campaign concepts for Cholula Hot Sauce in the morning, move to reviewing a media plan for iCIMS just before lunch, shift to drafting a strategic deck for Manischewitz and then round out the day with a marathon "spit-storming" session for a new business pitch for a major New Jersey based CPG brand.
Our clients range from leaders in software, to hospitals, sardines, cleaning products, tourism, kosher foods, cooking spices, hair care and a number of other categories. By design we aren't niche in any specific markets. It helps us bring unique thinking to projects versus the stale approaches you might get from an agency that lives and breathes a singular category every day. We say it also makes us the most interesting people at cocktail parties since we can jump from advances in IVF medicine, to the health benefits of sardines and wrap it up with a fine conversation about the difference between the peppers used in Cholula Hot Sauce.
We work hard but always remember to take time to loosen things up. We like to break up our days with lunch celebrations, escape room contests, corn mazes, boat outings, board game mornings and miniature golf tournaments. The injection of casual, team-building events help fuel and refresh our creative chops.
You recently won the account of Rutgers University Athletics! Can you tell us how this union came about and the services you'll be providing? What does it mean to you to be representing your alma mater?
When we first started Spitball, I wrote down two names of clients I wanted to work with on the back of a napkin. One name was Atlantic City and the other was Rutgers University Athletics. In our fourth year we were fortunate to win the Atlantic City Convention and Visitors Authority business. I reached out to Rutgers University a number of times and was able to secure a few meetings over the years. I credit Sarah Baumgartner, the current Deputy Director of Athletics, with keeping us in the mix and including us in the most recent RFP process. She has been a strong supporter of ours from the beginning.
I covered every sport for The Daily Targum, was at the first ever Big East football game, stormed the field after our Louisville win, and enjoyed our magical NIT run in 2004.  Heck, even my dog is named Scarlet. For Spitball to win the Rutgers University Athletics business was probably more rewarding personally than it was professionally. To be able to be the team to put together the positioning strategy, creative footprint and media plan for my alma mater is just amazing. Our "Get Your Jersey On" campaign, which celebrates the fan experience and the passion of Jersey pride, has delivered outstanding results to date. The men's basketball team sold out five games this season, the most in 15 years. We hope to continue the Spitball partnership with Rutgers Athletics for years to come. The programs are on the cusp of greatness and we want to be there to share in the excitement. Naturally we'd love to see our partnership grow across the other Rutgers business units such as the university, alumni association and business school amongst others.
To announce the partnership, Rutgers University Athletics was looking to do something more than simply issue a standard press release. Instead we scripted a short story and spent the day with the Scarlet Knight showing what a day in the life at Spitball is like:
Did you have a mentor or favorite professor at during your time at Rutgers?
There were so many good ones that it's hard to narrow it down to one. I remember how my advertising professor used to find subliminal messaging in just about everything which was funny. Sometimes I would think he was stretching it a bit. Another professor was the former head of the Motion Picture Ratings Association and it was super interesting to hear some of his old Hollywood war stories.
What are the top three skills you look for when hiring for your company?
Spitball looks for employees who can power through obstacles. We want people to run through the wall, not stop at it.

Our hiring process is very selective, and we look to find those people without egos who can help add to our team chemistry without disrupting it. These individuals believe that the greater good of the team is what helps Spitball thrive.

We want those who have a vested interest in the success of Spitball. If we are successful, everyone is successful. It's a true win for everyone.
What advice would you give to current students or recent graduates who want to launch a career in advertising?
Advertising is such a vast industry with so many specialized roles and skill sets. I began as a media intern at McCann in NYC even though I knew I wanted to be an Account Executive. I'd finish my media tasks and then sneak up to the tenth floor and find an Assistant Account Executive who agreed to throw some projects my way.
Early in your career, find any way into an agency and see what best fits you. Like with anything in life, work hard and don't feel that you are entitled to anything. We are successful at Spitball because we have a team of dedicated individuals who gel together without egos to form an amazing crew. We all wear many different hats and each day brings a new lesson. We feed off these collective experiences and our clients are the ones who reap the rewards.
For more information on SC&I's Communication program, click here
For more information on SC&I's Journalism and Media Studies program, click here
Spitball links:
https://www.facebook.com/spitball/
https://www.instagram.com/spitballadvertising/
https://www.linkedin.com/company/spitball-advertising