Fall ITI Showcase Features 36 Student Projects
A large crowd of over 250 gathered for the showcase.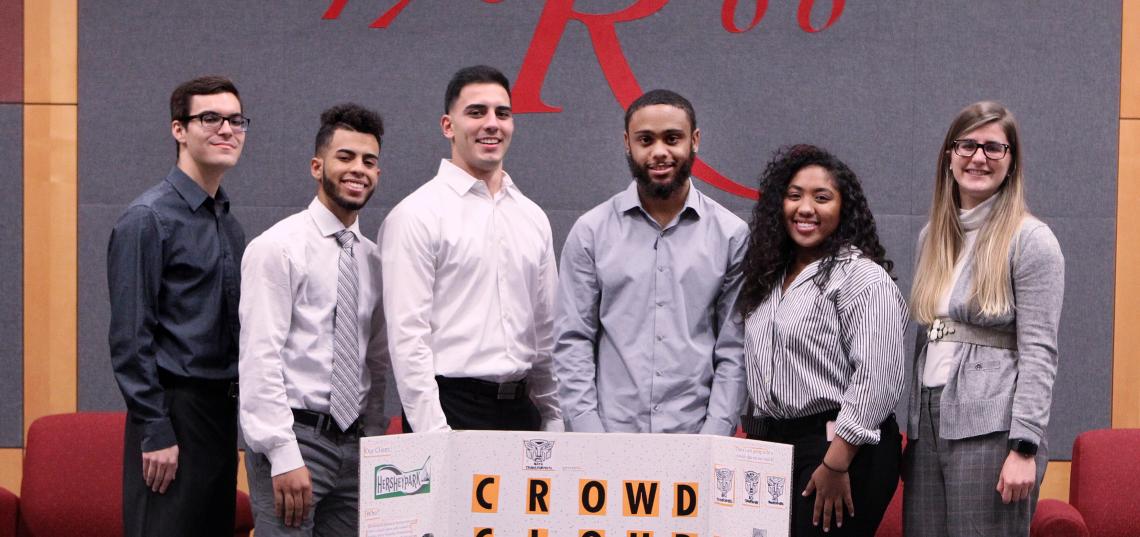 A large crowd of over 250 gathered for the ITI Showcase Fall 2017 on December 12, 2017 at the College Avenue Student Center.  The ITI Showcase featured 36 student teams from the ITI 210 - Management of Technological Organizations class competing in the Prototype and Pitch competition as well as the debut of VoxBox, the Fall 2017 Capstone class's project targeted towards children with communication disorders.  
The first half of the ITI Showcase event features the Prototype and Pitch competition.  This competition is unique in that it blends both peer and professional review into the same contest. Set up like a trade show exhibition, student teams demonstrated their application prototypes and pitched their IT-based solutions to each other and to a panel of 17 judges.   Projects were evaluated for innovation, creativity, clarity and quality of the team's presentation.  This fall's ITI Showcase projects featured prototypes focused on four topic areas:  Big Data, Gig Economy, Healthcare IT, and Internet of Things.  Both students and judges choose their favorite projects from each topic area with the following student teams being selected as winners:
Judges Choice Winners
CrowdCloud – Big Data
Teachlet- Gig Economy
MoniCare24- Healthcare IT
Kantoku- Internet of Things
Student Choice Winners
Fantiks- Big Data
WriteNight- Gig Economy
MedCollab – Healthcare IT
SplitSec – Internet of Things
During the second half of the Showcase the Fall 2017 Capstone class débuted their technology based product VoxBox to the panel of judges and the audience of their peers.  VoxBox is a specialized assistive communication technology designed to assist children with communication disorders in their struggle to effectively communicate with their peers.  The judges provided the Capstone students with advice and feedback on their product strategy, product design, marketing, and finance.
Winning teams from the Prototype and Pitch Competition and Capstone students all received certificates of achievement and SC&I Blankets in recognition of their success and hardwork.  ITI Showcase Spring 2018 is scheduled for April 23rd at Busch Student Center.