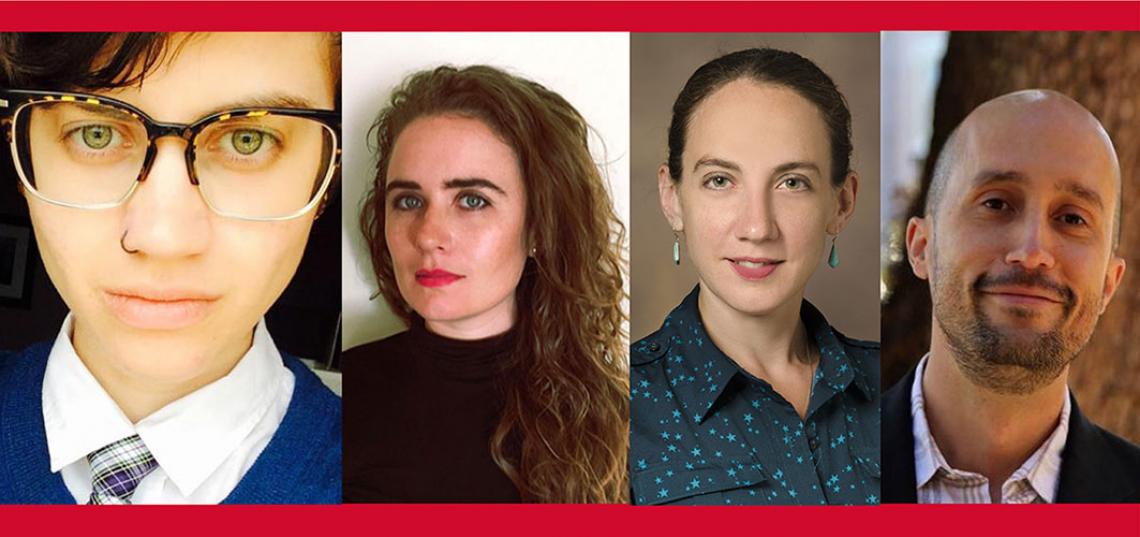 Four New Faculty Members To Join SC&I in September
The Library and Information Science (LIS) Department welcomes four new faculty members who will arrive in September, 2019.
The Rutgers School of Communication and Information (SC&I) is pleased to welcome four new faculty members to the Library and Information Science (LIS) Department.
Warren Allen, E.E. Lawrence, Britt Paris, and Gretchen Stahlman will arrive in September, 2019.
Marie Radford, Chair of the Library and Information Science Department and Professor of Library and Information Science said, "Rutgers LIS Department is very excited to be welcoming these four outstanding new faculty members. Our Department is experiencing a period of rapid growth in enrollment in both our Masters of Information, as well as our Information, Technology, and Informatics undergraduate programs.  These accomplished new faculty will bring a range of talents to enhance our research reach and innovative curriculum development."
Warren Allen
Warren Allen joins Rutgers as Assistant Teaching Professor and Director of the Information Technology and Informatics (ITI) Program. Dr. Allen teaches courses in social networks, relational analytics, and Web technologies, and conducts research on the role of information technology in our social, civic, and professional lives. He earned a Ph.D. in Information Studies from Drexel University, and has a professional background that includes Web development, information security engineering, and information assurance for government and commercial organizations. In his role as Director, Dr. Allen will play an important role in the operations and strategic leadership of the ITI program, including expansion of first-year and culminating student experiences, and updates to the ITI curriculum to reflect the demand for proficient and ethical information technologists.
E.E. Lawrence
E.E. Lawrence is a doctoral candidate in the School of Information Sciences at the University of Illinois at Urbana-Champaign. Lawrence conducts research in the philosophy of LIS, within which they focus on normative problems related to library and information ethics, readers and reading, and values in information retrieval and recommender systems. Lawrence received an MLS with a specialization in information and diverse populations from the University of Maryland. They recently successfully defended their dissertation "Reading for Democratic Citizenship: a New Model for Readers' Advisory," under the supervision of Dr. Emily Knox, a Rutgers SC&I aluma.  Lawrence has published research in highly ranked LIS journals, including Library Quarterly and Library Trends, and in the proceedings of the Association for Information Science & Technology.
Britt Paris
Britt Paris is an information studies scholar focused on developing a sociotechnical understanding of how groups—from technologists to civil society organizations—understand, build, and use Internet infrastructure in accordance to their value systems. She has published work on Internet infrastructure projects, digital labor and civic data analyzed through the lenses of critical, feminist, and postcolonial theory. Paris received her master's degree in Media Studies from the New School in New York City, and her Ph.D. from the Department of Information Studies at the University of California, Los Angeles. She is a researcher at Data & Society Research Institute, where, according to the society's website, Paris is investigating the trajectory of, and technological imaginaries present in, current debates over artificial intelligence-generated audiovisual products.
Gretchen Stahlman
Gretchen Stahlman is a Ph.D. candidate in the University of Arizona's School of Information. She holds a Master of Science degree in Library Science from Clarion University of Pennsylvania, and she previously worked as a documentation specialist for the Atacama Large Millimeter/submillimeter Array telescope project in United States and Chile. As a doctoral student, Stahlman has participated in several projects exploring cyberinfrastructure strategies for "Long Tail" datasets in biology and astronomy, including assisting in establishing the Astrolabe repository and computing environment for astronomy data. Gretchen also served as a Research Development Fellow in the University of Arizona's Office for Research, Discovery and  Innovation during the 2015-16 academic year. Most recently, Gretchen was selected as a 2018 LEADS Fellow through the IMLS-funded LEADS-4-NDP program. Gretchen's dissertation research focuses on identifying uncurated data associated with scholarly literature in astronomy.
For more information about the Department of Library and Information Science, click here.