Fox Sports Partners with SC&I Class to Help Students Prepare for the Real World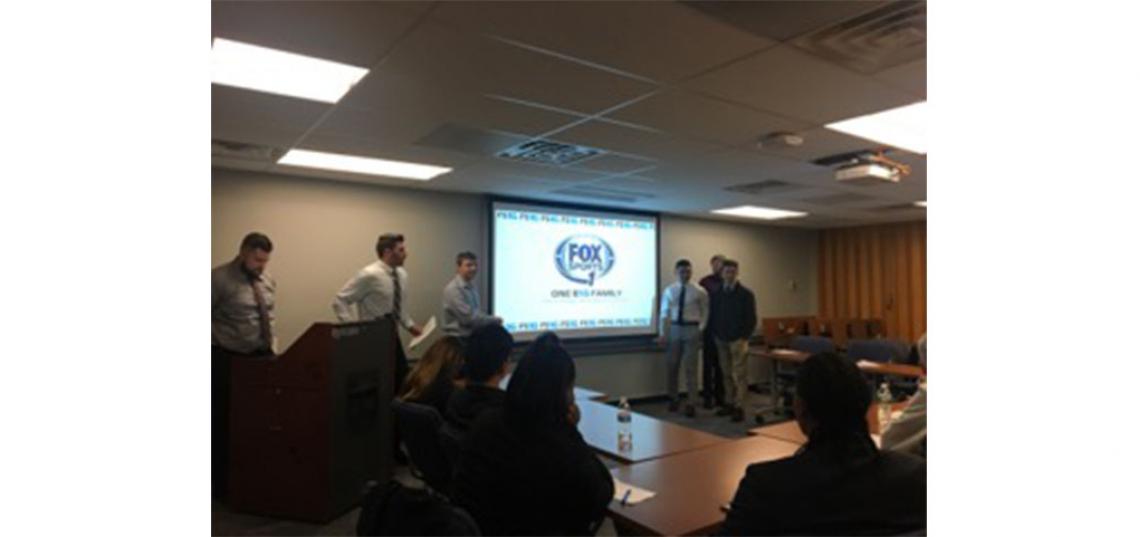 Five groups of anxious SC&I Journalism and Media Studies (JMS) students gathered on the last day of classes to present their final projects in front of a panel of Fox Sports executives who had traveled to SC&I from Los Angeles and New York City to review the student's final projects.
Students in the course Critical Issues in Sports Media, instructed by SC&I's Director of Undergraduate Studies in Journalism and Media Studies, Steven Miller, partnered with Fox Sports University, a program sponsored by Fox Sports, to demonstrate their strategic and creative abilities and see their ideas come to life.
The class was designed to be competitive -- the students who presented had dedicated the entire semester to work on their final projects for both a final grade and – hopefully -- the winning project -- in a competition that pitted them against their classmates.
The Fox Sports University program aims to give students real work-world experience in a classroom.  "The goal is to bring the real world into the classroom and give students the opportunity to get hands-on experience and contribute to relevant and timely events or projects that we're working on within the company," said Associate Manager of Strategic Partnerships at Fox Sports, Micaela Asercion. 
Asercion also said that this program enables the students to develop projects that are great to include in their portfolios. "We actually had a SC&I student email us saying that she got a job offer and a huge reason that she got it is because she had this tangible project she could show to them -- that she worked on a brand, she pitched a campaign, and she's had experience presenting in front of a room full of executives.  They were really impressed by that and she got the job. It was very exciting for us to hear, too."
Miller said he wants the best for JMS majors, and he challenges his students to get the most out of what they are paying for by attending college. "My primary goal with the FS1 partnership was to give students a different experience," he said. "One of the biggest complaints those outside of the university have about college is that we don't do anything to prepare students for the real world. I'm trying to break down the premise and get these young women and men ready for life after Rutgers."
Students were eager and nervous to present their strategic marketing campaign ideas to Fox Sports.  The semester-long project assignment required students to develop campaigns that targeted the 18-34 year old demographic. "It's been very interesting to watch them try and adapt their research to age groups older than they are.  It's very easy for a student who is 22 to try and look at people between the ages 18 and 24 because that's the group they're in," Miller said. "It's more difficult to decipher the viewing habits of people who are ten years older."
It was up to the students to impress the panel with their creativity.  Fox Sports University also gave them basic guidelines to follow. "We're looking for a social media component, we're looking for a broadcast component or on-site activation, but from there it's up to the students to decide what direction they want to go with that," Asercion noted.
Each group was given feedback from the panel of executives after pitching their ideas. "I thought all the presentations were really impressive and it's always great to get a fresh perspective from students who are actually watching these broadcasts and kind of have an outside viewpoint on what we're putting out there," said Fox Sports' Media Relations Coordinator, Jenn Inglesino.
Kylie Bezpa, a JMS senior at SC&I, found this class and project to be very helpful for preparing her for her future career. "This project has been priceless. The skills and experience we've gained working with Fox Sports University are unparalleled," Bezpa said. "It's been such a great opportunity that I know I will carry with me into my post-graduate job as a PR professional."