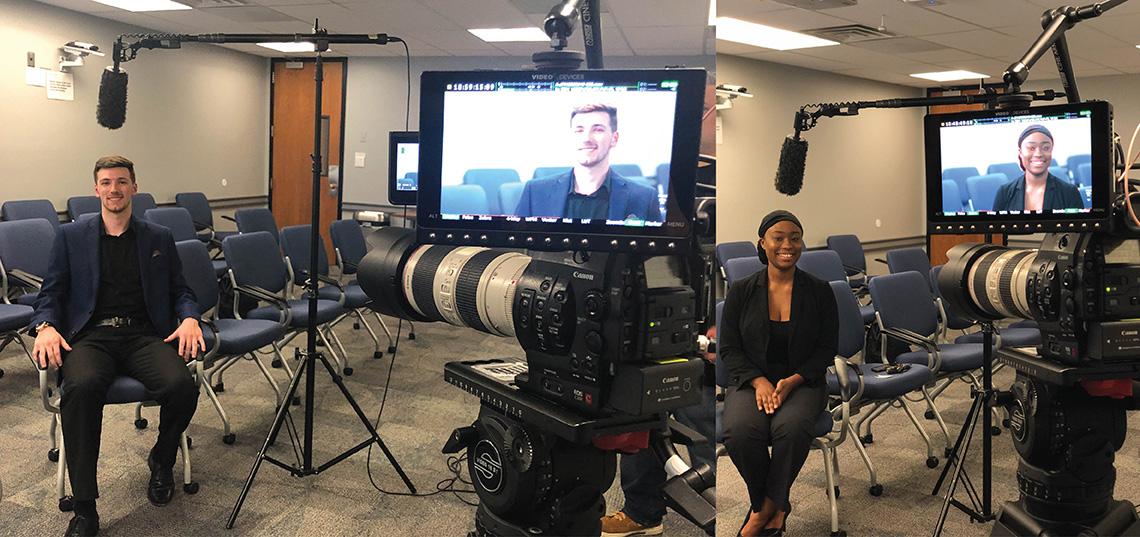 FOX Sports University Invites Two Recent SC&I Grads to National Sports Media Awards
Recent JMS graduates Stephen Kimball and Ravyn Roy have been invited to attend the National Sports Media Association Awards based on their presentations to FOX Sports University during the class "Critical Issues in Sports Media."
During the spring 2019 semester, in SC&I's "Critical Issues in Sports Media" class taught by Director of Undergraduate Studies in Journalism and Media Studies Steven Miller, students were assigned a project by FOX Sports University. The sophomores, juniors, and seniors were tasked with increasing viewership and engagement for the Jr. NBA Global Championship, which is the equivalent of the Little League World Series in baseball.  
To complete the project, the class was broken into four teams, each responsible for creating a complete strategy to enable FOX Sports University to market the Jr. NBA Global Championship across FOX and FS1. At the end of the semester, each team presented their plans and ideas to FOX Sports University executives.  
Following the presentation of the campaigns, Micaela Asercion of FOX Sports University invited seniors Stephen Kimball and Ravyn "Rizzo" Roy to the 60th Annual National Sports Media Associations Awards, citing their presentation skills and desire to be on-air reporters. Two of only sixteen students chosen nationally, both Kimball and Roy graduated from SC&I this past May as Journalism and Media Studies majors and are excited to go into the sports media field.
"JMS and SC&I have been monumental in my decision making and future goals," Kimball said. "The programs have helped me set up my future and have given me the opportunities that have led to me being invited to attend the NSMA. This NSMA Weekend can help me achieve those goals because of all the networking I will be able to do. It will let me meet people who have already done what I want to do and learn from them. I will also be learning so much about the industry and how it works. This will be very helpful to my decision making and future planning."
Roy, who has just started as a Sales Regional Manager Trainee for Otis Elevator in Manhattan, N.Y,  said she hopes to secure a part-time job in journalism, or perhaps start her own podcast. She specialized in sports journalism, and credited Steven Miller and other SC&I faculty members, who she said "taught me so much in regards to journalism writing and sports."
Every year, the NSMA Awards honors excellence in the sports media industry, and each of the 49 states in attendance nominates a State Sportscaster of the Year and State Sportswriter of the Year, a National Sportscaster of the Year and National Sportswriter of the Year, and Hall of Fame inductees. Some of the biggest names in the sports media industry attend the event every year, and Kimball and Roy will be able to meet and network with all of them.
"Just being selected for something like this is incredibly exciting for me," Kimball said, "this is not an experience everyone will get so being able to get first-hand knowledge is something I can't wait for."
Roy is also looking forward to the networking opportunities the NSMA Awards provides, and said, "I am ready to represent myself and Rutgers and hopefully land something!"
To learn more about the Journalism and Media Studies Department at the Rutgers School of Communication and Information (SC&I), click here. 
Photo credit: Micaela Asercion of FOX Sports University