Here's Survivin' and Thrivin' — the spring 2021 issue of Kairos
The JMS magazine of top undergraduate work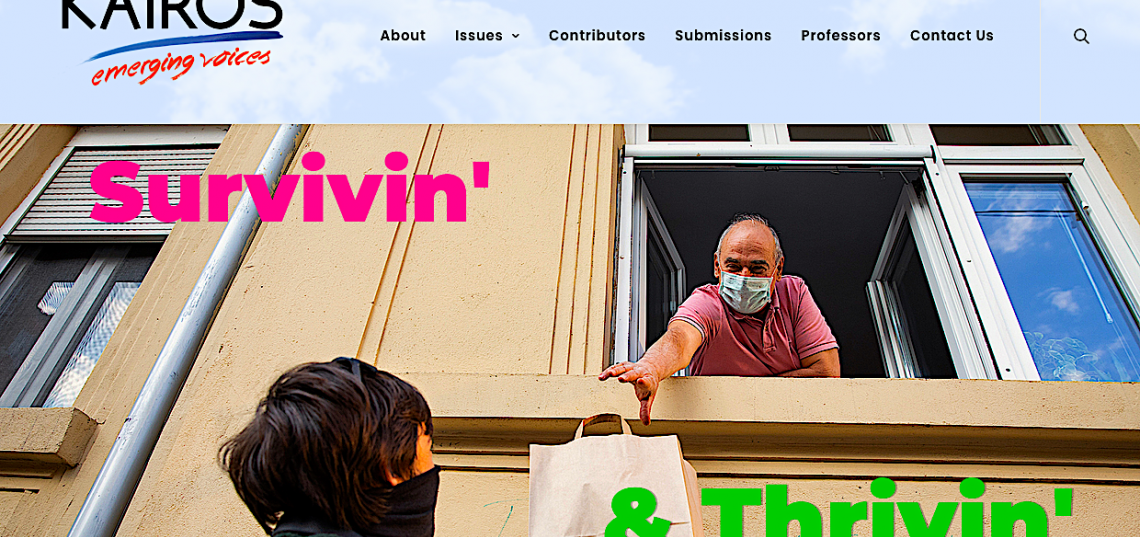 Here's Survivin' and Thrivin' — the spring 2021 issue of Kairos, the JMS magazine of top undergraduate work.
Featuring stories about how we're struggling, studying, and adapting.  
Katie Sun tells the story of an 85-year-old woman learning to shift from in-person to virtual socializing 
Addison Gallagher reports on a daycare center facing a financial crisis, as many parents keep their young children at home 
Sean Park interviews his jeweler father, on what it takes to sustain a small business during hard times 
Alison Alloco explains why GenZ loves audio storytelling 
Jade Stepeney asks whether podcasts can save remote learning 
Ethan Carpenter talks about how we go to gym class now 
Wallace Truesdale looks into what we love, and hate, about virtual study 
Jamie Corter reports on a virus-ravaged Broadway trying to find its future 
Ria Malatesta profiles a high school journalism teacher building a thriving side-business in creating fancy cakes
Laura Esposito discovers that sick talk can lead to eating sickness 
Would you like to contribute to the next edition of Kairos? 
Here's how http://kairosmagazine.rutgers.edu/submissions/