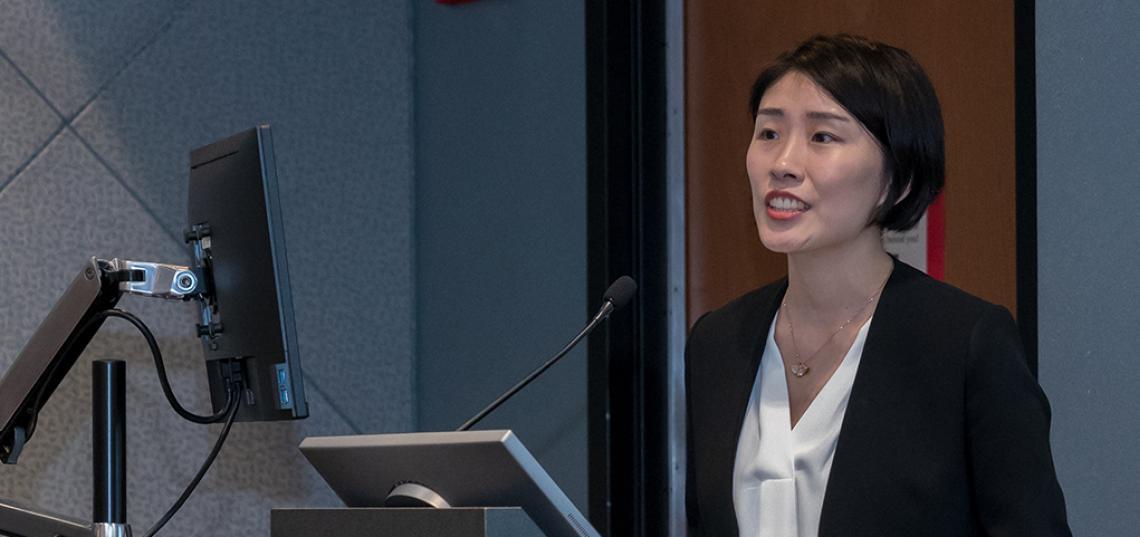 J. Sophia Fu Receives Top Dissertation Award for her Research on Social Entrepreneurship
Fu's research is recognized by the Academy of Management.
SC&I's Assistant Professor of Communication J. Sophia Fu was recently awarded the 2019 Best Social Entrepreneurship Paper by the Academy of Management for her paper "Institutional Complexity in Social Ventures: Scale Development through Two Studies."
This award, sponsored by the Batten Institute for Entrepreneurship and Innovation at the University of Virginia in Charlottesville, honors the "best paper of the entrepreneurship division concerned with social entrepreneurship that is presented at the AOM annual meeting. All papers accepted for presentation at the annual meeting that focus on social entrepreneurship are eligible for the award. A cash prize of $1500 is also awarded to the winner," according to the AOM website.
"I am very grateful for the recognition from the Academy of Management. I combine theories of organizational communication, social networks, and management science in my research. I am very happy to see that different academic associations are open to interdisciplinary research to advance our knowledge across disciplines and fields," said Fu.
Fu's research interests center around organizations, social networks, information and communication technologies (ICTs), entrepreneurship, innovation, and computational social science.
Fu teaches the undergraduate course COMM 432 Communication, Technology, and Society and the Master of Communication and Media (MCM) course 514 Communication Research.  "In my class, I employ a social network perspective to help students understand the relationship between technology and organizational innovation. I am happy to have conversations with students who aspire to be social entrepreneurs on the topic of social innovation, technology management, and social innovation" Fu said.
She has previously won awards for her research from the National Communication Association, International Communication Association, and National Science Foundation.
In 2018 Fu won the Top Poster Award from the Health Communication Division of the ICA, and in 2017, Fu was awarded the Top 4 Paper Award from the Organizational Communication Division also at ICA. Other awards Fu has received include the 2017 Doctoral Dissertation Improvement Grant, Decision, Risk, and Management Sciences, from the National Science Foundation and the Carlo Masini Award for Innovative Scholarship, Public and Nonprofit Division of the Academy of Management in 2016.
Click here for more information about the Communication major at the Rutgers School of Communication and Information (SC&I).
For more information about the Master of Communication and Media degree at SC&I, click here.