JMS Major Kayla Jackson Wins UPitchNJ 2017 Competition with Her Start-Up PeduL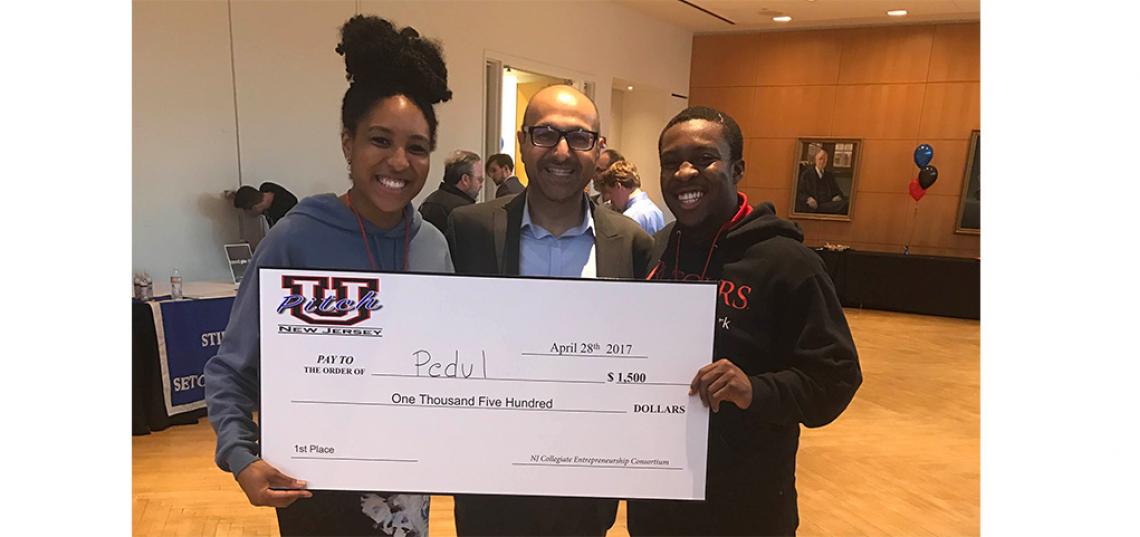 Update: November 29, 2017
Kayla Jackson '17 and Chisa Egbelu '16 are featured in a Daily Targum article titled "Two Rutgers Students Create Crowdfunding Platform for College Expenses," in the November 29, 2017 issue. The two, who met at SC&I when they were undergraduates majoring in Journalism and Media Studies (JMS), are now the successful COO and CEO of the platform "PeduL" which they created to help undergraduates fund their college educations. According to the Targum, students using PeduL have raised $6,000 in the last 30 days to cover their college expenses. Read the SC&I story below for more news about Jackson and Egbelu. 
The competition was intense, but when SC&I's Journalism and Media Studies (JMS) major Kayla Jackson '17 presented at UPitchNJ, in front of competitors from 12 other New Jersey colleges and universities, she was calm and focused on doing what she's done almost 60 times before when pitching PeduL, a start-up she founded at Rutgers with her business partner and fellow JMS major Chisa Egbelu '16.
She focused on the clarity of PeduL's business concept and model, PeduL's effectiveness in terms of solving the problems it addresses, its market potential, and her overall presentation performance.
Jackson's years of practice and her extraordinary skill paid off: PeduL, a crowdfunding platform that helps students fundraise money for college, won the UPitchNJ 2017 competition held at Princeton University on April 28, 2017, and PeduL was awarded $1,500 in cash and $20,000 worth of business consultation services.
According to the UPitchNJ website, based at Princeton University, "UPitchNJ is sponsored by the New Jersey Collegiate Entrepreneurship Consortium, which represents the entrepreneurship education programs at New Jersey's four-year colleges and universities.
"UPitchNJ's aim is to highlight the ingenuity and creativity of today's college entrepreneurs, whom are increasingly launching businesses from their dorm rooms. As entrepreneurship educators in New Jersey, we want to provide our entrepreneurial students with a networking forum with other students, mentors and potential investors."
The 13 universities competing in this year's competition included Fairleigh Dickinson University, Montclair State University, New Jersey Institute of Technology, Princeton University, Ramapo University, Rider University, Rowan University, Rutgers University, Saint Peter's University, Seton Hall University, Stevens Institute of Technology, The College of New Jersey, and William Paterson University.
To be able to represent Rutgers University at UPitchNJ, Jackson first needed to submit an application to the UPitchNJ representative at Rutgers, Alfred Blake, the associate director of entrepreneurship programming. PeduL was chosen from among the other Rutgers submissions.
Although presenting in such a fiercely competitive environment might be daunting for some people, Jackson was ready. She explained, "I was not nervous before UPitchNJ only because I've pitched PeduL at competitions, to potential investors and partners at least 60 times before this event. However, I did prepare for this event by reviewing my pitch with my advisors at our investors office. I also reviewed my pitch with my mentors within the Rutgers community –including Blake and the Director of Innovation at the Rutgers Honors College, Mukesh Patel."
Jackson has been working at PeduL since January, 2017. Between January and May, as a second-semester senior, Jackson interned at PeduL for course credit, took online courses and completed an independent study. As she explained, "I balanced my academic responsibilities around my business. Since I graduated on May 12, I have been working at PeduL full-time." Today, Jackson is the Chief Operating Officer (COO) and President of, PeduL Inc., based in Newark, N.J.
PeduL's origins go back to 2014, when Egbelu came up with the idea, that eventually became PeduL, as a solution to a friend's problem. His friend could not go to his dream school, the Berklee School of Music, for financial reasons.
In January 2016, Egbelu began working seriously on PeduL when he recruited Jackson onto the team. By April of 2016, a multi-billion dollar international telecommunications company called IDT, headquartered in Newark, N.J., demonstrated its belief in their dream by investing in PeduL.
 "We started their incubator program in June," Jackson said, "and we've been working out of their office ever since."
The following Q&A with Jackson includes many more fascinating details about her, Egbelu and PeduL. For example, Jackson founded, managed, published and then sold a magazine in high school, she once pursued a career as a professional golfer, and she was interviewed by Rutgers Office of Student Affairs Student Spotlight,  Rutgers Today and mycentraljersey.com in 2016.
Q&A with Kayla Jackson
Explain PeduL's business goals. How does PeduL differ from other higher education crowd-funding platforms (or is PeduL the only one?)
At PeduL we protect patronage like no other crowdfunding site by transferring funds from student campaigns to their university in the form of a third-party scholarship.
What makes us original though? We have thought long and hard about the elitist nature of crowdfunding on sites like GoFundMe--it makes students completely dependent on "vitality" or their personal network of friends and family to fundraise. We help optimize student campaigns through partnerships with corporations and scholarship providers by awarding their endowments and scholarships to qualified students with active campaigns. Scholarship providers use us because it allows them to reappropriate administrative processes (application review, student vetting, document retrieval, etc.) into what really matters for their organization. And corporations use us because PeduL gives them an opportunity to cultivate a diverse workforce of recent graduates whom are prepared to hit the ground running from day one.
What inspired you and your co-founder to found PeduL?
Back in 2014, my cofounder, Chisa Egbelu, saw his good friend attempt to abandon his very corporate and traditional computer science track to pursue his dream of music at Berklee School of Music in Boston. He came back a semester later disappointed and hurt that he couldn't pursue his dreams because he just couldn't afford to attend Berklee. He said he wished there was a "kickstarter for college," and that's when PeduL was born.
Chisa and I had a number of classes together because we're both Journalism and Media Studies majors. He knew that I had extensive business history, especially since I had shared in many of my classes that I started an online magazine in high school to empower young girls of color. I sold the magazine before I graduated high school, but my experience with quality assurance, business models, advertising, supply chain management, operational logistics, etc. assured Chisa that I could be an invaluable asset to help make PeduL a reality. This was in addition to my experience as an ambassador for the Professional Golf Association's (PGA) youth development program called The First Tee, and the Walt Disney Company, as well as my leadership roles in a number of different youth development programs like the National Black MBA's Leaders of Tomorrow, Black Girls Rock and the NJ Orators.
I personally felt compelled to join this mission because I was on track to play professional golf. My Mom and Dad had been training me since I was 18-months old. But by the time I was a senior in high school, I decided not to pursue this dream. I had learned from my experience of launching, scaling and selling my magazine that I was passionate about impacting the lives of young people--not golf. I didn't know what channel or avenue I'd pursue to realize this newfound life's mission, but I knew it had to be genuine. And I knew that pursuing golf professionally was not going to make me feel genuinely fulfilled. When I turned down all of my Division 1 golf offers, I decided to go to NYU--my dream school at the time. But I found out I'd be $40,000 in debt if I attended, that's why I came to Rutgers, and I don't regret it for a minute.
Where and when was Pudul founded?
PeduL officially incorporated in July 2016. Chisa and I worked out of the Red Lion Cafe for 15 hours each Sunday for about three months. After Rutgers wrote an article about Chisa Egbelu, Startup Panel, a publication founded by a couple of Rutgers-Newark students, wrote a feature on our company. The author of this article, who is also a Rutgers-Newark student, was pursuing a company called Ramenworks that helps connect student founders with venture capital and other resources within the startup ecosystem. We were their beta. We were their MVP. In order for them for receive their investment, we needed to receive an investment, so they introduced us to IDT, an international telecommunications company headquartered in Newark, NJ. Since joining their incubator, we have secured partnerships with universities, two municipalities, and youth organizations like the Professional Golf Association's (PGA)'s youth development program called The First Tee, which I served as an ambassador for and was an active participant in for 10 years. We're also organizing three eSports gaming invitational in conjunction with Twitch.tv, the second most engaged community online next to Netflix with over 100 million unique monthly visitors. We also just recently won the regional Global Student Entrepreneurs Award ($51,000 in cash and business consultation prizes) and we competed in nationals for this contest. We also won the annual I Have a Dream Summit pitch competition at NYU Tandon School of Engineering ($2,500 cash).
Has what you've learned as a Journalism and Media Studies major at SC&I impacted your success with PeduL?
I always praise the JMS major for equipping me with the skills and confidence necessary to pursue PeduL. I have always believed that journalists-by-training prepare people with an incredible work ethic. The skills and values instilled in students through the JMS program transcend any of the industries we decide to pursue. Regardless of whether or not students decide to stay in traditional media, this major prepares them to communicate effectively, write efficiently, connect with others authentically and speak eloquently. This is in addition to the technical skills acquired through the major. It's these types of soft and hard skills that prepare us to succeed in any industry we decide to enter.
I also love JMS at Rutgers specifically because we learn from the best. Our professors are not just teaching from academic knowledge, but also experiential knowledge. They all have hands-on experience, on the ground from print to broadcast. And Rutgers alumni saturate the media industry in the tri-state area which gives Rutgers students and recent alumni a unique advantage. Not only have alumni helped me get PeduL media coverage, but I've also been offered full-time job opportunities.
It's very impressive that you beat out Princeton (and all of the other schools). Please explain the advantages of your pitch over their pitches or, put another way, why do you think you won? Did the judges explain why they chose PeduL?
I'm not sure exactly why we won. We didn't receive any official scoring feedback from the panel of judges, but after my pitch, many people from the crowd and the judges approached me about the "clarity and eloquence" of my presentation as a whole. Our pitch has evolved substantially since the first time we pitched our investors last year. We've come a long way, but there's advantage in repetition and failure. We've lost a lot of competitions, and because of this, we've won a lot too. It's through this feedback that we've been able to tailor our pitch for competition and investment environments. I think what judges are looking for at these events are a few things: clarity of business concept validation, clarity of business model, significance of the problem being addressed, market potential, and overall presentation performance. I think we scored well in all of these areas. My Mom and Dad trained me from a young age to be comfortable in uncomfortable settings, especially regarding public speaking, so my experience and training definitely was an advantage too.
What advice do you have for incoming freshman about taking advantage of the opportunities at SC&I and Rutgers?
Incoming freshman and anyone at Rutgers have to understand one thing: our community is here to see us thrive, and although it may not always seem like it, there are people and departments within this community whom are dedicated to helping you realize your passion. I don't think I would have ever had the courage to pursue PeduL--a tech company within an industry completely different from the media industry that I was accustomed to by training and business experience--if it were not for my professors and mentors here. Alfred Blake, Professor Steve Miller, Professor Gary Minkoff and Professor Mukesh Patel have played incredibly invaluable roles in my life here at Rutgers and I couldn't thank them enough for being pivotal aspects of my development as a scholar, businessperson and a human being. I even reached out to the Executive Dean of SAS, Peter March, for the first time a couple months ago to ask him if he could help sponsor PeduL's trip to San Francisco to attend a tech conference that yielded relationships with some of the most influential investors in Silicon Valley. I didn't even know Peter March prior to this inquiry, and he gave me a chance just because he listened to the reasons why we believed this trip could be pivotal towards our development as a startup. By agreeing to sponsor us, he PROVED that he supported student entrepreneurship and innovation. Rutgers is not just all talk. They can walk the walk, and the incredible faculty, staff and administration have continued to show me that they're dedicated to student success both in and out of the classroom. They've showed me that they don't just support students of traditional academia, but also students of life and students of people.