JMS Major Michelle Amoresano Named "Student Athlete Achiever"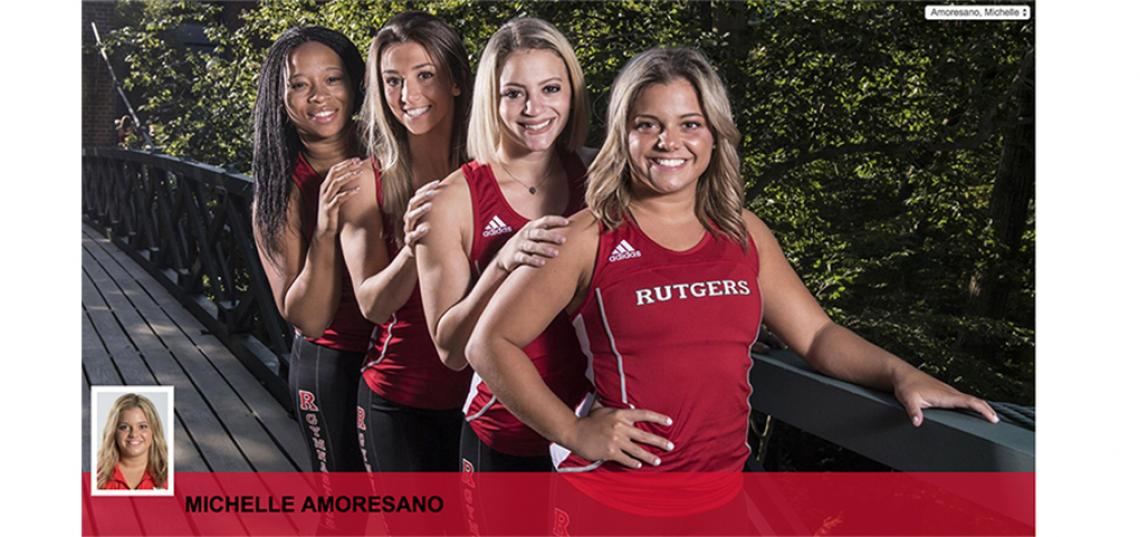 Sophomore Michelle Amoresano, who was named a Rutgers Student Athlete Achiever this fall, taught herself to do back hand springs, with a bit of coaching from a friend taking gymnastics classes, when she was seven years old and in the second grade. Her friend, incredibly impressed, told her, "You should do gymnastics." So she did. "I started late," Amoresano said. "Most kids started when they were three, so I had to catch up a little bit."
Today, Amoresano is one of 19 gymnasts on the Rutgers team, and one of only two members of the team who compete in all four events: vault, bars, beam, and floor. She is also a Journalism and Media Studies (JMS) major who plans to become a sports reporter after she graduates from SC&I in 2018.
"I was inspired to pursue a career as a sports writer beginning about seven years ago, after years of watching sports on television," Amoresano said. "It seemed like a great job, and I knew when I got to Rutgers that Journalism and Media Studies would be my major."
Amoresano is also a member of the Rutgers Student Leadership Academy (SLA). "Athletes are asked if they want to join SLA," Amoresano explained, "and to be asked, students need to demonstrate that they are able to balance studies and athletics and still have time to do community service." There are 60 athletes in SLA out of 600 athletes at Rutgers.
Through her membership in the SLA, Amoresano has done a great deal of community service work, including an SLA trip she took to Honduras last summer, called "Soles for Souls," with other Rutgers athletes, where she distributed shoes to children in small villages. Other community projects Michelle has volunteered for in New Brunswick include cooking for the soup kitchen, reading to kids in the elementary school, and going to properties owned by elderly people and cleaning up their yards and gardening. "You will get as much out of it as you put in," she said. She tries to volunteer once a month.
Amoresano's incredibly hard work and dedication to her academics, sport and the local and global communities brought her to the attention of the SLA leaders, who awarded her the prestigious designation of Student Athlete Achiever.
PNC Bank, who sponsors the award, wrote to Amoresano, "All of us at PNC Bank in New Jersey take great pride in sponsoring this exceptional recognition. We tell the world that the PNC brand stands for 'the achiever in you.' And you have shown us that you stand for well-rounded achievement in the classroom, in athletics, in the community and in personal development. To borrow a famous line about the Garden State, we think that makes us go perfect together."
Amoresano was recognized as a Student Athlete Achiever at a Rutgers football team home game, where her photo and the award were posted on the score board, which she said was really a thrill and an honor.
Amoresano is the first top athlete in her family, and Rutgers was the perfect choice, she said, since she wanted to go to a big school and her parents wanted her close to home. "Rutgers being in the Big 10 was a plus for me too," Amoresano said.
Explaining the difference between gymnastics and other D1 Big 10 sports at Rutgers, Amoresano said, "Gymnastics is different from other sports because it requires more focus. If I do one little thing wrong I can really get hurt." Before she competes, in order to prepare mentally and physically, she says she "visualizes how I will perform the routines, imagining what can go right, not wrong."
Asked which of the four events she likes the best, Amoresano said, "My favorite are the uneven bars. I think the bars is different from other events, because when I was younger it was my weakest event. I worked hard on what I was trying to do. I got better by utilizing summers as a time to push myself, get better, and be ready for September when pre-season starts. To prove to myself that I could do it, I wanted to do all-around in college. It's a cool opportunity, and not many people can do it, so being able to is different."
Her training schedule is a grueling 8:30 to 12:30 on Mondays, Tuesdays, Thursdays and Fridays. On Wednesdays and Saturdays she catches up on studying. The team enforces study hours at the Hale Center at the stadium, she explained, and she also studies in between classes on all the other days as well. Saturdays she also likes to watch football.
As a JMS major, so far her favorite class has been Broadcast News Writing. "Steve Miller is my favorite professor," Amoresano said. "I really like his personality, the way he teaches, and that he invites guests to our classes, people who work for NBC and other top networks, and are alumni."
Amoresano said she will not continue with gymnastics after Rutgers, so while she is here, she said she hopes to meet the rest of her goals for herself and her team while she can. She said, "My goals for the rest of the year are to win a couple more competitions and qualify as a team for the NCAA regionals in March, 2018."
As involved, dedicated and devoted to Rutgers as she is, Amoresano explains that she is not worried about life after college. "I am ready to not spend so much time on gymnastics," Amoresano said, "and to enter the real world, and get a job."