JMS Student Named National Association of Intercollegiate Gymnastics Clubs Female Athlete of the Year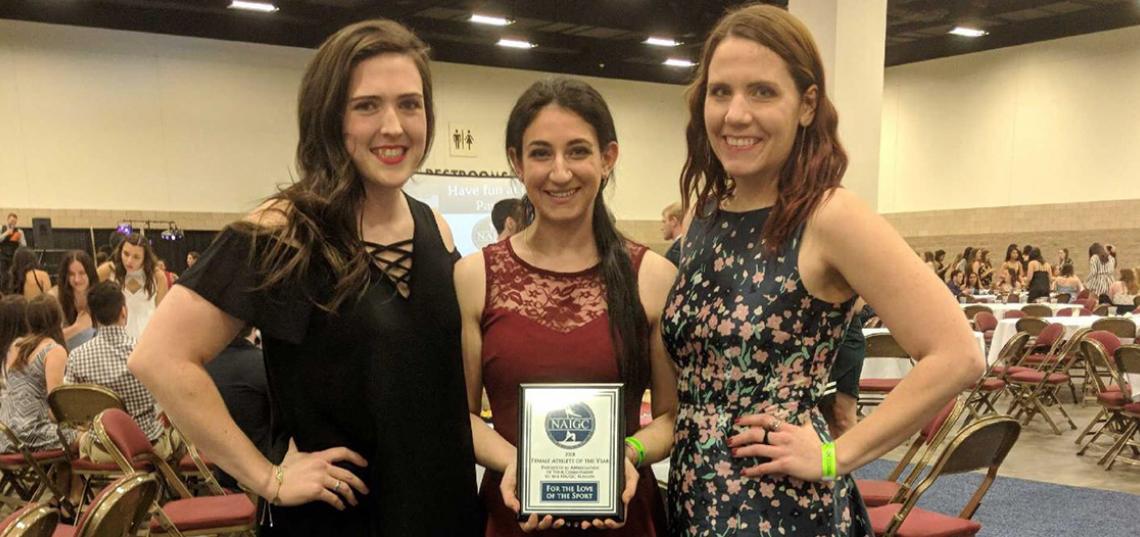 Rising senior Rachel Ehrenberg, a Journalism and Media Studies major at SC&I, overcame years of excruciating pain stemming from an injury in order to compete as a gymnast on the Rutgers club team. In recognition of her incredible determination and success, the National Association of Intercollegiate Gymnastic Clubs (NAIGC) has just named her Female Athlete of the Year.
According to Ehrenberg, the award is presented at an annual national competition between club gymnastics teams from all over the country hosted by NAIGC. Coaches and executive board members of the clubs can nominate members for the award.
NAIGC's website lists qualifications for nomination as, "being a strong asset to their club, overcoming a tremendous obstacle, or demonstrating a level of leadership and commitment that defines NAIGC's motto, 'For the Love of the Sport.'"
Eight years ago, Ehrenberg was forced to quit gymnastics after an injury that led to a disease called Reflex Sympathetic Dystrophy/Chronic Regional Pain Syndrome (CRPS). This disease ranks above childbirth and digit amputation on the McGill Pain Index and usually affects the limbs. CRPS also causes swelling, color change and hypersensitivity. Ehrenberg was told she could never go back to gymnastics because of CRPS but ultimately, it did not stop her from joining the Rutgers Club Gymnastics team her sophomore year.
"I was welcomed in by every girl on the team and by the coaches. They didn't care that I was unable to do big skills anymore. I also had flare-ups after practice that lasted for a while. However, instead of getting annoyed at me, my coaches would sit with me to make sure I wasn't alone. The team even had an 'orange practice' for CRPS awareness just to show how much they wanted to support me," Ehrenberg said. "Now, three years later, I have made so much improvement in my gymnastics as well as confidence. I didn't think I was ever going to do this sport again, yet here I am competing and doing very well. I have proven to myself that I CAN do this and fight through the pain that I feel 24/7. Even when my flare-ups after practice leave me unable to walk, I push through it and come back more determined the next day."
Ehrenberg said she did not know that she would be receiving the Female Athlete of the Year Award until the announcer said her name during the ceremony. She had always worked hard for her team but had never expected this kind of recognition.
"Prior to nationals, I just did what I normally do. I went to every practice and worked hard. This year I had the opportunity to be on Rutgers University Club Gymnastics Executive Board as secretary. Not only did I get the chance to train, but I was put in a position of leadership and was able to help my team succeed. I never did anything with the expectation of getting recognized for it."
Ehrenberg thanks everyone who has supported her through this journey toward the Female Athlete of the Year Award.
"I am honored that my coaches believe in me enough to have nominated me. It also means so much that the NAIGC Board of Directors read my story and chose me to receive this award. Gymnastics has been such a huge part of my life and I am glad that NAIGC is an organization that allows people like me to continue with the sport," she said.