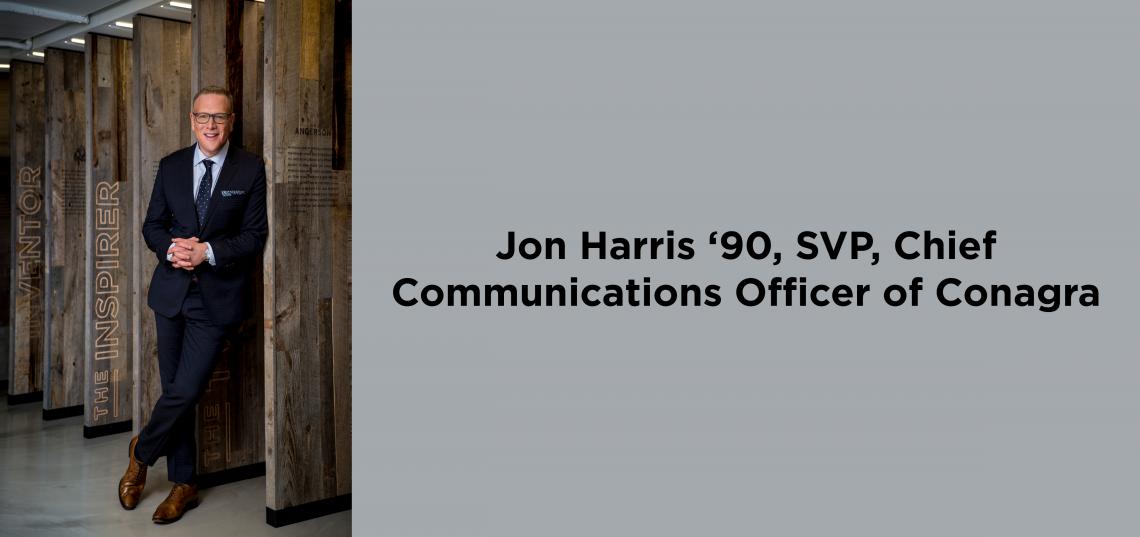 Jon Harris '90: Work Hard, Embrace Change, and Give Back
Harris, who is Senior Vice President, Chief Communications Officer at Conagra, offers his advice for building and maintaining a successful career. The essentials? Commit to working hard, being open to change, and giving back.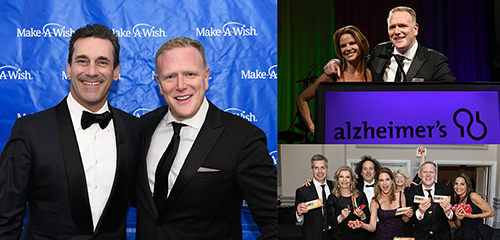 "Working hard and embracing change has made a tremendous difference in my life and career," Jon Harris '90 said. These are the values, he explained, that have resulted in his incredible success over a career journey that has included working for public relations agencies, to Fortune 500 corporations including PepsiCo, Sara Lee Corporation, the Hillshire Brands Company, and he was featured as an  on-air talent on a nationally-syndicated talk show on NBC.
Today, as SVP, Chief Communications Officer of Conagra, president of the Conagra Brands Foundation, and an adjunct professor for public relations and marketing at the University of Chicago's Graham School, Harris, who majored in communication at SC&I, reiterates what he learned from the very beginning of his career. To be successful at work and in life, requires commitment, curiosity, hard work, the ability to adapt to change, a positive attitude, willingness to learn, and dedication to the welfare of others by giving back. Read below to benefit from, and be inspired by, the specific and extremely valuable career advice Harris shares.
Tell us about your Rutgers experience, and why you choose to study communications.
I loved my Rutgers experience and still cherish and maintain many of the relationships I made during my years there.
I actually fell into the field of communications.  I originally planned to go into law.  After my father passed away my sophomore year, I found myself commuting home to Wayne, NJ to help my mother raise my younger brothers.  By chance, I was lucky enough to take Todd Hunt's Communications and Mass Media class and I became hooked.
The content combined with Professor Hunt's incredible wit and storytelling capabilities had such a profound impact on me, particularly during a personally difficult time in my life.  I was lucky to have lunch with him recently.  We had a lot of laughs, and I also thanked him for his mentoring.  
Did you have a favorite instructor/professor? If so, who and how did that person affect your career path or studies at Rutgers?
Two favorite professors.  Todd Hunt and adjunct Professor Gil Bashe, who taught Communications Theory my senior year.  This was another class I absolutely loved and Gil and I connected so well, he offered me my very first job after graduation at boutique healthcare communications firm Sutton PR.  He completely changed my life and it was a lucky break I have never taken for granted.
It also is a great lesson to always be prepared because you never know when opportunity will come knocking.
Why you are still involved with the University to this day?
Rutgers played such an important role in my life and the lives of my two brothers - Stephen (Class of 1994) and Jason (Class of 1998). I feel it is incumbent on the graduates to give back and share any learnings gained along the way.
I feel I've been very blessed throughout my entire career and I make sure to pay it forward and help others in any way I can.
You've served in roles across a wide spectrum of areas in strategic communications- television, food and beverage, fitness, PR to name a few. What skills do you feel were vital in being able to work across such a variety of industries?
Positivity, curiosity, respect of the leaders, companies and brands I work for and with.  I think you always have to be ready to learn and truly value any and all relationships.  
Has anything changed your career trajectory since you graduated? 
Absolutely, working hard and embracing change has made a tremendous difference in my life and career.   
From starting out in PR agencies to working for Fortune 500 Companies like PepsiCo, Sara Lee, Hillshire Brands and now Conagra Brands, I've always embraced change and make the most out of any and all experiences.  
After agency life, my first corporate job was at PepsiCo.  Working at Pepsi was invaluable as it enabled me to work with some of the world's biggest and most beloved brands and most respected leaders and really hone my skills on practicing the good, the bad and the ugly of communications. This covered exciting Super Bowl ads and major events to managing through challenging crises.  That experience completely changed my trajectory as it also showed me how nothing is impossible.  
It also was my first foray into the exciting consumer packaged goods industry, where I have spent most of my career to date.
With social media flooding all forms of strategic communications today, how do you think it has affected the public relations industry?
Social media has completely changed the world and there really is no turning back.  
From a strategic communications perspective, it has shortened the life span of news stories, pushing journalists to turn stories around in a much shorter time. This has forced our industry to keep up as news cycles are now 24-7.  The beat doesn't end when the reporter goes home.
Today, for media it is about getting the story first in real time, which at times leads to inaccuracies in reporting.  It is more important now than ever that we partner with our reporters and media to ensure a strong understanding of our narrative.  In the end, all we want is fair, accurate and balanced reporting.  
More importantly, social and digital media is no longer a "nice to do" for a brand or company, it is paramount to the overall communications strategy.  Yes, we still pitch stories, write and distribute press releases and maintain relationships, but we now have the great responsibility of building the company or brand's voice online by way of content sharing and more importantly, managing, protecting and serving the online reputation. 
With new developments in media constantly evolving, how can industry professionals stay on top of the latest trends and be prepared for what's next?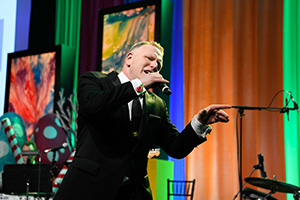 Join a group. There are more ways now than ever before.  In the communications industry, we have terrific groups you can join whether it is the Page Society, Public Relations Society of America (PRSA) and so many more.  These groups allow you to connect with your industry peers, stay on top of trends and learn and share best practices.
Be a lifelong student. Study and know the reporters who cover your company and industry.  Read key periodicals, trade publications, blogs, all pertaining to your specific industry and know how your company or story fits into their narratives.
Practice the practice.  You can't advise others if you aren't participating.  Don't forget that you too are a consumer.  You should have an appropriate and authentic social media presence that works for you.
What are the top three skills you look for when hiring for your company?
- Analytical- Thinking Skills (problem solving and decision making)
- Positive attitude
- Willingness to learn
- Sense of humor (bonus)
Where do you see the field of PR / communications going in the future?  
Looking at current trends, I believe that the PR and communications industry will remain steadfast in the many years to come.  
Online is key.  Reach your audiences not only where they live, but where they hang out.
New approach. There will continue to be a seismic shift from the traditional journalist/writer-based communications to an influencer/customer-focused approach. It will no longer be just about "media coverage."
Know thy audience. Attention spans are getting shorter so to optimize attention, the more condensed the content, the better.  
Data rules. Understanding and using data and artificial intelligence will be key to better understanding our key stakeholders, how they would like to be communicated with, as well as their ever changing and evolving tastes and needs.
What advice do you have for current Rutgers students and upcoming graduates who want to launch a career in corporate communications or PR?
Get as much experience as you can while at Rutgers.  Leverage the school, as well as its proximity to great markets like New York and Philadelphia.   My senior year, I was fortunate to get an internship at WXRK-FM (KROCK) in New York working with Howard Stern and many others.  To show you the value of relationships, all these years later, I'm still in touch with everyone from the show and consider many of them dear friends.
In addition to gaining a world-class education, you can network with professionals, garner internships, externships, take on roles at local non-profits you are interested in, volunteer, or join the Public Relations Student Society of America (PRSSA).   
In your role as an adjunct professor for PR & Marketing at the University of Chicago's Graham School, what are some things that students have taught you?
I love teaching and my students over the years have taught me several things.  The most important lesson, I believe, is never stop learning and always ask questions.  I believe teaching has further allowed me to remain current in my understanding of trends, industry and how information continues to be consumed.
Volunteerism has played a significant role in your life, why is it so important that young people take up that calling?
We are all in this together and so I am a true believer in karma.  I've been blessed with an amazing wife, great children and a wonderful career, I feel it only right to help those less fortunate and use my experience and passion to help others.
What do you do for fun?
I love music.  I play guitar, piano and sing and I try to catch as much live music as my schedule allows. 
Most important, I love to spend time with my wife Allie, daughters Maddie and Carly and our son Alex.  And, my dog Winnie loves to be chased around the house all day and night.
What is something people might not know about you?
My Rutgers Financial Aid Manager, the late Leslie Gelber, was so helpful to me while at school, I invited her to my wedding and she and her husband danced the night away.
What excites you about your work?
The people and the opportunity to make a positive difference.  As a storyteller, I love the art of crafting, telling and selling a story.  And having that story educate, motivate and activate is inspiring.
What role has philanthropic work played in your life and in the companies you have worked with?
It has played a tremendous part in my life and my wife and I have made it a part of our children's lives as well. 
I can't emphasize enough the importance of doing service and giving back to others.  It's a constant reminder of how lucky we are.
As part of my responsibilities as Chief Communications Officer, I am president of the Conagra Brands Foundation, which is the corporate giving and philanthropic arm of our company.   Our main areas of focus are food insecurity, hunger, diversity, and inclusion.
In addition to my work for Conagra, I sit on the boards and serve as special counsel for several well-respected charities and non-profits, including Gilda's Club, Alzheimer's Association, Grammy Music Education Coalition, Ravinia Music Festival, Lookingglass Theater, Adrienne Shelley Foundation and Make A Wish.
As Paul McCartney wrote "And in the end, the love you take is equal to the love you make."
Top photo, pictured left to right:
Harris with actor Jon Hamm, who played Don Draper on the show Mad Men, at an event Harris hosted for Make-A-Wish.
Harris hosting an event for the Alzheimer's Association with fellow SC&I alum Natalie Morales '94, West Coast anchor for the Today show and a correspondent for Dateline.
Bottom photo: 
Harris speaking.