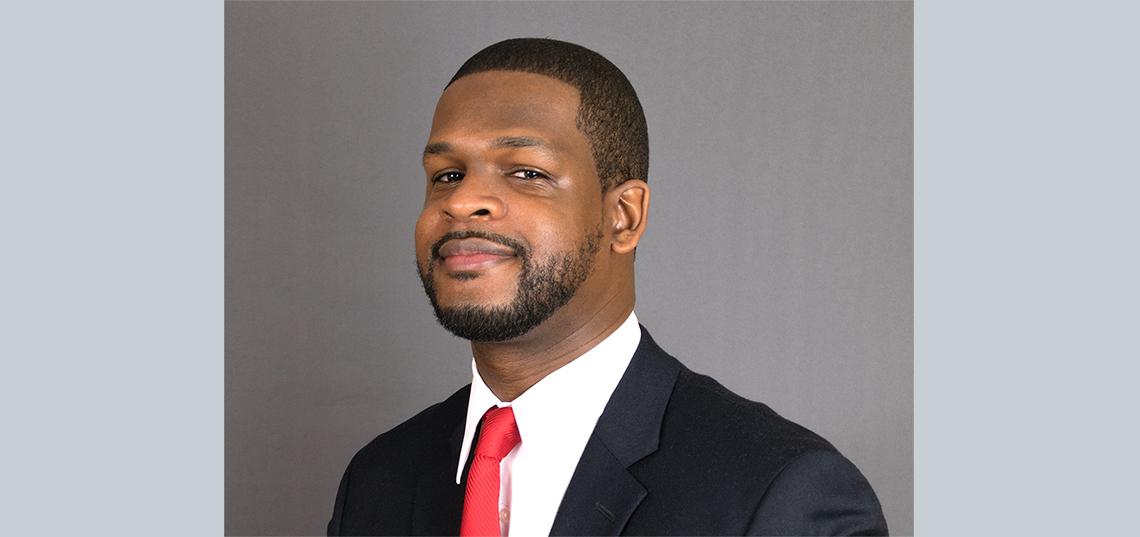 "The Journey of Finding a Solution is What Makes Me Tick"
MI Alumnus Marvin Edmond '19, who is a Senior Associate Data Engineer at the Fortune 500 firm Cognizant, tells SC&I what he enjoys the most about his work as a data engineer.
In June he graduated from SC&I with a Master of Information (MI), and the same month he landed an amazing job as Senior Associate Data Engineer at the Fortune 500 company Cognizant. Prior to that, Marvin Edmond '19 spent almost two years as a Data Engineer at New York Magazine, while he earned his master's. As if he isn't busy enough, recently he also volunteered for Boards for Bros, an outreach company Cognizant supports, where he helped build 30 custom skateboards for local children.
Focused on engaging with large scale data, data warehousing, and data processing, Edmond credits Rutgers' network of corporate relationships and MI faculty as reasons for his success. Read our profile with Edmond to learn about the three skills he learned in the MI program that he uses every day at work, his favorite classes and professors, where he sees the industry headed, and his advice for anyone interested in pursuing a career in data engineering and science.
Please tell us about your Rutgers experience, and why you choose to obtain a Master of Information degree here.
I chose Rutgers University because since its inception has had a history of highly reputable alumni across numerous industries and sectors. SC&I's MI program in particular had the correct balance of technical training and theory within the curriculum.
Did you have a favorite instructor/professor? If so, who and how did that person (or people) affect your studies at Rutgers and/or your career path?
My favorite instructor was Professor Chirag Shah, who taught 590: Machine Learning and 562:Problem Solving with Data. His approach to teaching was instrumental for ingesting complex data science concepts. Professor Shah consistently enforced the importance of foundational knowledge. Furthermore, this set up a framework for me when it came to studying for other courses within my program. Additionally, a very important professor/resource was Lilia Pavlovsky, Ph.D.  Whatever questions, concerns, or dilemmas that I faced during my graduate program, was dealt with great care. She provided direction, guidance, and even counseling in my times of need.
Has anything changed your career trajectory since you graduated? 
Since graduating, I was able to land a senior position within a Fortune 500 company. Rutgers extensive network of corporate relationships coupled with courses led by the experienced professors of the MI program, made this dream a reality.
What were a few of your favorite classes and/or projects?
A few of my favorite courses were 590: Machine Learning, 510: Human Information Behavior, 557: Database Design & Management, and 562: Problem Solving with Data. These courses gave me the required foundational knowledge that I use on an everyday basis. These courses are an excellent starting point for learning more contemporary complex topics such cloud computing, deep learning, and natural language processing.
Can you name 3 skills you learned from SC&I that you consistently use on the job?
Three key skills that I learned from SC&I were python programming, SQL (structured query language), and database management. My job as an engineer requires knowledge in each of these areas to perform my job functions accurately. SC&I provides numerous resources for acquiring these skills whether inside or outside the classroom.
Where do you see the field of data science, AI and data engineering going in the future?
There is a huge push in the data science field towards complete autonomy. Platforms are now creating technologies that allows individuals who are less technically inclined, to create, modify, and deploy machine learning models, complete AI solutions, and fully managed data pipelines within the cloud. Moreover, the barrier to entry within these fields is getting lower as companies are able to utilize this technology at reasonable prices.
What was it like working as a Data Engineer at New York Magazine? What did you enjoy the most about the job and what were some of your responsibilities?
My time as NYMag was definitely an unforgettable one. The culture there, as well as my amazing team, provided a great space to utilize the many skills I acquired while attending Rutgers. What I enjoyed most was how open they were to adopting new technologies, and allowing my team to use what we thought would be best to get the job done. Some of my responsibilities included helping to ingest new data from various external sources, resolving pipeline issues whenever they occurred, and creating/maintaining dashboards for editors/management.
You just spent some time volunteering for Boards for Bros, what was that like? How did you help them?
My time at Boards for Bros was great. This was one of the many outreach programs that my current company, Cognizant, participates in. Boards for Bros. provides skateboards to children whose families are not able to afford one, but want to participate in this activity. We built over 30 custom skateboards to be distributed locally. It felt good to make a difference in the lives of children who are less fortunate.
What excites you about your work?
What excites me about my work is the constant change that comes with this line of work. Building, testing, and maintaining huge data pipelines takes a lot of patience, attention to detail, and critical thinking to ensure stability. New problems are always on the horizon, so the journey of finding a solution is what makes me tick.
What advice do you have for current Rutgers students and upcoming graduates who want to launch a career in data engineering and science?
My advice would be to really dig in to the textbooks and reading materials provided by your professors. Taking the time to thoroughly understand key concepts in database design, SQL, and python, provides an excellent foundation for launching a career in the data engineering space. You can complement what is taught in your respective programs with additional knowledge from outside sources, such as doing an online search for cloud technologies and its uses, YouTube tutorials for programming languages, as well as speaking to your professors. SC&I has numerous highly knowledgeable professors with rich real-world experiences.