Lea Stewart Receives New Brunswick Chancellor's Award for Excellence in Service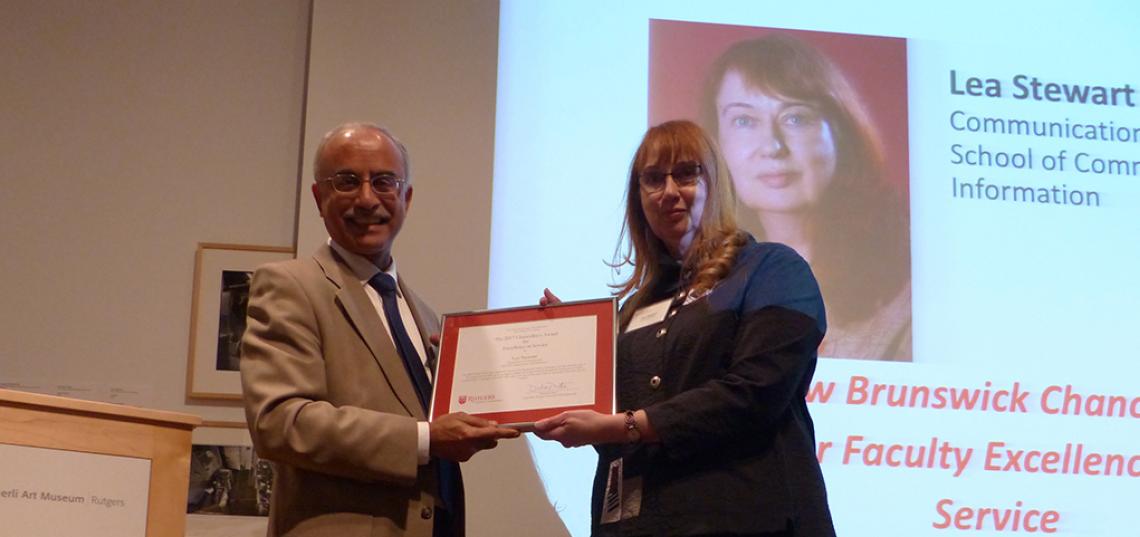 Rutgers University has recognized Professor of Communication Lea Stewart's 36 years of dedication and hard work to the university by naming her the recipient of the New Brunswick Chancellor's Award for Excellence in Service. The Chancellor of Rutgers University-New Brunswick, Deba Dutta, presented her with the award at a ceremony on October 17, 2017 at 4 p.m. at the Zimmerli Art Museum.
Stewart, who is Director of the Center for Communication and Health Issues at SC&I, was nominated for the award by Professor Craig Scott, chair of the Department of Communication and Jonathan Potter, Dean of the School of Communication and Information.
During Stewart's time at Rutgers she has taken on many different roles. She began at SC&I as an assistant professor in 1981 and subsequently took on various roles, including Communication Department chair, two-terms as Ph.D. Director, and 8 years as Livingston Campus Dean. Through her many administrative roles and her research on communication and health, she has contributed significantly to the Rutgers community and beyond.
When asked which of her various roles at Rutgers has been her favorite so far, Stewart said, "Whatever job I am doing at the moment always seems to be my favorite. I have been very fortunate to be able to work with some amazing people throughout my career, which makes each job enjoyable."
One of Stewart's significant accomplishments was working as the Livingston Campus Dean. Campus Deans were tasked with community building responsibilities, and she worked with others on the campus to create an engaging atmosphere for the undergraduate community that contributed to their learning both inside and outside the classroom. She also worked to create relationships with the Livingston Alumni Association to preserve some of the social justice mission of Livingston College and taught a Byrne Seminar on the history of the campus.
Stewart has also contributed to many research projects through the Center for Communication and Health Issues, which is another way she has had a positive impact on Rutgers students and the larger community. For example, she was one of the main contributors to the development of the RU SURE campaign that focuses on reducing dangerous drinking on college campuses and helped secure a major grant to provide additional support to students in recovery from addictions. Currently, Stewart is a co-investigator on a grant project examining alcohol and marijuana use on three college campuses. While these are only a few of her contributions, she is constantly focused on helping Rutgers students and providing them with the best support system she can.
Stewart's efforts have not only improved the Rutgers community, she also contributed globally when she took part in the Community and Service and Education (CASE) program. She helped set up similar programs in Lebanon and Moldova. She also became a mentor to a faculty member from Moldova who spent a semester doing research at Rutgers.
Stewart said, "I see college students holistically. What happens outside of the classroom is a learning experience that can be as important as what happens inside the classroom.  Since students' alcohol and other drug use can have a major impact on their academic success, I'm interested in studying the consequences of these behaviors and examining strategies to prevent some of the dangerous behaviors that can come to be seen as normal on a college campus."