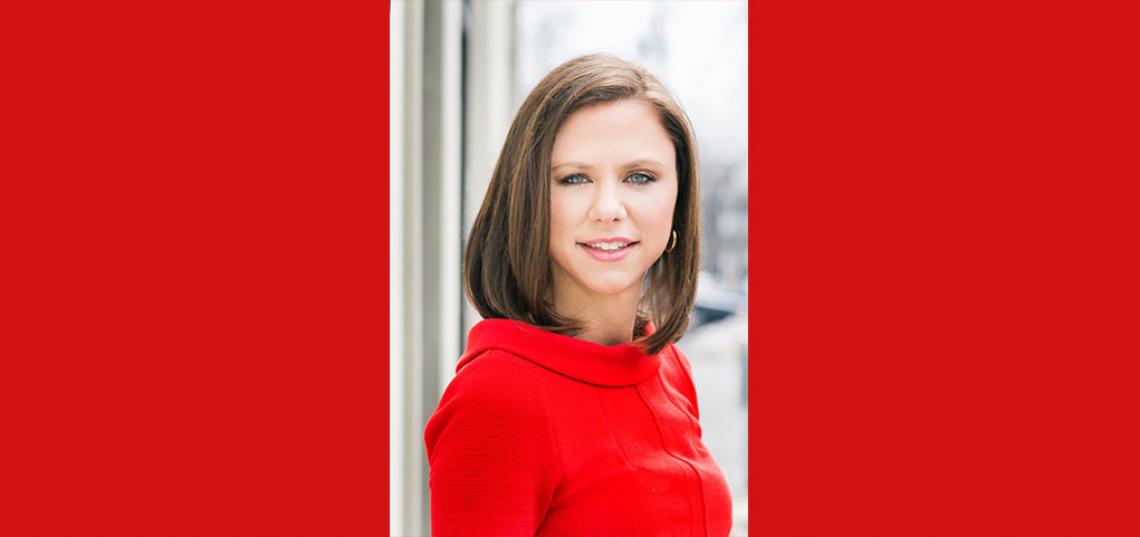 Meet Jessica Grothues Kurdali '04
In this Q&A, Kurdali, who is Vice President of Talent Recruitment and Development at NBC News and MSNBC, discusses how she recruits and trains top talent, advises aspiring journalists, and identifies the skill she looks for as a predictor of success.
When she answered the phone in her Rutgers dorm room, what Jessica Kurdali '04 heard amazed and thrilled her. It was NBC, offering her a summer internship.
When she told her parents about the offer, and they said, "It's your foot in the door!" Kurdali decided to accept it, even though it meant giving up a summer job she had planned.
Today, Kurdali is Vice President of Talent Recruitment and Development at NBC News and MSNBC, working in the iconic NBC building at 30 Rockefeller Plaza in New York City.
Looking back on that phone call and the decision to accept the internship offer, Kurdali said, "Thank goodness I did!  I was initially set to intern at Dateline NBC, and then the Talent Department needed an intern for a special project, and I seized the moment. I ended up interning all through college. From there, I started in the Talent Development office as a coordinator, seamlessly—I started the day after my graduation— which placed me at NBC News at a very busy time, as the war in Iraq was in full swing. My internship was really a defining time in history and for me personally. Because the war had just started, we were hiring contributors who could provide their expertise and information for our news coverage. Therefore, we had many retired 4 and 5 star Generals from all parts of our military participating in our coverage, and they were not used to being on TV. I'll never forget suggesting one General apply some powder…"
Kurdali arrived at Rutgers knowing she wanted to major in journalism, and said,  "Rutgers provided me with the skills and education that I needed in order to be successful in my field."
Director of Undergraduate Studies in Journalism and Media Studies Steve Miller, who taught Kurdali, said, "Kurdali is the personification of what every student should be. She worked really hard and put herself in the right place at the right time. She learned in class and on the job and made herself one of the movers and shakers at NBC. I wish every one of our students at Rutgers had her dedication, intelligence and persistence, because it has enabled her to achieve great things."
Below, Kurdali speaks to SC&I about how she recruits top talent, the most important skill she looks for as a predictor of success, and explains what she misses the most about being "on the banks."
What methods do you use to recruit and maintain the industry's top news talent?
I am so lucky because we have an incredibly talented team of journalists at NBC News and MSNBC. We have a reputation of setting the industry standard with our flagship programs of TODAY, NBC Nightly News with Lester Holt and Meet the Press. As the only network to also have a 24-hour cable channel in MSNBC, we are in a unique position to have multiple platforms for our journalists. In addition to our network and cable outlets, we have a strong digital presence with NBCNews.com and MSNBC.com, but also our Snapchat show, "Stay Tuned" has gained significant viewership and continues to grow. Additionally, we are launching a new digital streaming channel this fall. All that is to say, I can recruit the best multi-talented journalists who then appear on all these various screens as part of the NBC News family. We are able to maintain our talent because once they get here, they know we are going to foster their career growth, recognize their fullest potential, and continue to find new opportunities for advancement.
 When searching for and evaluating candidates, are there any specific skills, experiences and talents you consistently look for as an indicator of future success?
Writing! It truly is what separates the pack. Writing can transform an everyday story to something magical. For me, when I am consuming news I want to be told a compelling story, one that pulls at my heart strings, makes me interested in the topic that I might not have ever thought I would care about, or makes me feel good at the end of a long day. Beyond the writing, we certainly look for journalists who have life experience- be it in traveling the world, or reporting in local markets across the country. We seek curious and passionate individuals who are driven by the news and consider it an honor to share their stories with the world.
What is the difference between a skill and a talent in your experience and field, and what are some of the best ways journalists can develop both in order to be successful?
That is a tricky one, because I do believe someone can have a talented skill. For my purpose specifically, a talent is someone who has the ability to deliver the story in such a way as to make someone truly care about the story. And by deliver I don't just mean on-camera presence (although that is important too!), I want a journalist who arrived at the story ready to go, furthered the story by working sources, and being resourceful on the ground by pursuing facts and interviews that perhaps no one else thought to pursue. It's not just doing the basic who, what, where, why and when-- its pushing the story forward in ways no one else imagined.
 Do you also train new hires, and continue to work with them/mentor them to develop their skills over time?
Yes! We want to set our talented journalists up for success. We have an on-air talent boot camp where we rely on our talented bureau chiefs and producers to train our newest talent on how to be a network correspondent. It's a lot to navigate in the beginning, so it takes a village of people to acquaint someone with all that is NBC News. I do mentor and develop on-air talent throughout the course of their career; it can be as simple as helping with wardrobe, or how to obtain their next role in our newsroom.
 Do you ever have days when you doubt yourself, and if so, how do you overcome your fears?
I think everyone has those days. Especially as a working mom, often times I get pulled in so many directions and I want to make sure it all gets done. But I do rely on family, friends, and my colleagues to make sure it DOES all get done. I have had wins, and I have had losses, and I try to keep perspective that as long as my win column has more checks in it, I'm good.
Are there skills or knowledge you have or are constantly working to develop and acquire in order to stay current as the field of journalism changes, due to politics, technology or other forces?
I read everything!  I think the way we absorb our news might be ever-changing, but the fundamentals are always there. A great storyteller is a great storyteller, so whether that is done with video in 30 seconds, a 5-minute long form piece, or a print article—the principles of great journalism remain the same. If I am pulled in by an interesting story, I always look to see the byline or the talent and producer on the segment.
What were some of your favorite classes and professors and why?
Certainly Steve Miller's class! I took his intro 101 class, and it set the tone for the rest of my career. Bruce Reynolds class was also one I will never forget. Both professors taught in a way that made you want to pay attention, and made you want to pursue this media thing for a living.
Do you apply what you learned as a JMS major to your job?
Sure, every day. But also Rutgers in general prepares students for real life. It's a big school and you have to push your way through the crowd a bit to make yourself known and go after what you want, but you have to do that in the real world, too.
What advice would you give aspiring journalists at Rutgers?
I don't know who said this, but it always stuck with me: Lift as you climb. As you move up the ladder in your newsroom, make sure you lift others up with you. Help the intern with their research; guide the production assistant in their next step, offer advice on the pitch process, whatever it is, because we should all pay it forward. The future of journalism depends on it.  Also, it should go without saying, but be kind. Television is a collaborative effort, and we hold up a mirror to our country and our world. So let's start by setting our own example.
Is there anything you loved the most about Rutgers, and is there anything you really miss?
I love that Rutgers was not only the place I started my career, but also the place I met my future husband. Two kids later, we are a Scarlet Knight family!
For information on the Journalism and Media Studies undergraduate program, click here.