Meet Mariah Novo, Recent Communication Graduate and Current Coyne PR Employee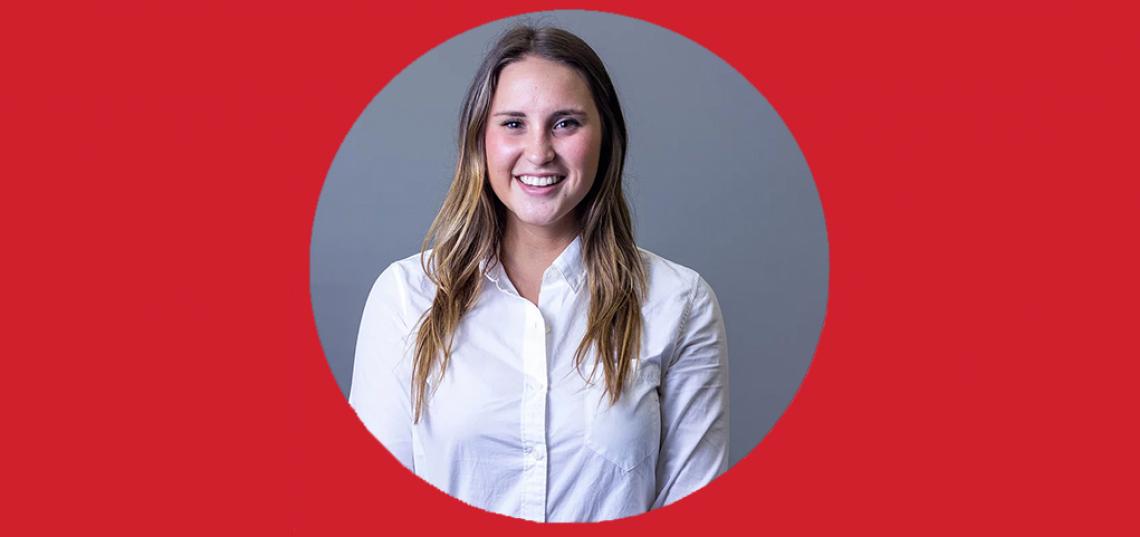 The following interview with alumna Mariah Novo '17 is part of a series of interviews the School of Communication and Information (SC&I) conducted with recent graduates. In this series, the students reflect upon the time they spent as students at SC&I and how their time here impacted their career decisions. Novo graduated on May 14, 2017 with a bachelor's degree in Communication with a specialization in Strategic Communication and Public Relations. While at SC&I, Novo spent two terms as the President of the Rutgers chapter of the Public Relations Student Society of America. She is now employed by Coyne PR as an Account Coordinator.
Q&A with Mariah Novo
How did you choose the Comm major? What did you see yourself doing when you chose it?
When I first decided I was going to be a Comm major, it was more about what I didn't want to do than what I did want to do. I knew I didn't want to do math, and I didn't want to do science. From there, I decided to join SC&I, and I had the freedom to take various Comm classes and figure out what I wanted to do from there.
Did you have an internship while at Rutgers? If so, where and what did you accomplish?
While I was at Rutgers, I was lucky enough to have four internships. Through that, I was able to learn many skills that you don't typically learn in the classroom. I was able to meet new people and really build my resume experience. After graduation, not only do you have your degree, but you have experience to supplement your degree. So when you're looking to apply to jobs, they're really interested in what you've done outside of your studies.
Where do you work now?  How did you go about getting this job? How do you use what you learned at SC&I in your job?
Currently, I work at Coyne PR, which is a full-service PR agency located in Parsippany. To get this job, it was kind of working to build lists of where I did want to work and where I didn't want to work. I knew I wanted to stay in the tristate area, and that I wanted a midsize agency. So from there, I kind of backtracked and made excel sheets of where I wanted to apply.
SC&I was really helpful in getting a job and excelling my career. It held a lot of socials, networking events. They had career service options, weekly newsletters… SC&I has taught me a lot about being independent, making friends and acquaintances through networking. The school really helps you become the person you need to be to get a job. SC&I doesn't hold your hand, but it definitely provides you all of the resources you need. That helped me in my job, definitely. I wasn't afraid to reach out and ask questions because that's why SC&I always helped us to do. If you just let them know when you needed help, they were there.
What advice do you have for current SC&I students?
My best advice would be to not limit yourself. Don't put yourself in a box where you think "I want to do music, I want to do beauty, I want to do sports." In this day in age, so many agencies have a big mixture of things so if you just limit yourself to only small boutique agencies that you want to work for, that will definitely hinder your results. Same thing goes for other areas in SC&I.
Did you have a favorite course, and how did it impact your professional success?
All of my courses at SC&I were really great. I learned so much through all my PR classes: PR Management, Message Design, all with Part-Time Lecturers Jack Grasso and Mark Beal. But one of the classes that really pushed me was Media, Marketing and Communications. That was with Doctoral Student Allie Kosterich. It was totally different, it was very hands-on. We had to build our own marketing plan, we had real-life clients. So I would say that class really set me up for what the real world was like.
Have you ever met or worked with any other SC&I alums at any jobs you've had?
I've totally gotten internships through networking with past Rutgers alumni. It's definitely a good resource that everyone should use. Don't be afraid to go on LinkedIn and follow people that went to Rutgers… Currently, there are definitely Rutgers people at my job. Everyone that I work with has been so great. Even though Rutgers is a really big school, the SC&I program is a really close-knit community.