Meet Sophie Nieto Munoz, Recent JMS Graduate and NJ.com Reporter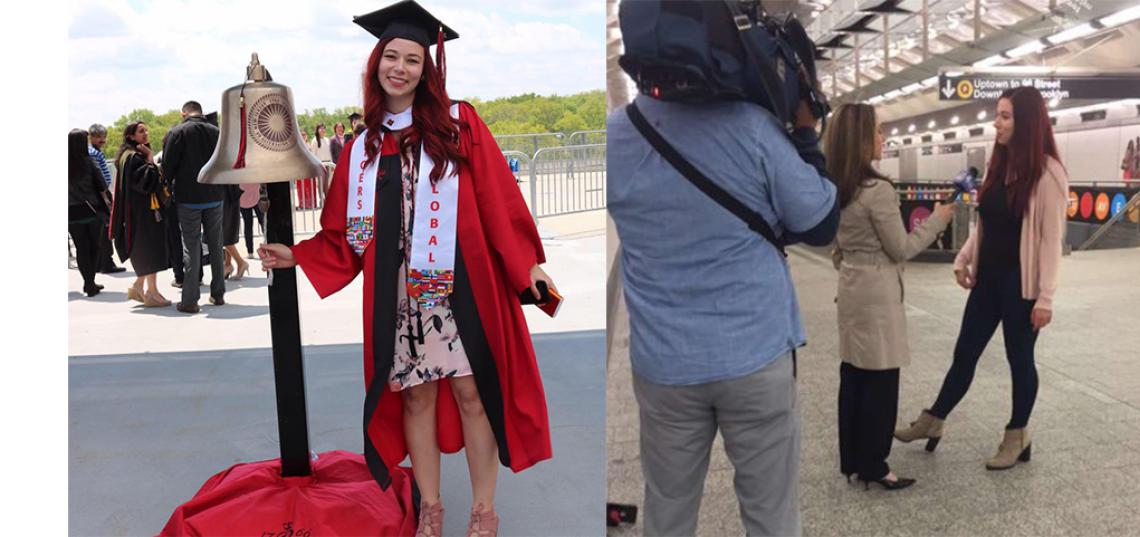 The following interview with alumna Sophie Nieto Munoz '17 is part of a series of interviews the School of Communication and Information (SC&I) conducted with recent graduates. In this series, the students reflect upon the time they spent as students at SC&I and how their time here impacted their career decisions. Nieto Munoz graduated on May 14, 2017 with a bachelor's degree in Journalism and Media Studies. While at SC&I, Nieto-Munoz was an Associate News Editor of the Daily Targum. Now, she is taking her reporting talents to NJ.com and the Hunterdon County Democrat.
Q&A with Sophie Nieto Munoz
How did you choose the JMS major? What did you see yourself doing when you chose it?
This may not apply to me since my mom was a reporter I always knew it was something I wanted to do. I was kind of raised in a newsroom since my mom would take me there after school so I loved the idea of telling people what's going on in the world and keeping them educated on the things around them as well as holding people accountable and most importantly, giving the voiceless a voice. I always saw myself as a reporter, primarily at a newspaper.
Did you have a favorite professor, and how has he/she impacted your professional success?
My favorite professor was absolutely Director of Undergraduate Studies in Journalism and Media Studies Steve Miller! He's a very knowledgeable professor and advisor that can give you the ins and outs of the industry. The intro class he teaches really offers fundamentals of journalism and how the industry has grown and changed and how it will continue to grow and change.
A course that really impacted me was Social Issues taught by Associate Professor Regina Marchi. Making a change is really important to me and I wanted to use journalism as like activism and to help people make changes, and her course showed me how you can do that through journalism. It's really important now that there's this wave of activism through Black Lives Matter and feminism with the Woman's March, and she teaches how to look at certain situations differently in order to report on them but remain objective.
Did you have an internship while at Rutgers? If so, where and what did you accomplish?
I did three internships, one junior year, one senior year, and one right after I graduated. I interned first at a startup called Press4Kids in NYC. Studying at Rutgers is really convenient because internships in NYC aren't hard to get to at all, so this internship got my feet wet in getting into the industry and seeing how companies work. My next internship was at WNBC under the amazing Gabe Pressman. I wouldn't have gotten this internship without the help of Steve Miller, who blasts out emails of internships for students. Plus, if you need help, he'll even send you internships he thinks would be good for you, which is how I got this one. It taught me a lot about how broadcast works and also working at one of the biggest media companies in the world was amazing. Some cool things I saw while working there were protests, when Trump came to NYC, plane crashes, and I helped work on an investigation regarding how the city was treating homeless people who are living in hotels and how they handle it. My last internship was at NJ Advance Media where I was a reporting intern for the Star-Ledger and NJ.com. I did a lot of breaking news reporting and covered education, and in 10 weeks I wrote more than 50 articles.
What opportunities did SC&I provide you to help you succeed?
SC&I provides some great opportunities. We have really smart professors here who have worked in the industry and want to see you succeed. Assistant Professor Mary D'Ambrosio runs the media hub where she posts interesting articles and job listings, and she gives really good courses for students who aspire to be foreign correspondents. Steve Miller will offer you everything you need. If you go to him freshman year, he will literally help you plan out your next four years and make sure you accomplish everything you need. Advisors send you email blasts letting you know of job and internship opportunities, and these are really helpful for first or second internships.
Where do you work now?  How did you go about getting this job?
So as of August 28, 2017 I'll be working at the Hunterdon County Democrat which is under NJ.com as a community/enterprise reporter. I got this job from my internship and I'm really excited to be there. There's also a bunch of Rutgers alumni in this company, so make sure to network as much as you can because it does help!
What advice do you have for current SC&I students?
See Steve Miller!!! He knows literally everything about this major and can help you with everything you need. He can put you in contact with alumni, companies, help you make a reel or teach you software, or just talk to you if you need help. He's the #1 resource here.
Join the Daily Targum or RUTV, or something that will help give you experience without doing an internship. I started out as a contributing writer for Targum and became the Associate News Editor which taught me a lot about managing a staff, editing, choosing stories, assigning, AP style, etc. It's a great place to get some real-world skills while staying at Rutgers.
Network! If you meet alumni that come to speak at RU, stay in contact with them. We all want to see each other succeed in this industry, so don't hesitate to ask people for advice or just get coffee with them. It helps in the long run and you can learn a lot from people that have experience in the industry right now.