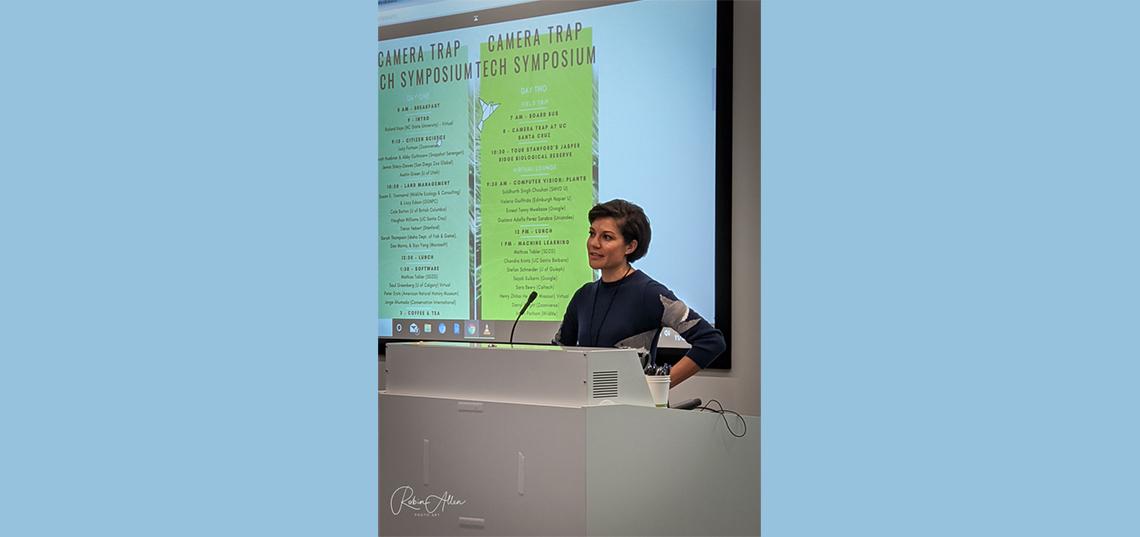 MI Student Ariel Hammond Organized the First Camera Trap Symposium and Web Conference
Although her first attempt at event planning at this scale, Hammond, a Master of Information student at SC&I, successfully brought together hundreds of professionals from the industry of camera trap technology for a conference at Google Headquarters.
Ariel Hammond, a SC&I Master of Information student studying Library, Information, and Data Science, brought together researchers and professionals from around the globe for the first Camera Trap Technology Symposium. Sponsored by Rutgers, San Diego Zoo Global, Microsoft, and Google, the symposium was held on November 7 and 8 at Google Headquarters in Mountain View, Calif. and was also broadcast online to participants unable to attend in person, enabling them to send in questions and receive answers in real time. 
Hammond's interest in the data curation aspect of camera trap technology grew during her studies at Rutgers and time volunteering at the library at San Diego Zoo Global. The cameras are used by the Zoo to capture and record the movements of animals and to possibly identify new species. She consulted with a colleague there studying giraffes, and discovered that, because the cameras are activated by any kind of movement, a majority of the images taken are of grass moving in the wind. "There could be a rare species they are trying to find but, because the data is so massive, it takes them years to go through the photos, delaying their ability to better understand the animal they are studying," says Hammond. 
Hammond became so interested in camera traps data curation that she joined the Wildlife Insights technology committee, a new platform led by Conservation International which houses camera trap data from around the world, and uses AI to automatically identify species. In discussing AI for camera trap images, Hammond suggested that groups working in this space meet for a web conference to discuss their research together. The web conference quickly spread through word of mouth, and the event grew to over 50 people speaking about their work and findings. It was then suggested to Hammond that the scale of this event could be even larger and that is where the idea for the symposium began.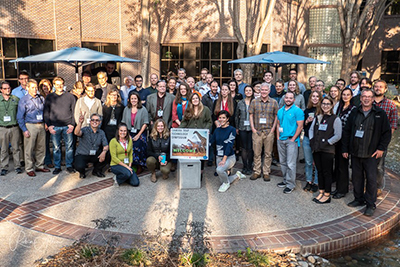 "Although I had little idea of what I was doing, everyone was helpful and understanding of the process, and pitched in where they could," said Hammond. "There were talks about software, hardware, and AI for the cameras, as well as ways to use them for citizen science and land management. We even had a field trip to reserves at University of California, Santa Cruz and Stanford, to deploy cameras and see a wireless communication set-up, so people that are usually behind the scenes got to see what field conditions are like, and we could all see how wireless communication can help identify animals and poachers in real-time" she said. 
"This is the first symposium to happen on this topic because it is so niche. That's why I think people were so excited because there are people that want to talk about this but had no one to organize it for them," said Hammond, of the event which brought attendees from the American Museum of Natural History, the University of British Columbia, and the BBC, "At times it did all feel a little overwhelming but everyone helped out a lot; everyone at Rutgers, especially my advisor Dr. Michael Lesk, and all of my colleagues in the field." 
Hammond said participants are already discussing the next symposium. Because camera trap technology is often used in different ways, they are discussing how to include a wider range of topics in the next conference, such as audio recordings, aerial images, and the ethics involved in taking pictures of humans when it comes to monitoring land usage and preserving ecosystems, as national parks like Yosemite have been doing. Hammond said because everything has been put in place already it should be easier to run the conference next year.
Despite finding success in event planning and management, Hammond says that her focus remains in the library. "My main goal is to be a librarian at the Zoo. The work that we do there helps a lot of different types of people at the Zoo. We help a lot of researchers, vets, and scientists, but we also help horticulturalists, human resources, community engagement, etc. It's cool to see that we are helping to provide the best information that we can. Even if it's a topic that I don't understand, I can at least find the information for them," said Hammond. 
For more information about the Master of Information program at the School of Communication and Information (SC&I) at Rutgers University-New Brunswick, click here. 
Photo credits:
Top: Robin Allen Photo Art 
Center: Photo courtesy of Ariel Hammond