NY Emmy® Award-Winning Reporter Naveen Dhaliwal '04 Discusses Career
"True success happens when you get out of your comfort zone."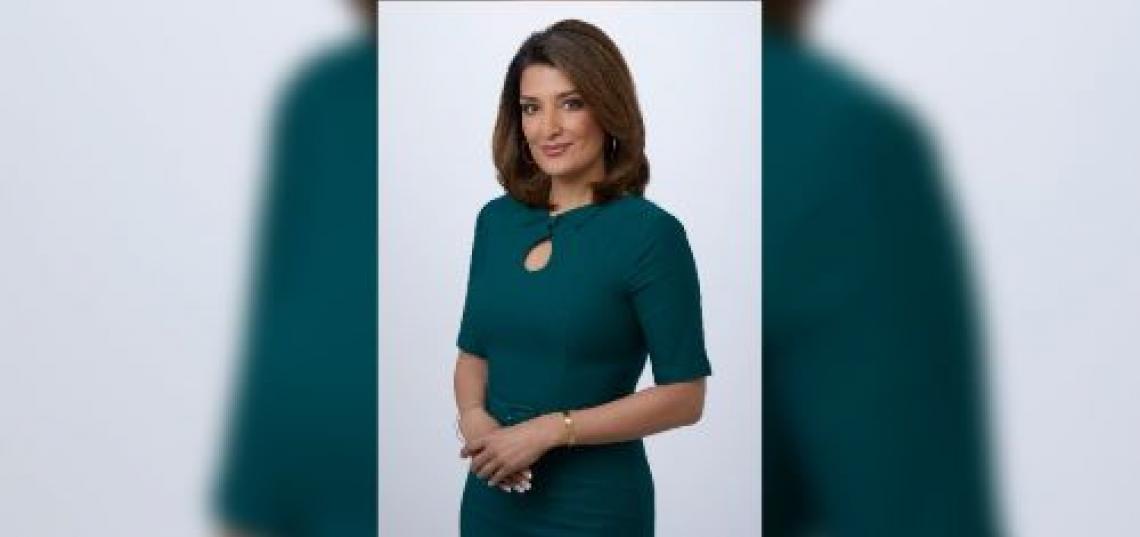 As a young girl growing up in Winnipeg, Canada, Naveen Dhaliwal '04 knew she wanted to be a journalist. Multilingual (she's fluent in Punjabi), she initially pursued a career as a speech language pathologist. However, journalism beckoned and Naveen listened. She attended SC&I, taking the required coursework needed to become a broadcast journalist. While earning her Journalism and Communications degree, she connected with instructors who had direct experience in this field. She became good friends with her broadcast news writing instructor and former NPR journalist, Benjamin Davis. Now an Assistant Professor at California State University, Northridge, Ben continues to be a valued mentor to Naveen. Another trusted mentor is SC&I's Professor of Professional Practice Steven Miller. Steve connected Naveen with active journalists and Rutgers alumnus and continues to offer career guidance.
 In February 2018, after working in various markets across the country, she landed her dream job with Eyewitness News WABC-TV Ch. 7 in New York. Seventeen months later, Naveen covered a massive blackout that affected 72,000 residents of Manhattan. For her work, she received a NY Emmy® Award.
SC&I: Congratulations on your Emmy win, Naveen! What do you remember about that night and what does it mean to you to win this award?
ND: First of all, I appreciate being able to talk about my journalism path. It's been quite a journey since graduating from Rutgers—an institution that provided me with a strong foundation—to covering stories in different TV markets. But there is nothing quite like New York! Now to the 2019 blackout: it was a beautiful Saturday night in July. I had just finished two stories in the Bronx and was on a break on Arthur Avenue when I got the call to head to the Upper West Side where there was a power outage. At this point, we had no idea of the magnitude of the problem. My photographer and I rushed there and it was complete confusion—traffic lights out, reports of people stuck on elevators, and subway trains stopped mid-tunnel. Jennifer Lopez had just started her concert at Madison Square Garden and concertgoers had to be safely evacuated out of a dark venue. I spent the night at Columbus Circle, and I vividly remember all these people pouring onto the sidewalks. Some helped to guide traffic while police officers were doing their part. As a reporter, the job is to get the information back to the station for on-air and social media use. When you're in the field, you also become a source of information. People approached our crew looking for guidance and we provided the best information we could while encouraging them that it was going to be okay.
 As for the Emmy win, I'm deeply honored and especially pleased to share this win with the Ch. 7 Eyewitness News team. We are a work family. On that blackout night, it was a Saturday, as I mentioned, and we had reporters come to work and spring into action; they're real team players. I'm so grateful for that. My goal isn't to win an Emmy, but rather to provide the best for our viewers, to tell their story as well as I can.
 SC&I: We live in interesting times. What do you think are the skills required to be a successful journalist, have they changed since you entered the profession, and what do you do to stay sharp?
ND: I started in this profession as a reporter doing a little bit of everything in upstate New York. I'm so thankful for that opportunity, as being a multi-skilled journalist who can write, report, edit, shoot, etc., gave me an advantage in this business. The more skills you have, the more you will be qualified for certain jobs and the more you will stand out. When I was a reporter at News 12, I would stay after work and come in on my days off to learn how to edit on Final Cut even though we had photographers. At KOCO (an ABC affiliate in Oklahoma City), I asked my manager to allow me to be a part of the two-day training to learn how to edit on Adobe when it was being implemented as our new system. Now when I'm in the Channel 7 truck, I will ask my photographer why he's doing something a certain way. Curiosity is usually embedded in reporters. I say to take the opportunity you're presented to grow even when you think you might not use a skill. And remember: every story is important. When someone is taking the time to talk to you, they are putting their trust in you. Take that to heart. I also watch a lot of news and see how other reporters present their stories. I even watched newscasts in other cities/countries when I used to travel pre-pandemic. I do this to work on my own brand of storytelling.
 SC&I: How do you convey to readers that your reporting is real, non-partisan, and fact-based?
ND: I don't do anything special to convince viewers; I just lay out the facts. If the facts change as more information comes out, I state that in updates. If I don't know something, I explain that and then work on getting it if it's available. If I make a factual mistake, I acknowledge it and correct it. As far as the news haters go, I don't pay attention to them. It's as simple as that.
 SC&I: What advice do you have for students studying the field of journalism today?
ND: Your experience is going to come from the field when you get that first job. My first job paid me $18,500, and I took it to get in the business and get real-world experience. I encourage you to find good internships that will teach you journalism skills. That can be a challenge as we deal with this pandemic, so find online courses that can help you develop many skills. Become a part of local and national professional journalism groups such as the Society of Professional Journalists (SPJ), the South Asian Journalists Association (SAJA), and the Asian American Journalists Association (AAJA). They have seminars, contacts, and job openings. Once you determine where you can see yourself starting off, make contact with the news director, managers, and reporters at that station. Keep in touch with them, as professionals often move to other TV markets. If you're good, they'll remember you.
Keep in mind that journalism/TV reporting is a subjective business. Many people ask how to get to a certain market. I don't have the answer; there is no formula. You have to make your own formula by making contacts and getting yourself out there. The majority of journalists have a different path to the place where they end up. 
I encourage you to listen to all the advice you get. It doesn't mean you have to take it, but it will help you understand the thought processes of people in the business. Their experiences could give you great leads. As for me, I gave up a very comfortable lifestyle working four days a week as a speech pathologist to make a minimal salary at my first reporter job. At the time, there was so much uncertainty as to where it was going to take me, but I've learned true success happens when you get out of your comfort zone and go with your heart.