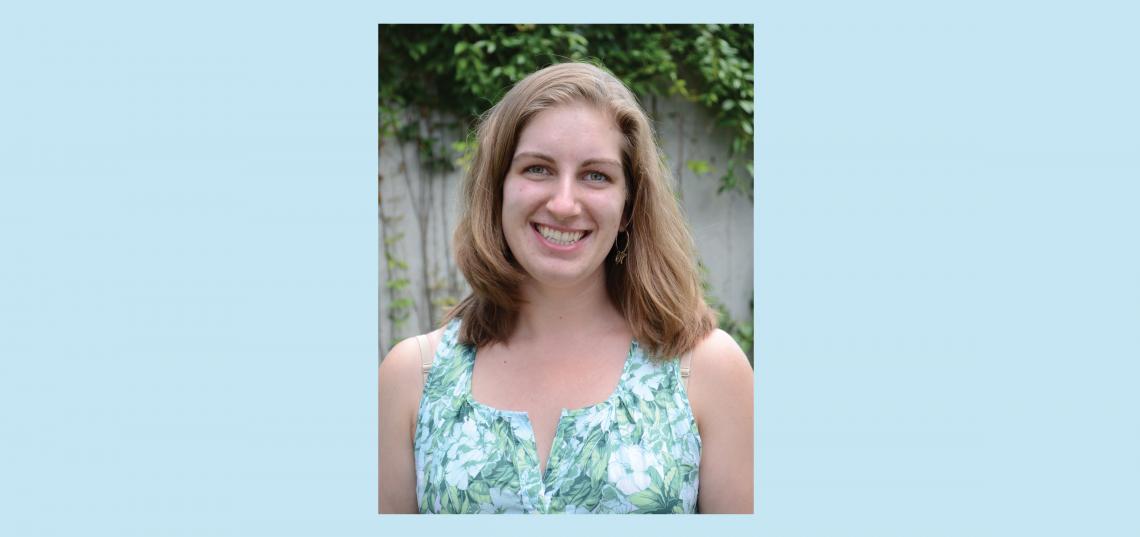 Preserving the Past Becomes a Promising Professional Future for Master of Information Alumna
Lauren Bell '18 credits Marija Dalbello as her biggest supporter and mentor while attending Rutgers.
For recent Master of Information (MI) graduate Lauren Bell '18, preserving our cultural heritage is a true passion – one that she's turned into a career. With a strong background in imaging and digitization, Bell landed a host of internships during her studies with high-level establishments including Frick Art Reference Library, Rutgers University Special Collections and University Archives, and the Museum of Modern Art. Graduating with a concentration in Archives and Preservation, she now holds the position of Digital Imaging Technician at Princeton University Library. We recently spoke with Bell on several topics including the evolving area of Archives and Preservation, how technology is impacting this field, and her presentation at the 2017 MARAC Spring Conference.
What drew you to Archives and Preservation?
My background is in cultural heritage photography and imaging. I was just finishing a grant-funded position at the Corning Museum of Glass in August 2016 when I learned that Rutgers was switching to the Master of Information degree and offering a concentration in Archives and Preservation. This was appealing to me because it would combine hands-on experience and a Master's level education in my chosen field, while staying in my home state of New Jersey.
Can you tell us about your new position as Digital Imaging Technician at Princeton University Library?
I will be working with a team of Digital Imaging Technicians to digitize and photograph rare and unique archival material including bound and unbound volumes, among other cultural heritage material. I have experienced this same role at Princeton twice in the past during my studies at Rutgers, so I am excited to be working permanently with such knowledgeable and passionate colleagues. I will begin helping with Princeton's contribution to The Digital Cicognara Library project and aid with other photography projects. You can learn more about The Digital Cicognara Library here https://cicognara.org/
How do you think the MI program has prepared you for this position?
The MI program helped prepare me for this role because I was able to take a flexible schedule of classes and combine my coursework with internships in my chosen field. Taking specialized courses such as History of Books, Documents, and Records in Print and Electronic Environments, Metadata for the Information Professional, and Preservation of Library and Archival Materials were helpful in fine-tuning my archives and preservation knowledge while supplementing my previous knowledge of cultural heritage imaging and photography.
In your opinion, what are the top 3 benefits of the MI program?
The MI program offers many benefits for students. A plethora of concentration and course options, knowledgeable and passionate professors who work in the field, and opportunities to supplement coursework with internships and leadership positions are just a few of the benefits.
Tell us about your presentation at the Spring MARAC Conference last year. What was that experience like for you?
Under the guidance of the advisor of the Archives and Preservation concentration, Marija Dalbello, Ph.D., a group of students from our Foundations of Preservation and Archives class were selected to present our Archival Lab Remix posters and demos at the Spring 2017 MARAC Conference in Newark, NJ last year. The assignment entailed "narrativization of primary source materials using new media platforms and technologies of production." Myself, together with five other students (Jessica Bielen, Sherri Hinrichs-Farber, Lynette Ford, Melissa McGeary, and Julianna Pakstis), presented a diverse group of ideas in what was, for many of us, our first poster session and publication.
The idea I proposed is "The East Asian Calligraphy Challenge," in which institutions could add an interactive element to their existing digital collections user interface allowing users to learn more about and practice their calligraphy digitally. It was inspiring to speak with such enthusiastic attendees and highly motivated to hear their feedback, including the proposal to use this tool with other handwriting collections. I was able to write about my conference experience on the Society of American Archivists Students and New Archives Professionals blog (Attending MARAC as a Student and First-Time Conference Attendee) which is available here: https://snaproundtable.wordpress.com/2017/05/08/attending-marac-as-a-student-first-time-conference-attendee/
In your opinion, what areas of Archives and Preservation are being the most impacted by technology?
Technology is impacting many areas of Archives and Preservation, from digitization of materials, metadata insertion of individual digital assets, creation of institutional digital repositories, and beyond. I am happy to be working with digitization so that patrons and researchers can utilize cultural heritage material on their own terms whether to research or just explore a new topic. Thanks to policies such as Creative Commons, Open Access, and other shifting copyright laws, it is becoming easier to obtain information. As president of SOURCE (Student Organization for Unique and Rare Collections Everywhere), Rutgers' Student chapter of the Society of American Archivists, I was able to implement an engaging project for students called Open Access Origami. This conceptual archival art project utilizes public domain images available from institutional digital repositories such as the New York Public Library and the Metropolitan Museum of Art in order to make origami cranes and expose students to the images and information available freely to them. You can find more information about Open Access Origami here: http://wp.comminfo.rutgers.edu/source/digital-archive/open-access-origami/
Did you have a specific faculty member or mentor at SC&I that helped guide you in the right direction professionally?
Marija Dalbello was my biggest supporter and mentor while I was attending the Master of Information program. Not only did I take courses offered by Dalbello, she was also my academic advisor and the advisor of SOURCE. Dalbello's passion and interest in the field is infectious. She is knowledgeable about many areas of Archives and Preservation (and beyond!), actively publishes and attends conferences on these topics and supporting topics, and is continuously educating students in and outside of class with reading and conference suggestions.
What advice do you have for current students and upcoming graduates who want to launch a career in your field?
The most important aspect is to gain as much experience from internships and jobs as you can. It is crucial to network and hold internships in order to supplement learning experiences. During my two years at Rutgers I held three internships (Conservation Digitization intern at the Frick Art Reference Library, Exhibitions Assistant intern at Rutgers University Special Collections and University Archives, and Archives Intern at the Museum of Modern Art) and was a temporary employee at Princeton twice in the Digital Studio. Holding leadership positions is an important part of the graduate student experience as these student organizations are often direct links with professional organizations in the field. I spent three semesters as the president of SOURCE, Rutgers' student chapter of the Society of American Archivists, and was able to engage with a variety of people in the field thanks to my involvement with the student organization. These experiences helped me to better utilize the knowledge I was learning in class and built on the skills needed for the career trajectory I was looking to pursue.