Professors Hepburn and Bolden Publish New Book on Transcription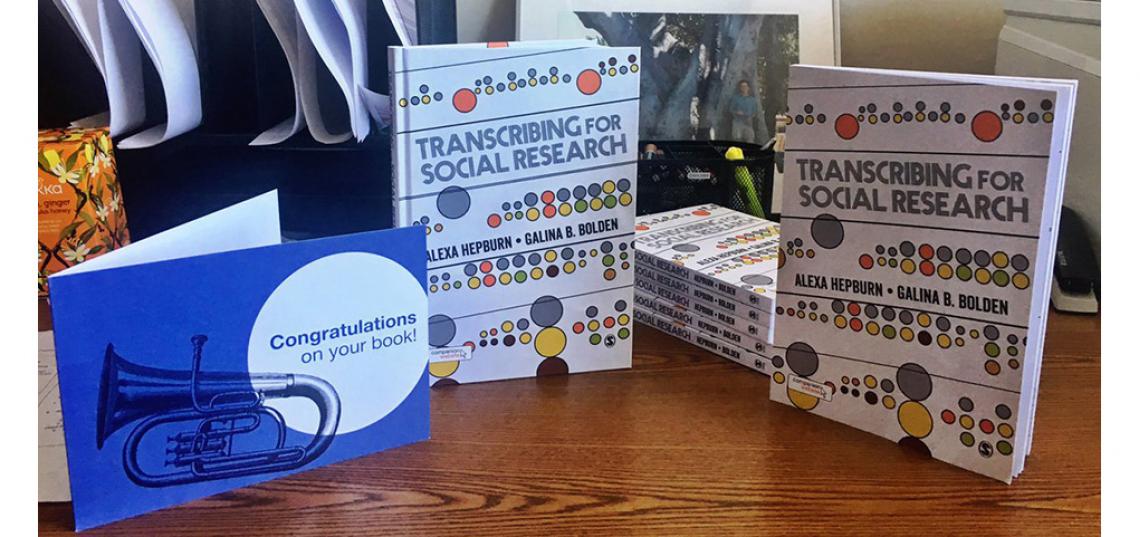 Most forms of transcription fail to capture features relevant to how we actually communicate. Elements such as whispering, shouting, sighing, tutting, laughing, crying, gaze and body movements are all lost when a conversation is transcribed word-for-word. Yet these elements are crucial when trying to analyze a social interaction. With that in mind, Research Professor Alexa Hepburn and Associate Professor Galina Bolden began compiling research for their new book, "Transcribing for Social Research." Their goal was to overview and introduce techniques that will help interactional researchers produce more accurate transcripts.
Hepburn and Bolden said, "New transcription techniques come out of challenges researchers face when dealing with particular kinds of data. For example, Alexa worked a lot on recordings where people cry or try to suppress crying or respond to others crying, and she had to develop ways of representing different aspects of crying in detail. Galina worked with data in Russian, and had to modify the transcription conventions to adequately capture the particularities of that language."
Hepburn and Bolden have been involved in research that heavily relies on transcription for over 20 years.  Although the book only took a couple years to write, they consider those 20 years as part of their preparation. Additionally, some of their SC&I faculty colleagues contributed to the book. Dean Jonathan Potter and Professor Jenny Mandelbaum wrote sections that drew on their different areas of research expertise.
The book was published on June 1, 2017 by Sage Publications. It has already been reviewed by notable interaction researchers. According to the Sage website, Charles Goodwin of the University of California Los Angeles calls it "an excellent, clear and comprehensive guide," and Charles Antaki of Loughborough University in the U.K. wrote it is "an invaluable resource of techniques for capturing the words, whoops, gulps, sighs, eyebrow-flashes and head-nods of language."
Hepburn and Bolden said they designed "Transcribing for Social Research" to be an effective teaching as well as research tool, so they also developed a companion website that features videos, examples of transcripts and practice exercises.
"Because we transcribe recordings of interactions," they said, "we need to provide the data – that is, the recordings – to the readers so that they can 'hear' what the transcription symbols are meant to represent."
The professors of communication are planning to use this new material in their classes starting this fall.