Public Speaking Contest Offers Students Opportunities to Display Communication Skills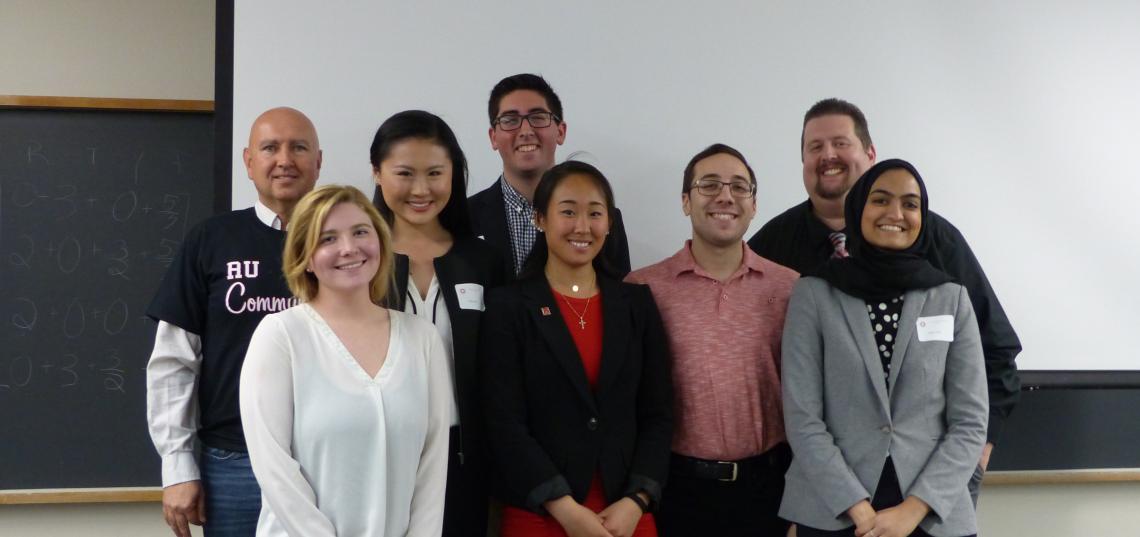 Do you have a passion for words? Are you interested in public speaking? Do you have something important to say? If so, the Rutgers School of Communication (SC&I)'s 2017 Public Speaking Contest, was the place for you.
The event was held on Friday April 14 from 2 to 7 p.m. in the Main SC&I Building.
This stimulating, tournament-style competition is set up in three rounds, two preliminary rounds and one final round. During the first round, the 42 participating speakers were grouped into six panels of seven competitors. Each speaker gave their speeches in front of 380 Public Speaking Instructors and student spectators; judges awarded each speaker a rank from one to seven and "speaking points" from one to 40 on the quality of their speech. All speeches are previously prepared during their Public Speaking course and are informative or persuasive in nature. All current and former 380 Public Speaking students are welcome to view the first and second rounds.
The second round is where things heat up! During this round, speakers gave their speeches again for a completely different audience as the student spectators and the judges switch. The intent here is to make sure students adapt well to change, yet keep their message consistent. At the end of this round the top six competitors were selected, and advanced to the final round.
The last round of the contest was open to all students. Participants had a final chance to give their speeches before a panel of three judges. This year's judges were Chair of the Department of Communication and Professor Craig Scott, Part-Time Lecturer Shelby Holliman, and the 2016 Public Speaking winner, Kruttika Raman. This year's winner was Sophia Zhou.
The top three participants with exceptional speeches will win a scholarship prize.
The contest was designed to give Public Speaking students the chance gain experience speaking publicly, with confidence. Co-Organizer of the contest and Assistant Teaching Professor Nikolaos Linardopoulos stressed the important takeaways for students who took part in the competition. ""It was impressive to see the passion of the presenters throughout the day. The contest offers students the opportunity to utilize the skills they have mastered in the public speaking course and prepare for their career path," he explained.
"One thing that really stood out in the Final Round was the support the competitors incorporated into their speech. This helped to build their speaker credibility and to show the importance of their topic," Co-Organizer of the contest and Director of Debate for RU-Speech Society & RU-Debate Union Professor Matthew Maddex stated. Additionally, "I was proud to have my student and member of the Speech Society win the competition. It really shows that the skills learned in the class can have a positive effect in other communication events."
Other high scoring students are as follows:
1st place Sophia Zhou
2nd place Danielle Gordon (audience winner - voted on by those in attendance)
3rd place Afreen Yasin
4th place Matthew Sayde
5th place Nicholas Falgiano
6th place Rachel Brown