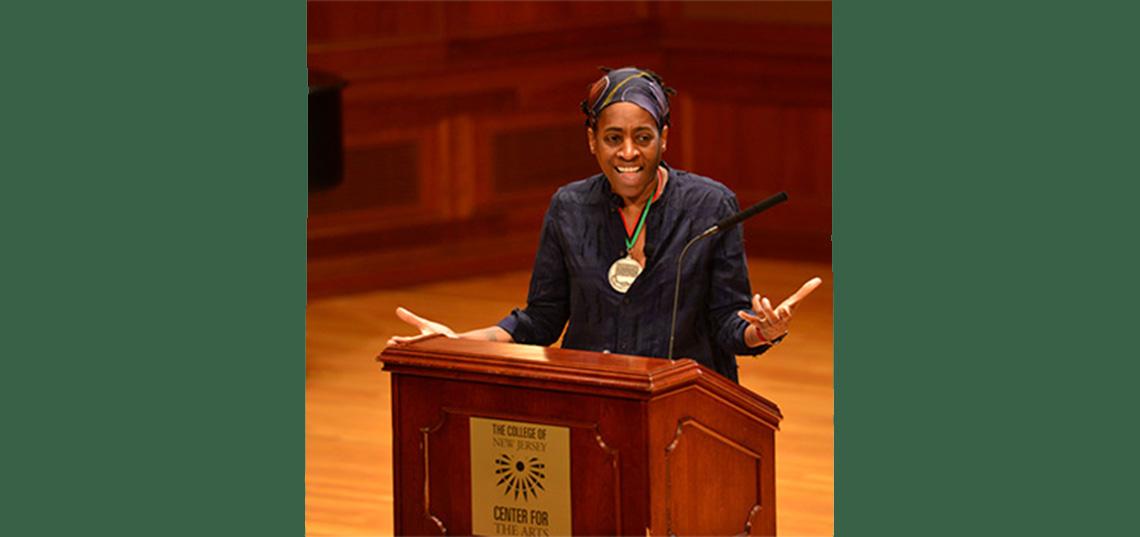 Reimagining the Author Visit: A Statewide Approach
In a blog post she writes for the School Library Journal, SC&I faculty member Joyce Valenza describes how a visit from an author became a state-wide event.
By Assistant Teaching Professor Joyce Valenza
This post was originally published on Valenza's "NeverEnding Search" blog for the School Library Journal. The entire blog post, including the accompanying photos and illustrations, is on this site.
Every once in a while you discover a confluence of opportunity.
This happened when a team of librarians and educators in New Jersey discovered that Jacqueline Woodson, the Library of Congress National Ambassador for Young People's Literature, was visiting our state for two events.
Not only was Ms. Woodson visiting with a group of 250 Trenton area middle school students at The College of New Jersey (TCNJ) as her nearly final stop as National Ambassador, Ms. Woodson was also an invited keynote speaker at NJASL's Fall Conference on December 10th.
In yet another very fortunate and simultaneous circumstance, some rather innovative collaborative planning began when the visionary Professor and Dean Emeritus Gus Friedrich along with ALA past president and SC&I Professor and Associate Dean Emerita Betty Turock gathered a group of leaders across the New Jersey library community with the founding of The Literacy Alliance of New Jersey.
The newly formed Literacy Alliance brought together leaders from among the following state and national groups:
The Children's Book Council and Every Child a Reader
The New Jersey Center for the Book (a program of the Library of Congress)
The College of New Jersey (Faculty from the R. Barbara Gitenstein Library and the School of Education)
Rutgers School of Communication and Information
The New Jersey State Library
The New Jersey Library Association (NJLA)
The New Jersey Association of School Librarians (NJASL)
As the team from the newly formed Literacy Association of New Jersey sat around the table planning the auditorium event, we wondered how we might more creatively and effectively scale our two separate projects and maximize Library of Congress support for the Ambassador's visit, to involve and engage the largest possible audience of New Jersey young people beyond the limited size of the auditorium at TCNJ.
As we worked in our early face-to-face meeting spaces and later, in our many Zoom planning rooms, it was thrilling to consider the potential for leveraging the power of the various networks the participants represented,
Early on, we created this New Jersey Celebrarate Jacqueline Woodson flyer to spread the word, gather registrations, share resources and describe the various elements of the event.
Youth Services Coordinator for the New Jersey State Library, Sharon Rawlins, worked with Penguin Random House to secure and distribute copies of Harbor Me to young people in school and public libraries across the state.
Throughout our planning, we considered how we might engage youth across the state both before and during the event. Our flyer suggestions included responses to Ms. Woodson's platform: Reading = HOPE X CHANGE.
We collected student responses to Ms. Woodson's program question: #WhatsYourEquationNJ on this Google Slidedeck which played prior to the author's presentation at The College of New Jersey and was shared with Ms. Woodson at the NJASL Annual Conference. 
With Ms. Woodson's very kind support, we were able to stream the visit live and to make the video available to young people in their school and public libraries in the form of viewing parties across the state on the day of the event. For libraries that could not view the event live, a video was available to registered schools and public libraries for use throughout the day on October 16, 2019.
We were delighted that Ms. Woodson planned for a student-focused event, devoting a significant portion of her time to questions from young people.
At the live event, current New Jersey Association of School Librarians (NJASL) Vice President and SC&I Part Time Lecturer and alumna Amy Gazaleh MLIS '10 and I helped moderate student questions from the auditorium as we fielded and presented questions from students at the remote sites.
Students also engaged in a variety of creative experiences developed by TCNJ Education School faculty. These experiences included black-out and buzz-words poetry writing, and six-word memoir writing hosted onsite in break-out workshops as well at the remote viewing party sites. On-site, TCNJ faculty and students, as well as SC&I Master of Information (MI) students, Andrea Caporale, Chrissy Holcombe, Lu Ann Wright, helped facilitate the workshops.
You may be interested in the Reading = HOPE x CHANGE Activity Kit developed by The Library of Congress, Penguin Random House and Every Child a Reader. 
In the end, what might have been an experience for 250 students was attended by well more than 1300 at more than 77 remote sites. While we did not receive attendance estimates from a great many of the participating sites, we know that registrations were received from 16 (76%) of New Jersey's 21 counties.
Children in registered school and public libraries participated in the experience in the following ways:
by submitting student questions that were shared during the live event in the Q & A session
by creating art and writing inspired by Ms. Woodson's work
by contributing responses to Ms. Woodson's question: #WhatsYourEquationNJ on our Google Slidedeck
In cross-library collaborations, registered school and public librarians participated in the celebration by:
programming around Ms. Woodson's books (book discussions, displays, author studies)
initiating cross-library/school discussions, as well as school/public library collaborations
getting ready for NJASL's One Book, One Conference discussion of Woodson's book "Harbor Me" on December 9 and 10, 2019
Several of our resources live beyond the two connected events. We hope students, teachers, and librarians will enjoy the 36-min audio sampler prepared for the event by Penguin Random House with the assistance and hosting of AudioBookSync.com. You may listen directly on this page or download the complete audio file. The page was visited and likely used around 2100 times during the months of September and October. Our team is now happy to share these resources with the larger reading community.
At NJASL, with a couple of committee partners, we hosted our first One Book, One Conference discussion on "Harbor Me" as well as a panel discussion on organizing successful One Book events in schools, districts, and communities: Our One Book how-to panel presentation. One Book Program session at NJASL.
Response to the celebration:
For nearly half of the students responding to our survey, and likely for many more, this was their very first author visit experience.
Among the student responses to their favorite part of the day:
"When she talked about becoming the change she did not see in books."
"It was amazing. I got chills at how amazing she was inside and out. Her comedy in the speech and how she understands how reading is so important to the people in this world."
"Something that I want to share is that an author visit was really fun. It was my first time doing an authors visit."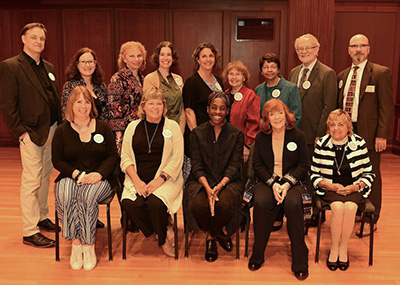 We surveyed librarian hosts about favorite parts of the event. Among the responses:
They got her message and it resonated with many of our students.
When the live stream started it was very rewarding to watch the students react to being involved in a state-wide event!
Hearing Jacqueline Woodson speak and answer questions.
Seeing my students laugh at Ms. Woodson's jokes made my day!
Listening to the student Q&A. Woodson was wonderful!
The excitement of my students.
Listening to Ms. Woodson present and seeing how engaged the students were.
[From an on-site participant] Hearing Ms. Woodson speak and seeing our students interact with the college volunteers ( who were very helpful) when they asked many questions about college life.
The content of Jacqueline Woodson's talk. Not only were the students listening closely, but an administrator who was there said that he really appreciated her remarks.
Also, we received two copies of Harbor Me, which I raffled off. Thank you so much for a successful event.
Ms. Woodson reciting The Other Side from memory. My students loved that.
The students responding to the live stream Q&A
Seeing how motivated my students were to create their own equations and share themselves.
SC&I alum Beth Thomas, MLIS '01, the librarian at Lawton C. Johnson Summit Middle School, and our current NJASL President shared a particularly moving reflection: "By chance, our Lib Squad consists completely of girls of color. They are all 'Brown Girls' and I could see how engrossed they were when Ms. Woodson was speaking. To be able to hear from an author who looks like them and who has become such a huge success is something that will stick with them for a long time. They ran for the books that she recited from, checked them out (and many others) and were still talking about the event today. I personally loved Jacqueline Woodson's message, and I appreciated the teens who put a lot of effort into their equations. I appreciated the opportunity to work on such a diverse and talented team and to be able to participate easily via a tool like Zoom."
Because leaders such as Friedrich and Turock chose to hit the start button to create a kind of supergroup in the form of our new Literacy Alliance, we were able to explore new possibilities and new collaborative models. Together, we engaged libraries, organizations, academics, and literacy experts across a state in poking the author visit box, building quality resources and examining the possibilities for scaling experiences for young people. We were able to very tangibly consider how school and public libraries might work together to organize joint events and share books and materials.
Because of the generosity of author Jacqueline Woodson and the hard work of a talented team, we were able to create something far bigger than an auditorium author visit in a single auditorium for 250 young people. Though that memorable experience for those 250 kids will ripple for years, it will also ripple for those many others who watched gathered in local libraries around the state.
This Wakelet curates some of the excitement across the celebration.
More information about the Library and Information Science Department at the Rutgers School of Communication and Information can be found on our site, as well as details about SC&I's Master of Information degree program.