SC&I Alumna Success Stories
Vivian Salama, White House Reporter, Political Reporter for NBC News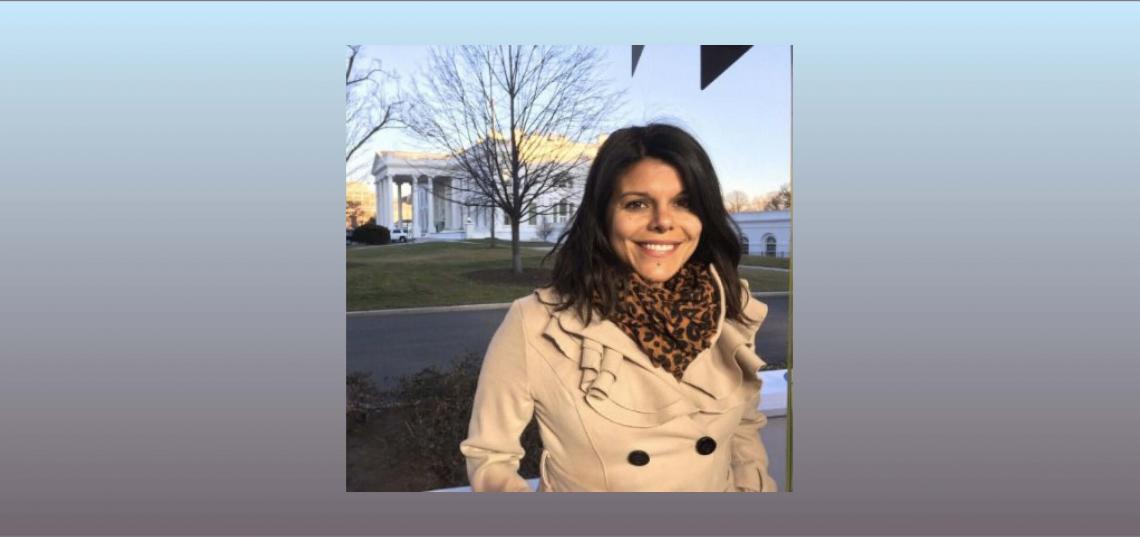 Have you ever felt compelled to completely change your life to pursue your career aspirations, even if it meant moving across the globe and being immersed in a foreign language and culture? That's exactly what SC&I alumna Vivian Salama did.
Graduating in 2000 with a Journalism and Media degree when SC&I was known as the School of Communication, Information and Library Science (SCILS), Salama started her career as a journalist at WNBC-TV in New York. Soon after 9/11 and the start of the Iraq War, Salama was inspired to cover the historic events happening in the Middle East and moved to Egypt to study Arabic while serving as a freelance reporter. From there, her career soared.
Her impressive journalistic credits include Producer for ABC, Freelance Journalist in Pakistan for Time and USA Today, Middle East Correspondent for Bloomberg, and Iraq Bureau Chief for the Associated Press. Salama is currently the White House Reporter for the Associated Press and a Political Reporter for NBC News.
When did your passion for journalism, specifically war coverage, begin?
I was originally a Biology major, which I realized was the wrong path. I took a communication class as an elective, and a lightbulb went off. I ended up changing my major. I started an internship that Steve Miller hooked me up with at WNBC. Once I worked in a news room, I knew that's where I belonged.
What made you decide to move to the Middle East?
Many years later, I was journalist when 9/11 happened. I was curious at what was going on in the Middle East, wondering what would provoke individuals to commit that kind of heinous act. The straw that broke the camel's back was the Iraq War. I traveled to Europe a few times and saw how they were covering the war, and it was so different. That coverage drove me to go out there and find out for myself. My first step was to move to Egypt and study Arabic, which was essential.
What was it like being a female AP Bureau Chief in Iraq in 2014?
Actually, I think it was easier being a female as a journalist. There are some advantages – there were times when women could approach a subject in an easier way. Men seemed to trust a female journalist more, and women spoke very openly around me. It's not really that repressed.
Describe what it's like covering the White House for the Associated Press during one of the most historical and tumultuous presidencies.
It has definitely been memorable. It's intense in a different way. The White House was never on my radar and it happened very accidentally for me. I never imagined that I would be at the center of such a story again. It's been a very challenging period – we are having to stand up for the First Amendment in a way I never thought I would have to do in the United States. In other parts of the world, you don't have press freedoms. Here, I never imagined that happening to this degree. It's been very interesting for me to be fighting the good fight for the First Amendment, that Journalism is a major pillar of our democracy. I feel honored to be a part of that battle.
Which SC&I faculty members inspired/encouraged you throughout your education and career?
Barbara Reed (SC&I Professor Emerita) continues to be a mentor of mine. Steve Miller (SC&I Director, JMS Undergraduate Studies) is someone I consulted about my recent career move.
What advice do you have for current JMS students and upcoming graduates who want to launch a career in journalism? 
Acquire as many skills as you can. You don't need to specialize in one area anymore – you need to have all the skills: shoot, edit, and everyone needs to write well. Language is essential – be sure to study a different language. It's an indispensable tool as a journalist to expand the people you can talk to. If you're a metro reporter, you definitely should pick up another language. There's nothing that's a better tool.