SC&I Alumni Association Holds Annual Distinguished Alumni Awards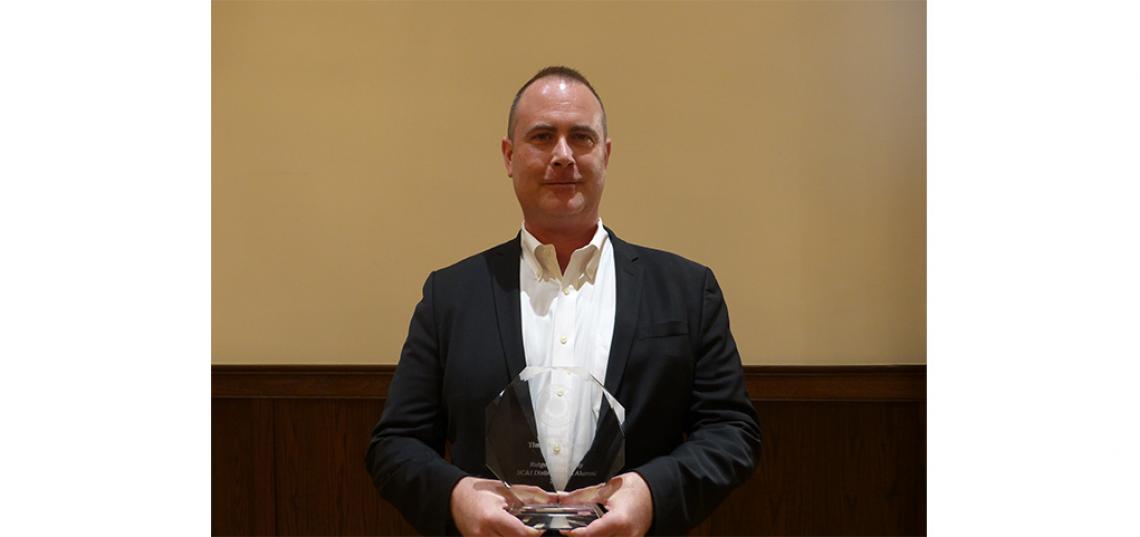 The Rutgers School of Communication and Information (SC&I) Alumni Association Annual Distinguished Alumni Award Dinner was held on Tuesday, April 17. This year, President and Founder of T3 Shamrock Public Relations, Timothy Sullivan, '95 (MCM & JMS) was honored.  The President of the SC&I Alumni Association, Ben Bakelaar, '06, MLIS '10, presented the award to Sullivan. Associate Dean for Administration, Karen Novick, and Professor and Chair of the Department of Communication, Craig Scott also shared some opening words.
"Tim was absolutely deserving of the award. He is a true Rutgers alum, staying involved in the community and with current students. Even though his Rutgers education was more than a decade before my own, our experiences were remarkably similar – nurturing faculty, opportunities to learn and grow, and a real-world focus," Bakelaar said.
"Tim Sullivan was so compelling in speaking about his academic and personal experiences at Rutgers. He talked about how he discovered that the major in journalism was a great fit for him, how much he learned in his classes from the faculty, and the tremendous opportunity the school was able to offer him to complete a master's degree with a fellowship provided by Johnson & Johnson," Novick said. "Given how successful he has been in his career and in his volunteer work, I loved that he said that he uses what he learned at SC&I every single day."
After over 20 years working in the field of public relations, specializing in media relations, strategic counsel, crisis communication, issues management and publicity elevation, Sullivan decided to start T3 Shamrock Public Relations. According to the website, Sullivan founded T3 Shamrock to "manage an inaugural client list in the fields of health care, addiction services, music, television business and television production, retail and consumer goods and music and television content development." Prior to his current career, he spent 10 years as Senior Vice President for Dan Klores Communications.
"Receiving any award is a nice gesture, but any award given by the faculty to the alumni of SC&I is really proof that they are delivering a high quality, relevant, vibrant curriculum that directly translates into job training and fundamentals alumni use on the job," said Sullivan.  "But many schools can do that - what sets Rutgers apart and SC&I in particular is the tremendous interest, investment and compassion the faculty shows its students so they not only learn but thrive in life.  That doesn't end at graduation - it's a lifelong relationship of support, affirmation and caregiving and all Rutgers SC&I grads know this."
The SC&I Alumni Association thanks the Rutgers University School of Communication & Information and the Rutgers University Alumni Association for their continued support of our Annual Distinguished Alumni Dinner!