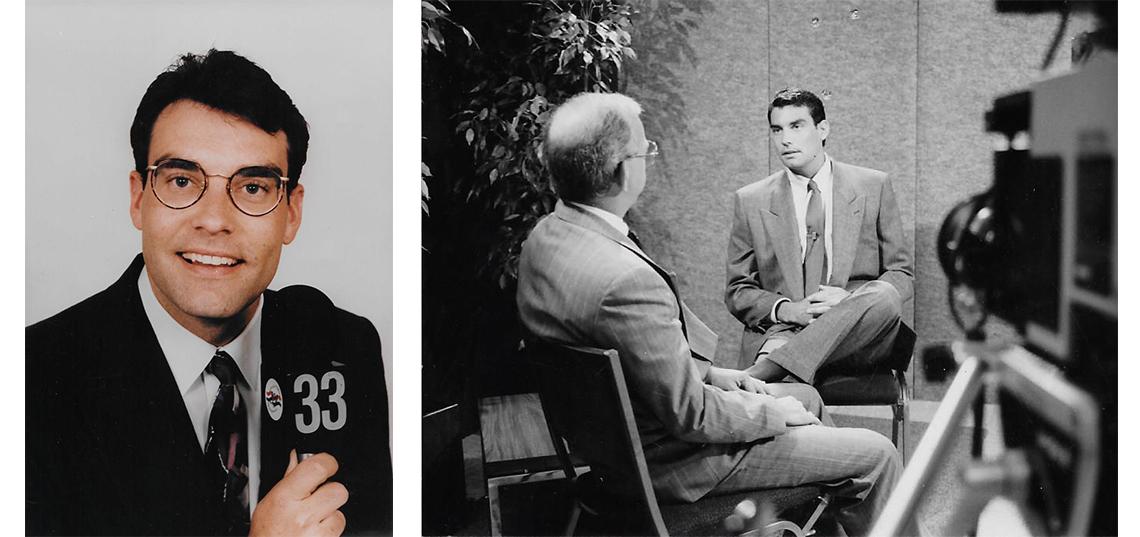 SC&I Alumnus Ed Harran '86: "My Rutgers Education Provided Training For Life"
Harran, Deputy Director of the Nevada Film Office, majored in Journalism and Media Studies at SC&I, and credits Rutgers and his major with providing him with "moxie" and "the ability to be flexible, innovative, and adaptable."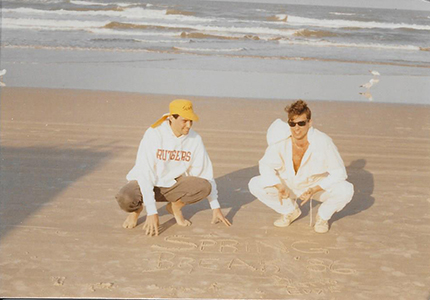 What comes to mind when you think of Nevada? If glitzy Las Vegas is the only thought that pops into your head, SC&I alumnus Edward Harran '86 can tell you a vastly different story about his adopted state. As Deputy Director of the Nevada Film Office, he and his team work with filmmakers to scout locations all over the state, helping them find the spots they dream of, including "neon and glitter, ghost towns, miles of scenic roads, majestic mountains, desert landscape, and picturesque lakes."
NFO also provides filmmakers additional support to ensure their client's films and multi-media projects are successful, on time, and on-budget. Harran, who has been a part of the NFO since 1999, credits SC&I for preparing him for his exciting but very demanding career. At Rutgers he majored in Journalism and Media Studies (then it was called the "Broadcast Journalism" major), he was a member of the Rutgers crew team, and a writer for the Daily Targum.
After having spent years in the media and film industries, Harran offers advice for how to achieve many and different goals.
"During my career," Harran said, I've been in front of the camera as a news anchor and talk show host, behind the camera as a writer, director and producer, worked in radio, public relations, marketing and advertising campaigns and for the last 20 years with the Nevada Film Office wearing many hats facilitating hundreds of feature films, docs, commercials, music videos and all forms of multi-media. So, I again reiterate that my Rutgers education and experience trained me to be flexible and multi-faceted during my career. The best endorsement of a Rutgers education that I can give is that I hope my daughter is accepted and wants to attend…but please on a full scholarship for your poor old Dad!
"Working in various disciplines in film and media, I learned that as much as they are different, they are more alike than not.  The most important skill I have developed over the years is my ability to stop and listen.  My dad always told me, 'you have two ears and one mouth, use them accordingly.'  Ergo, I try to keep my mouth closed and my ears open when approaching any situation. My studies at Rutgers in journalism further taught me that you get more answers by listening than you could ever possibly get by talking.  I will often ask one thoughtful question and then sit back and listen without ever saying another word."
To learn more about Harran, his exciting career at NFO, and the company he founded and owns with his wife, "Kiss the Cook Catering," read our full Q&A with him below. Spoiler alert: Harran worked with the movie "The Hangover," and he managed to secretly get an autograph from fellow SC&I alum James Gandolfini '83 (a communication major) while Gandolfini was shooting a movie in Nevada called "The Mexican."
Tell us about your Rutgers experience, and why you choose to study journalism.
My experience at Rutgers set me on the right path to achieve the goals I have set for myself throughout my career. That's what a good alum being featured here is supposed to say correct?
Well, this may sound a little odd, but when I attended school back in the mid 80's there was a beloved expression called the "RU Screw" which I'm not sure still exists and immediately you may think has a negative connotation, but I would beg to differ. I consider my Rutgers education and the campus culture a 'training for life' as it imparts a certain moxie and the ability to be flexible, innovative, and adaptable so no matter what challenges I faced during my career path, I was able to acclimatize, amend and adjust depending on the job, location, challenges and the sometimes dreaded coworkers. So, the "RU Screw" turned out to be a positive for me. Heck, the capacity to navigate the bus system alone at Rutgers should start any graduate on the right career path to navigate you though tough situations!  The instructors/professors and the environment they created at Rutgers cleared the way for me to grow up in an environment that challenged me to learn while giving me the support and tools I would need to ultimately be successful. I was not the best student by any stretch of the imagination, but my Rutgers education/culture brought out the best in me!
I chose to study journalism due to my curious nature from a young age.  I always wanted to know the who, where, why, how, or what transpired that resulted in a particular outcome.  I felt the study of journalism would provide me with a structured approach to obtaining the truth and answers to the questions I was curious about. And let's be frank, the fact that I got a "C" in anatomy, chemistry and biology brought me to the conclusion that a medical career was not in my imminent future!
Did you have a favorite instructor/professor? If so, who and how did that person affect your career path or studies at Rutgers?
It may sound a bit of cliché, but I enjoyed meeting, listening and learning from many professors at RU. I even met a few outside classes to continue discussions (and sometimes grades) over cocktails and yes, I was of legal age. One professor that stood out was Roger Cohen. Great mentor and lecturer who encouraged me to write for the Daily Targum and helped me obtain my first job with the NJ State Seatbelt Commission. I always believed that the professors at RU genuinely seemed not only to care about your education but also your future endeavors and Mr. Cohen was a great example.
Has anything changed your career trajectory since you graduated? 
There is a tendency after graduating to think you have learned all you need to learn, and you are ready to tackle the world. To me that is a mistake. I used every position since graduation to learn as much as I could from someone that knew more than me and then apply that knowledge to make myself better. Many times, I was rewarded for this through raises and promotions. As I now approach the end of my career, I take every opportunity to "pay if forward" to the next young man or woman that is just starting off their career.  So, I'd say the biggest change I made early on in my career was to realize that if I live, I will be learning.  To be a lifelong learner.  Every person I meet is my superior in some way.  In that, I learn from them. 
With social media flooding all forms of communications today, how do you think it has affected the film and production industry?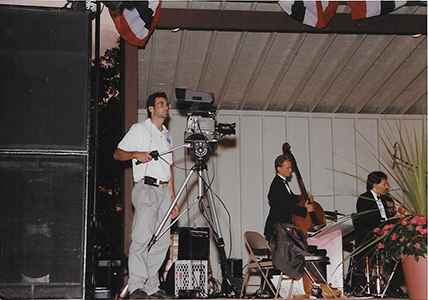 The production industry in is a constant state of change.  In fact, the only constant is change.  New technologies, methods of distribution, and economies of scale have affected every industry and even more so in the film and production industries.  Social Media is just another name for the internet, the continuing evolution of what may be considered the most revolutionary invention in human history.  The ability to communicate and distribute a message has never been easier.  And we know that if a picture is worth a thousand words, then a video is worth a million.  The ability to quickly and cost effectively create video content and distribute that content to a worldwide audience has broken down the barriers that existed in "Old Hollywood".  Today, any person with the desire to can produce and distribute content to gain attention and influence millions. Case in point, I was watching a YouTube video which features a guy who eats pizza around Manhattan, and he had some movie stars with him promoting a film called "Tag" including the stars Jon Hamm, Jeremey Renner and Ed Helms (who I worked with their production team on a feature film in Vegas called "The Hangover"). So, in the middle of the interview they were stopped by a young woman who was gushing about meeting the YouTube host of the pizza show and not the movie stars! That's how far social media has become and will only get bigger! 
With new developments in film production constantly evolving, how can industry professionals stay on top of the latest trends and be prepared for what's next?
A good question yet also good point. With technology changing so rapidly, the art of film making, and production has changed.  In the old days, financing and distribution were the biggest obstacles to make a movie. Now with so many vehicles and outlets to broadcast your content distribution is no longer a problem and with cameras/expendables getting smaller, better, cheaper, faster, lighter financing has become easier. In addition, the way we view this content is constantly evolving. When I was a student, we had to watch FOX, NBC, ABC and CBS and a luxury was pay TV with HBO and Showtime. That's the stone age! People don't watch content like that now. It's on-demand, streaming services, HULU, Netflix and Amazon to name a few. Netflix alone is spending billions on content creation and the half hour format is becoming a dinosaur! The ability to follow anyone and watch anything at any time on any device, share information and connect with the most influential people in the world has never been easier and something that previous generations couldn't even dream of. What's the next trend and how to prepare? In the immortal words of Bette Davis in "All about Eve" Fasten your seatbelts, its going to be a bumpy night."
What are the top three skills you look for when hiring for your company?
Communication: The ability to effectively communicate an idea or point of view. That is a lost skill and art and I don't mean to sound like an old fogie but because of social media we interact less and less and in my humble opine that is a shame. We need to communicate and talk to each other.

Listening: The ability to listen. Another art that has become harder to find than Waldo. Everyone is so anxious to make their point or gloat about what they've done, spew who they know, what they want to do and how they're going to do it, but they never listen. I had a poster in college that said, "a wise man listens more than he speaks."

Curiosity: Always be curious to learn more. That applies to the college student and the old man writing this!
 Where do you see the field of film production going in the future? 
Another cliché but the sky is the limit and the limit is the sky! The barriers to entry in the industry are being torn down.  Where it used to be few distributing to many, I believe we will continue to see more individuals creating and distributing content.  With lower costs to create content, more niche content will be created and distributed over more channels.  The amount of content on the internet will continue to grow exponentially.  With so many films and so much content available to view, we will see a great shift towards curation.  People will rely on other people or companies to curate the mass of content into more digestible segments.  We will rely on technology more than ever to help us navigate the mass of produced content.  
What advice do you have for current Rutgers students and upcoming graduates who want to launch a career in film production?
Always listen and do whatever your significant other tells you to do!
Kidding. I'd say you need to check your ego at the door and be willing to listen and learn.  To try new things, be humble, and don't not shy away from putting in the hard work and effort.  Life is a marathon, not a sprint.  You can afford to spend the first ten years after you graduate learning anything you can from people who have done it.  Listen, consume, and don't be afraid to admit you don't know something or if you made a mistake, and before you know it, you will know a lot about a lot of things and then someday be old like me and pass your knowledge down to the next grasshopper. So, tell the folks at Disney and the Lion King that's the real circle of life!
What do you do for fun?
I have a few passions in my life and one of the biggest is Rutgers sports! I have more Rutgers swag and paraphernalia than anyone living in Las Vegas and maybe NJ! In fact, my Nevada license plate reads RUTGRZ! I also enjoy cooking. So much so that my wife and I started a catering company about 10 years ago called "Kiss the Cook Catering" KTCcatering.com which has been voted one of the top caterers in Las Vegas! Of course, anyone getting married or having a special event that needs catering in Las Vegas gets the Rutgers friends and family discount. How's that for a self-promoting plug?! 
What is something people might not know about you?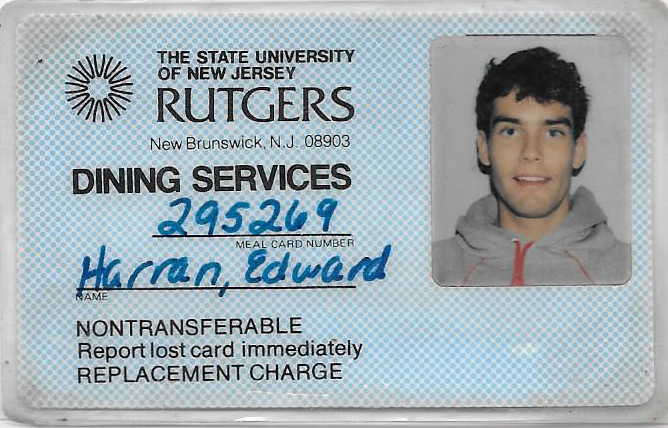 I don't like or use any condiments! Shweeew! What a relief to finally admit it! No ketchup, mayo or mustard. Ask me what I put on a hamburger or fries? Nothing. Ask me what I put on a hotdog. Mustard, relish, ketchup? Nothing! Turkey sandwich with mayo?  A big nada!

I may still owe money to RU for outstanding parking tickets so don't tell anyone.

Because I work for the Film Commission in Las Vegas, we often go on-set for movies and we are not supposed to ask for autographs, but I could not resist when RU alum James Gandolfini shot a movie in Vegas called "The Mexican" and I secretly got his autograph. He was a good guy and was excited to meet a fellow RU grad.

I love a good quote from a movie and my favorite comes from yet another RU grad Roy Scheider who in the movie Jaws says, "I can do anything…I'm the chief of police." It's not just the line but the way Scheider delivers it!

I haven't backed out of a parking spot in over 10 years. I find a pull-though parking spot so my car points forward and I never have to back up. I like to do little things like that, so my life is stress free. Thank you Rutgers!
What excites you about your work?
Well this is the last question so I might as well get one more cliché in. My late great father always told me to do something you like so it never feels like work and that is a mantra I firmly believe in. It's a simple concept but it really is true boys and girls.  Choose a profession that you like to do and do it well. When I graduated high school, all I was considering was what profession can I make the most money at? Doctor, lawyer or engineer I believed. But those professions were not my passion so do what you like and then marry a doctor, lawyer or engineer!
Here's the bottom line, I still love getting up in the morning and going to work for the Nevada Film Office after 21 years and I still feel that I'm making a difference and I enjoy it. It's not work to me and I feel the same way about my catering company which by the way once again is "Kiss the Cook" Catering (KTCcatering.com) for all your special event needs in Vegas. Ha! Got one last plug in, didn't I? GO RU!
To learn more about the Journalism and Media Studies Department at the Rutgers School of Communication and Information (SC&I), click here.